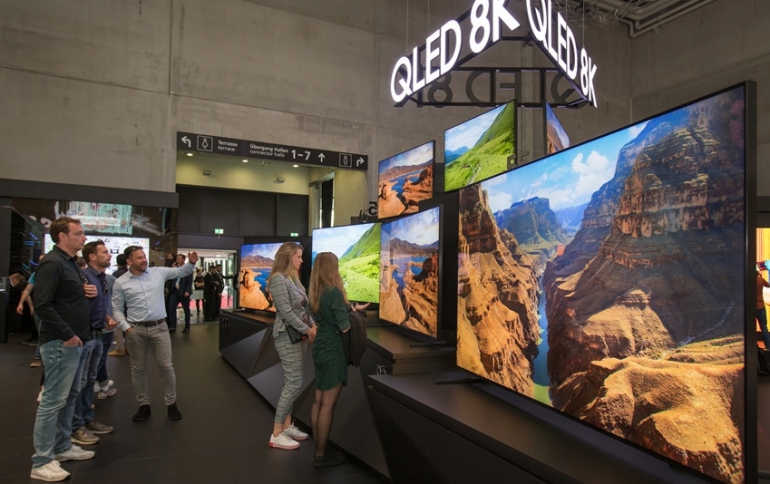 LG Electronics Files Complaint with FTC over Samsung QLED TV Ad
LG Electronics has filed a complaint against Samsung Electronics with South Korea's corporate watchdog for violating the Act on Fair Labeling and Advertising.
LG Electronics argued that Samsung Electronics' TV advertisement for its QLED TVs is misleading. It said, "Samsung's QLED TV is basically a liquid crystal display (LCD) TV as it uses LED back lights, but the company is running a false and exaggerated advertisement that says its TVs use quantum-dot light emitting diodes (QLED) technology."
LG Electronics added, "TV technology has advanced to a degree where consumers cannot make a rational choice unless manufacturers provide detailed information. Samsung Electronics' false and exaggerated advertisement needs to be sanctioned to protect consumers' right to know."
Samsung Electronics responed saying, "We will respond firmly to LG's groundless claim." "Under the current difficult economic circumstances at home and abroad, we should focus on product and service innovation rather than on an unproductive debate that could confuse consumers."
"We released our QLED TVs in 2017 and has gained recognition from consumers as the best product in the world. We have been the No. 1 player in the global TV market for the past 13 years and will make every effort to offer innovative products and services to consumers," Samsung added.
The war of words between Samsung and LG has also expanded from 8K TVs to home appliances, with the former taunting its rival in online videos.
Following LG's complaint with the Fair Trade Commission on Friday, Samsung
posted two video clips on its YouTube channel that eature its lineup of home appliances enabling clothing care, such as the air dresser and laundry dryer.
Regarding the steam closet system, the company made an indirect comparison of its Air Dresser and LG Styler, criticizing the technique used to remove dust from clothes by shaking the hanger.
While LG applied its proprietary moving hanger technology to the first clothing care system in 2011, Samsung launched its Air Dresser in 2018, introducing a new method for cleaning clothes with air.
In the other clip that features the dryer, Samsung has emphasized the importance of manually cleaning its condenser.