LG, Samsung Present Bendable TVs
LG Electronics today took the cover off Flexible OLED TV. Samung followed with an 85in LED prototype that allows the curvature of its screen to be adjusted by remote control. With thie new LG TV unit, viewers can control the angle of curvature for the ultimate viewing experience that was only available in the realm of science fiction.
"LG's Flexible OLED TV is a product that has to be seen to be believed because it defies description," said H. H. (Hyun-hwoi) Ha President and CEO of LG?s Home Entertainment Company. "What curved is to flat, flexible is to curved. LG continues to lead the evolution of televisions into the next generation."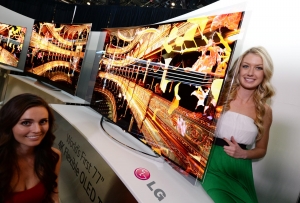 The curvature of the display can be altered using the TV remote to suit the viewer's preference. The range of curvature was determined by taking into account key factors that affect the viewing experience such as screen size and viewing distance.
Samsung's 85-inch (216cm) prototype also the curvature of its screen to be adjusted by remote control. The screen would have the added benefit of being able to be left flat against the wall when not in use.
Neither of the two South Korean manufacturers have given a projected price or release date for the user-bendable TVs.
LG pushing hard on OLED, although competitive 4K LCD pricing had caused a re-evaluation of the time frame for rollout of large-scale OLED TV manufacturing. It could be that LG has concluded that Samsung is more challenged on OLED investment, and sees an opportunity to differentiate. It could also be that LG is further along in its large-scale OLED manufacturing investment, already well underway with its 8G OLED factory. Indeed, a significant breakthrough in higher yields for even 4K models might have LG confident about competitive pricing, as some industry talk at CES suggested.
"I can tell you confidently that LG Display hopes to lead the market for wearable devices by supplying our highly qualified, plastic-based flexible displays and meeting the tough requirements by each of our customers," LG Display CEO Han Sang-beom said during a press conference.
He stressed that the firm has internal shipment targets for flexible displays, although he declined to disclose the list of its clients.
"The market has interest in plastic-based flexible OLED displays. We are in the process of promoting our new display solutions to many clients. We are ready to supply."
"Honestly, it's too early to forecast the market. But what's clear is that there is a demand. Japan's Sony is asking for it and Google has shown interest in wearable devices," Han added.
The CEO said that LG Display has been rolling out UHD panels in different sizes as the firm believes the UHD TV market will expand.
"The global TV market will grow in two themes ― UHD and the LCD. It will take more time for OLED TV market to fully take off. Therefore, our investment plan will be flexible based on market conditions. The OLED TV market will become mainstream after 2016. LG Display is being challenged by Chinese, Japanese and Taiwanese companies. We should go for premium ones," said the CEO.
He forecasts that the global display industry will remain balanced this year as consumers prefer to buy large-sized TVs.
"Demand will improve by 6 percent, while supply growth will remain at around 5 percent this year. Outlook for TVs isn't as bad as had been expected," said the CEO.