LG To Showcase 3D Video Wall And 84-inch Ultra HD Multi-touch Signage At CES
LG Electronics will showcase its digital signage lineup at the 2013 International Consumer Electronics Show (CES) in Las Vegas from January 8-11, 2013. The selection includes the flagship 55-inch 3D Video Wall, the 84-inch Ultra HD Multi-touch Signage, the EZ Sign TV, Smart Gate Media Pole, Smart Mirror and other commercial display solutions.
LG plans to develop a variety of products that incorporate IPS panels and Smart Energy Saving Technology.
A 3D Video Wall consisting of 122 LG 55-inch WV70MD screens will be available at LG's CES booth. With a narrow bezel-to-bezel distance of just 5.3mm, the 3D Video Wall gives the viewer the impression that they are viewing a single enormous display. White balance for every screen can be automatically calibrated via factory-installed software to ensure a uniform picture quality across all screens and IPS display technology provides vibrant pictures with a wide viewing angle.
LG's large-scale digital signage solution also employs the company's proprietary Smart Energy Saving Technology, allowing it to use approximately 30 percent less electricity than other commercial LED displays, according to LG.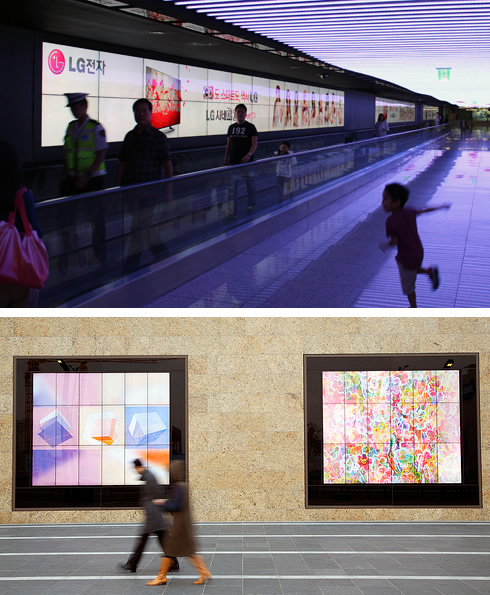 LG?s 84-inch Ultra HD Multi-touch Signage (84WT70) introduces the sharpness of Ultra HD to the B2B digital display market. At CES, LG's massive five-point touch screens will enable users to interact with reproductions of masterpieces from the world's most prestigious museums. In addition to zooming, rotating or writing onscreen messages with one's fingers, LG?s 84-inch Ultra HD Multi-touch Signage is geared towards natural interaction, matching the needs of a variety of commercial and educational applications.
LG's EZ Sign TV will also be exhibited at CES 2013. The EZ Sign TV is suited to many tasks, including advertising, playing multimedia and displaying live broadcasts. LG's slim Smart Gate Media Pole, designed for marketing and advertising applications, will be showcased along with the Smart Mirror; a display that functions as both a mirror and a monitor.
The use of digital signage is on the rise and global sales is expected to grow to USD 9.5 million sets by 2016, a six-fold increase over 2009 according to DisplaySearch.
LG will also be exhibiting more flagship products at Europe?s business-to-business tradeshow, Integrated Systems Europe 2013 (ISE) starting January 29 in Amsterdam.