LG's Curved 2016 Monitor Lineup Hits U.S. Stores
LG's full line of 2016 UltraWide and 4K monitors – including the flagship 34UC98 Curved UltraWide and 27UD88 4K monitors, which were previewed at CES 2016 – are now available in the United States. LG's 34UC98, priced at $1199.99, and 27UD88, priced at $699.99, are both suited for professionals, tech and entertainment enthusiasts alike.
The LG 34UC98, with a 21:9 aspect ratio that significantly expands overall screen real estate, features Quad HD resolution (3440 x 1440 pixels). Meanwhile, the 27UD88 delivers detail thanks to its 4K resolution (3840 x 2160 pixels). Both models include LG's proprietary picture enhancing IPS display technology and wide viewing angles - virtually 180 degrees.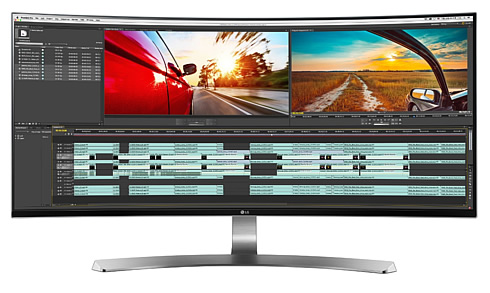 Both models are compatible with PCs and Macs and offer HDMI, USB 3.0 ports and display port connections. The 27UD88 is the first DisplayPort over USB-C certified display in accordance with product compliance standards established by the Video Electronics Standards Association (VESA). Its USB Type-C technology combines three essential functions in one port: users can transfer data, charge the battery of a connected device over 60W at the same time and can use as a substitute for an HDMI cable. The 34UC98 includes Thunderbolt 2, which can transfer roughly 10-gigabits-per-second throughput in both directions and allows multiple devices to be daisy chained together.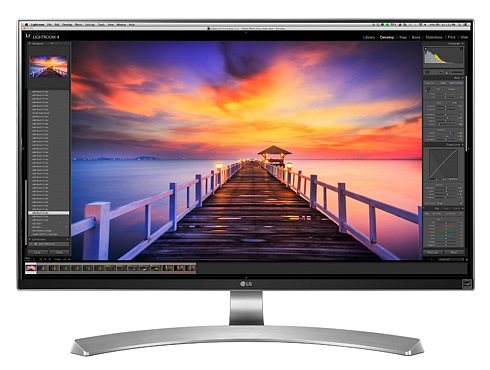 With both models, multitasking becomes easy with the Split Screen 2.0 feature, which offers 14 preset layouts that can be resized to the user's preference, allowing users to easily work in multiple programs simultaneously. LG's Dual Controller feature allows two compatible portable devices such as a computer, camera, phone or Blu-ray player to be connected to the monitor and both can be viewed on the same screen and controlled with one keyboard and mouse, simultaneously.
Special features include the True Color Finder color calibration software. Through LG-provided OnScreen Control software, preset display settings such as Dark Room Mode, Game Mode, Black Stabilizer and Dynamic Action Sync, are available for users. The 34UC98 also features MAXX AUDIO and is equipped with an updated 7Wx2 stereo speaker system.
Both the 34UC98 and 27UD88 4K monitor series are available now for purchase at select retailers including Amazon.com, Fry's, Newegg, Microcenter, B&H and Adorama.
27UD88

34UC98

Screen Size Class (diagonal)

27" Class (27" diagonal)

34"

IPS

SRGB 99%

10bit (8bit + A-FRC)

0.1554mm x 0.1554mm

0.2325 mm x 0.2325

5ms GTG

60Hz

16:9

21:9

3840 x 2160

3440x1440

350 cd/m2

300 cd/m2

178 / 178

HDMI 2.0

2

No

1

2

1

Yes

1

No

2 (ver 2.0)

1

2

1

1 Year Parts & Labor