Dell Brings New Laptops and Displays to the Classroom
Dell will have on display at Bett – the first EDU-tech show of the year kicking off on 22 January - the Latitude 9510, Latitude 3310, Latitude 3310 2-in-1 as well as a 86-inch 4K interactive monitor.
The Latitude 9510 is coming to the UK, following its announcement at this year's Consumer Electronics Show in Las Vegas. This intelligent 15-inch commercial laptop featues a 15" InfinityEdge screen in a 14" size.
Dell will also introduce more functionality to the new Latitude 3310 and Latitude 3310 2-in-1 to provide a smarter, faster and more durable end-user experience at an even more affordable price point. Students and teachers can collaborate and multitask more effectively with features like a world-facing camera and WavesMAXX Audio Pro, all powered by the latest generation of Intel Whiskey Lake Processors. Dell is also launching a new generation of wireless keyboard and mice, designed to work across up to three devices and lasting up to three years with only one AA battery.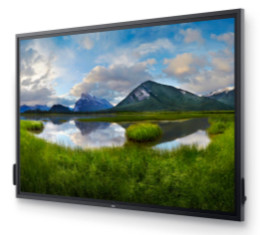 The impressive 86-inch 4K interactive monitor (C8621QT), which also premiered at CES, supports a 4K UHD resolution, 20-point multi-touch, USB-C connectivity, and Dell's Screen Drop Feature.
As creators of the Alienware brand and accessible G-Series portfolio, Dell Technologies has always been passionate about gaming. Esports is reshaping entertainment, and now presents new opportunities in the classroom. For those able to join Dell at Bett, the company will have dedicated Esports stations with Alienware devices pre-loaded with games to play, a McLaren profiling game ready to tell you the best job suited to your skills, and the McLaren racing simulator. Visitors can also get hands-on with an interactive programme that puts them in the driving seat of a Formula 1 car and mimics how the world-renowned automotive racing experts collect and analyse data from over 200 sensors, generating over 13,000 pieces of information.