Acer Launches 12-Inch Chromebook Designed for the Education
Acer today debuted its new 12-inch Chromebook, the Acer Chromebook 712, designed specifically for the education environment.
The new Chromebook features a durable design, a 12-inch display with 3:2 aspect ratio and the latest 10th Gen Intel Core processors.
Powered by up to 10th Gen Intel Core i3 processors, the Chromebook 712 provides the performance capabilities needed to handle more complex classes such as coding or video editing. It offers up to 12 hoursof battery life, so students can expect a full day of usage on one charge.
The Acer Chromebook 712 is durable enough to meet the stringent U.S. MIL-STD 810G military standards. It has a reinforced hinge that remains intact even when students pick it up by the display. It can also withstand up to 60 kg (132 pounds) of downward force. Its reinforced design and shock-absorbing bumper even lets it handle drops from heights of up to 122 cm (48 inches). Also suitable for younger students, the new Acer Chromebook 712 is certified to meet two toy safety standards: the ASTM F963-16 and UL/IEC 60950-1.
The keyboard has mechanically anchored keys that are difficult to remove but easy to replace. The keyboard also protects against spills of up to 330 ml (11 fluid ounces) of water thanks to a gutter system that routes water out the bottom of the chassis. Even the touchpad is moisture-resistant.
The new Acer Chromebooks 712 will boost learning with a 3:2 aspect ratio that gives students 18 percent more vertical space compared to an equally wide 16:9 display. The 12-inch display features a HD+ 1366 x 912 resolution and IPS technology. It is available with either a touch- (C871T) or non-touch (C871) display option.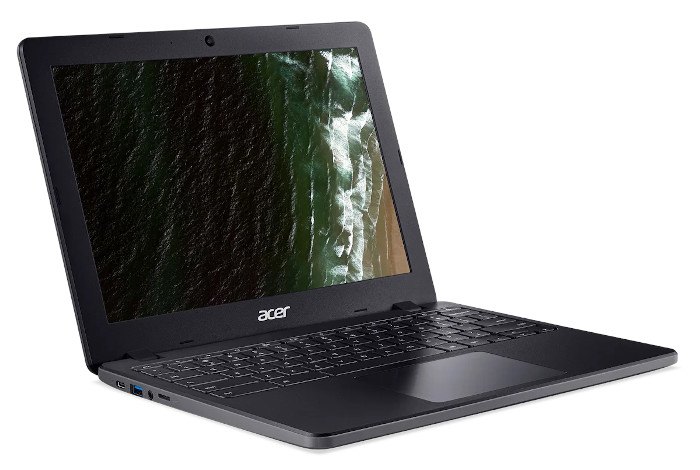 The Acer Chromebook 712 can be opened a full 180 degrees, letting it lay flat on a desk for sharing with other students during classes or for school projects.
Students can stay connected and learn anywhere thanks to dual-band Intel Wi-Fi 6 (Gig+) AX201 (802.11ax) with 2x2 MU-MIMO technology. The Acer Chromebook 712 has a Full HD webcam that records 720p HD video and audio with a super high dynamic range.
Students can print, share presentations on a large external display and more via Bluetooth 5.0 or via two USB 3.2 Gen 1 Type-C ports and a USB 3.0 port. Files can also be shared via the MicroSD card reader.
IT administrators will find it easy to make updates, configure apps, utilize extensions, manage policies and more with web-based management that makes the new Chromebook easy to deploy and manage, while the Kensington lock slot ensures security when required. Chrome OS devices support multiple user sign-in, so each student can log into their unique account while ensuring their projects, Gmail and other information are kept safe.
Chrome OS is automatically updated and guards against online threats of viruses and malware. While at home, parents can install the Family Link app to set daily screen time limits, set parental controls and manage their child's Google account.
Accessibility settings sync across all Chrome OS devices, so as students switch between shared devices or log in at home with their G Suite for Education account, their accessibility settings automatically update.
The new Acer Chromebook 712 will be available with either 32 GB or 64 GB of eMMC storage and 4 GB or 8 GB of RAM in EMEA in May, starting at EUR 299; and in North America in March, starting at USD 329.99.