McIntosh Releases New Custom Installation Audio Solutions at ISE 2019
US audio manufacturer McIntosh is returning to the business of custom installation with five new products that it's launching at ISE 2019, the world's largest exhibition for AV and systems integration professionals, which is being held in Amsterdam from February 5–8.
McIntosh has been producing high-end audio gear since 1949 and has been known as a provided of high-end hi-fi equipment.
McIntosh will be using ISE 2019 to show its recently announced 70th Anniversary amplifiers, the new MC2152 70th Anniversary Vacuum Tube Amplifier, and C70 70th Anniversary Vacuum Tube Preamplifier. These special recent additions will be augmented by the recently announced XRT1.1K loudspeaker, a scaled-down version of the company's monster flagship XRT2.1K speaker.
The two highly Class D distribution amplifiers are the four-channel MI254 Power Amplifier (250W into 8 Ohms) and eight-channel MI128 Power Amplifier (120W). Each unit employs closed-loop digital switching amplifiers paired with heavy-duty power supplies. The MI254 is designed for driving home cinema speakers and can be integrated into virtually any existing home system. Both products feature McIntosh's front-panel LED indicators to show channel status. The MI254 goes a stage further by including two blue McIntosh Watt Meters displaying the summed power output of channels 1 + 2 and channels 3 + 4.
At the back of the MI254 is McIntosh's standard five-way speaker binding posts, while the MI128 uses 2-pole Phoenix-style push-in speaker terminals. The MI128 also includes back panel volume controls for volume balancing, along with two coax or optical digital audio inputs and channel-summing circuits for easy mono signal distribution.
Additional MI254 and MI128 features include signal overload technology; BUS input and outputs to easily distribute a stereo signal to multiple outputs and/or multiple amplifiers, individual channel inputs; 12-V triggering capabilities and eco-friendly on/off signal-sensing.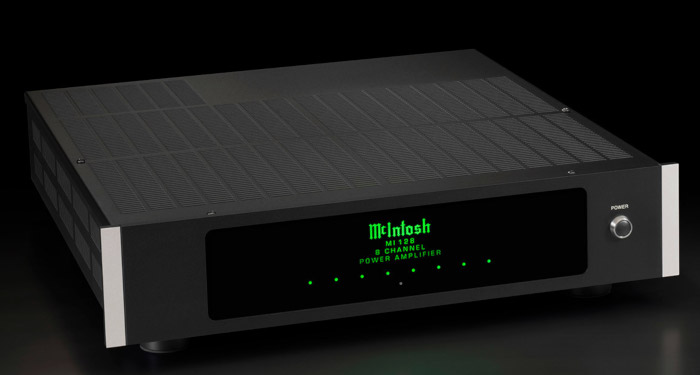 McIntosh will also have on display three new speakers for the custom installation market: the WS500 and WS300 In-Wall Speakers, plus the CS200 In-Ceiling Speaker. The WS500 and WS300 can be adapted to both two-channel and multi-channel needs. Both are three-way speakers that are fully enclosed with controlled air chambers to minimize distortion and response irregularities. The WS500 features two 165mm (6.5-inch) woofers, two 50mm (2-inch) inverted titanium-dome midranges and one 19mm (3/4") titanium-dome tweeter, while the WS300 has one 200mm (8-inch) woofer, two 50mm (2-inch) inverted titanium-dome midranges and one 19mm (3/4") titanium-dome tweeter.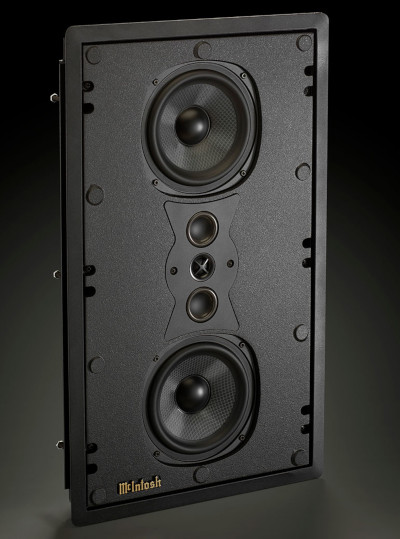 Both the WS500 and WS300 feature newly designed shallow woofers that allow for each speaker to be just 93mm (3.625-inches) deep, permitting them to fit in almost any wall. The woofers utilize a long- throw, high-power design with molded carbon-reinforced cones with elastomeric surrounds for high linearity.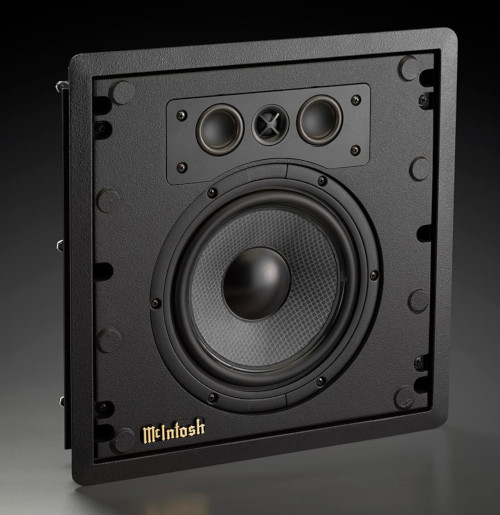 The McIntosh CS200 is a three-way In-Ceiling Speaker featuring a 100mm (8-inch) woven glass fiber woofer, two (50mm) 2-inch inverted titanium-dome midranges and one 19mm (3/4-inch) titanium-dome tweeter. The midranges and tweeter are housed in a rotating array for increased flexibility.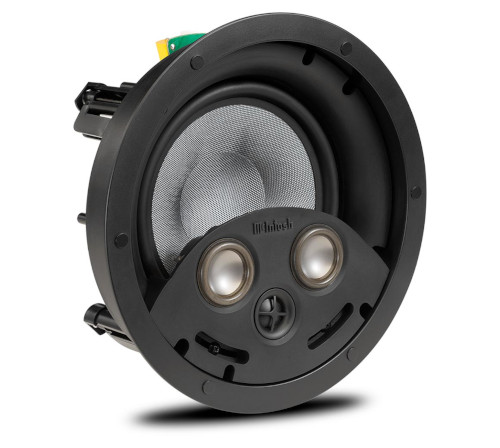 Each speaker is designed to handle up to 250 Watts of power.
Pricing and availability
McIntosh's new Custom Install products are available to order now.
MI254: $4,500
MI128: $3,500
WS500: $3,000
WS300: $2,000
CS200: $1,500