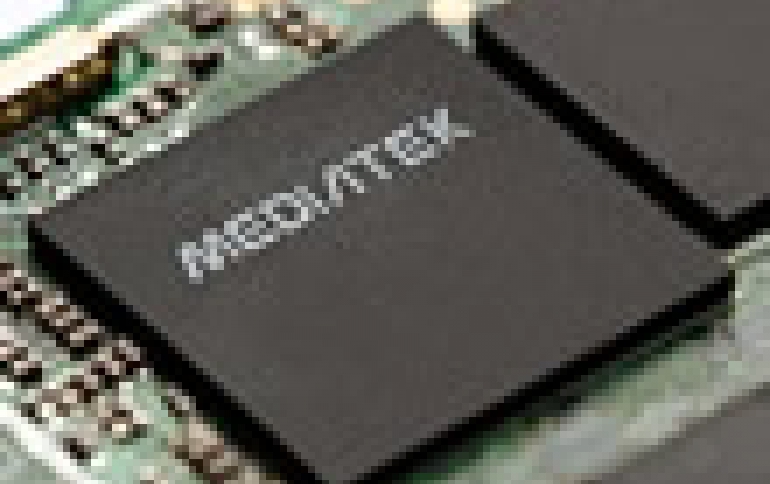 MediaTek Releases Octa-core Phone Chip, 120Hz Mobile Display Technology
Taiwan's MediaTek, originally known for chips used in low-end phones for emerging countries, is swifting with a heavy-duty smartphone chip with eight processor cores. MediaTek's new flagship product, called the MT6795, follows announcements of "octa-core" chips from rivals that include Qualcomm and Samsung Electronics.
In general, 64-bit chips allow for faster apps that can handle a lot of data more efficiently than the 32-bit processors typical in smartphones and tablets today. However, most mobile operating systems and apps don't currently support 64 bit.
The most notable exception is Apple's iPhone 5S, which made waves last fall when it debuted with the industry's first 64-bit ARM-based processor in the A7 chip. Other companies, including Qualcomm, Intel, and Nvidia, have unveiled their 64-bit mobile chip offerings. Samsung earlier this year said it also was working on a 64-bit chip for mobile devices.
The 64-bit "True Octa-core" LTE smartphone System on Chip (SoC) supports 2K displays and has been designed to empower high-end device makers to leap into the Android 64-bit era.
The MT6795 is currently set to be the first 64-bit, LTE, True Octa-core SoC targeting the premium segment, with speed of up to 2.2GHz, to hit the market. The SoC features MediaTek's CorePilot
technology providing world-class multi-processor performance and thermal control, as well as dual-channel LPDDR3 clocked at 933MHz for top-end memory bandwidth in a smartphone.
The SoC is also featuring multimedia subsystems that support many technologies never before possible or seen in a smartphone, including support for 120Hz displays and the capability to create and playback 480 frames per second (fps) 1080p Full HD Super-Slow Motion videos.
Coupled with 4G LTE support, MT6795 completes MediaTek's 64-bit LTE SoC product portfolio: MT6795 for power users, MT6752 for mainstream users and MT6732 for entry level users.
Key features of MT6795:
64-bit True Octa-core LTE SoC with clock speed up to 2.2GHz
MediaTek CorePilot unlocks the full power of all eight cores
Dual-channel LPDDR3 memory clocked at 933MHz
2K on device display (2560x1600)
120Hz mobile display with Response Time Enhancement Technology and MediaTek ClearMotion
480fps 1080p Full HD Super-Slow Motion video feature
Integrated, low-power hardware support for H.265 Ultra HD (4K2K) video record & playback, Ultra HD video playback support for H.264 & VP9, as well as for graphics-intensive games and apps
Support for Rel. 9, Category 4 FDD and TDD LTE (150Mbps/50Mbps), as well as modems for 2G/3G networks
Support for Wi-Fi 802.11ac/Bluetooth/FM/GPS/Glonass/Beidou/ANT+
Multi-mode wireless charging supported by MediaTek's companion multi-mode wireless power receiver IC
MediaTek's technology that enables 120Hz display on mobile devices is made possible by combining Japan Display's panel technology with MediaTek System on Chip's (SoC) processing capabilities. Capable of rendering content at 120 frames per second (fps), the MT6595 and MT6795 SoCs also enable display clarity and motion fluency on 120Hz displays, improving all aspects of mobile experiences – from camera recording, video playback, and gaming, to the entire user interface (UI) experience.
Key to this breakthrough is MediaTek's Response Time Enhancement Technology, which decreases the display's response time and reduces motion blur experienced on 60Hz display by up to 50%. In addition to the Response Time Enhancement Technology, MediaTek ClearMotion featured in the SoCs ensures full utilization of the 120Hz display with automatic frame rate conversion for content that is standard 24fps and 30fps videos and displays them in 120fps.
MediaTek's Super-Slow Motion Technology is smartphone camera feature that enables smartphones to create 480 frames per second (fps) 1080p Full HD videos and playback at 1/16 speed. This high-end technology is featured in MT6595- and MT6795-powered devices.
The technology controls several subsystems that work in concert, beginning with the Sony IMX220, 20.7MP sensor, which is used to capture the videos. The captured high fps videos are then passed through MediaTek's image processing pipeline. Additionally, users may edit their videos as much as they like while retaining total control over the duration and location of the Super-Slow Motion segment on the video timeline. Once a Super-Slow Motion video is rendered, users can then share it with friends and family.
MT6795-powered devices will be commercially available by the end of 2014.