MediaTek, SK Hynix, AMD, and Micron Sales Surge in 1Q14
MediaTek, SK Hynix, AMD, and Micron enjoyed high semiconductor sales during the first quarter of 2014, although they still lag behing semiconductor leaders nnIntel, Samsung and TSMC. According to IC Insights' May Update to The 2014 McClean Report, the top 20 worldwide semiconductor (IC and O S D optoelectronic, sensor, and discrete) list includes three pure-play foundries (TSMC, GlobalFoundries, and UMC) and six fabless companies. It is interesting to note that the top four semiconductor suppliers all have different business models. Intel is essentially a pure-play IDM, Samsung a vertically integrated IC supplier, TSMC a pure-play foundry, and Qualcomm a fabless company.
Beyond the the top five spots, there were numerous changes within the 1Q14 top-20 semiconductor supplier ranking. MediaTek jumped up four positions in 1Q14 as compared to 1Q13 into 12th place. MediaTek continues to experience extremely strong demand for its devices in the booming low-end smartphone business in China and other Asia-Pacific locations. Moreover, MediaTek and MStar finalized their merger on February 1, 2014.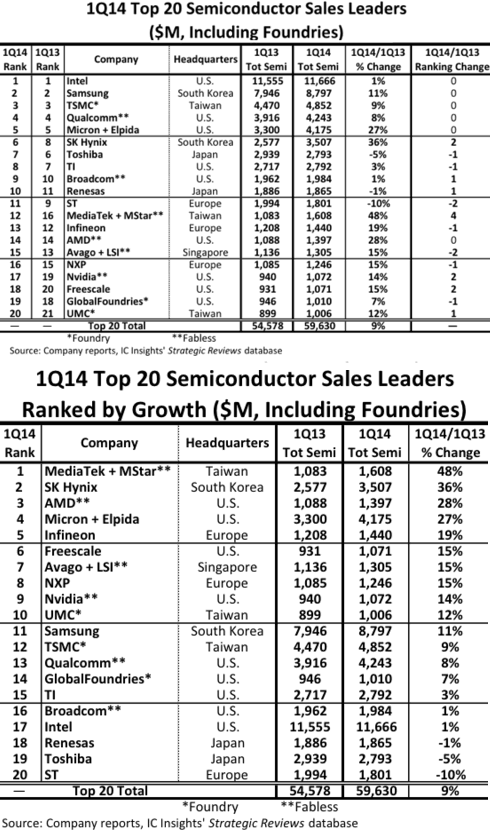 After Avago's purchase of LSI Corp. on May, the combined annual semiconductor sales run-rate of the two companies is likely to be over $5 billion. Also, last year's Micron/Elpida merger essentially created a new "giant" semiconductor company with Micron's sales expected to be over $17 billion this year.
Another potential merger to keep a watch for in the future is Fujitsu and Panasonic. In February of this year, the two Japanese companies signed a memorandum of understanding to combine the two companies' system LSI businesses and form a new fabless semiconductor company. IC Insights estimates that the combined 1Q14 semiconductor sales of these two companies was about $1.25 billion (down from $1.44 billion in 1Q13), which would have ranked the "merged" company as the sixteenth largest semiconductor company in the first quarter of this year.
The success of the fabless and fab-lite business models and the continued strong growth of the memory market are evident when examining the top 20 semiconductor suppliers that logged double-digit growth in 1Q14. As shown, 10 of the top 11 1Q14 performers were either memory suppliers (SK Hynix, Micron, and Samsung) or fabless/fab-lite companies (MediaTek, AMD, Infineon, Freescale, Avago/LSI, NXP, and Nvidia).