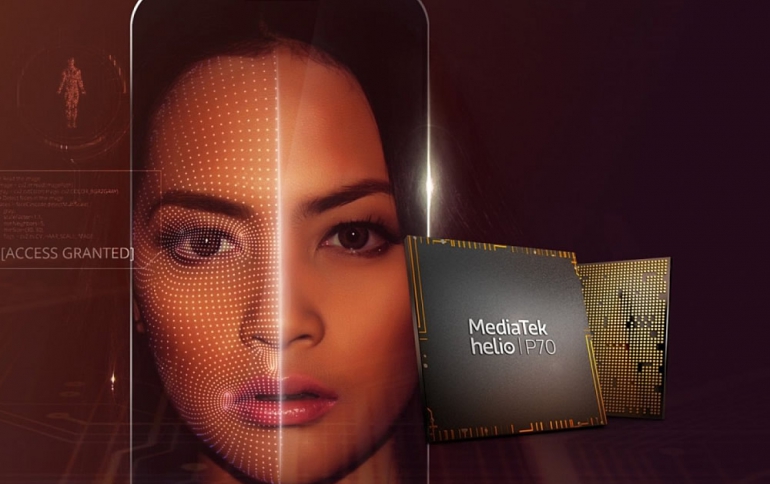 MediaTek's Helio P70 Brings AI and Premium Upgrades To Mid-Range Devices
MediaTek is launching the Helio P70 system-on-chip (SoC), with an enhanced AI engine combined with CPU and GPU upgrades for more powerful AI processing.
Helio P70 also comes with upgraded imaging and camera support, a gaming performance boost and connectivity features.
The Helio P70 is in volume production now, and is expected to be available in consumer devices by November.
Built with TSMC's 12nm FinFET technology, the Helio P70 features a multi-core APU operating at up to 525 MHz for fast and efficient edge-AI processing. To maximize the performance of demanding AI applications, the chipset packs four Arm Cortex-A73 2.1 GHz processors and four Arm Cortex-A53 2.0 GHz processors in an octa-core big.LITTLE configuration. For an additional power boost, the chipset has an improved Arm Mali-G72 MP3 GPU operating at up to 900 MHz, which provides a 13 percent performance improvement compared to Helio P60.
Mediatek says that the Helio P70's AI engine delivers a 10 to 30 percent AI processing boost compared to the Helio P60. That means Helio P70 can support more complex AI applications such as real-time human pose recognition and AI based video encoding.
MediaTek's AI video encoder enhances video call quality even when connection bandwidth is limited. It can be used for video calls including Skype calls, Facebook video calls and YouTube live video streaming.
Helio P70 is built on MediaTek's NeuroPilot platform, the company's hardware and software ecosystem to support edge AI. NeuroPilot supports common AI frameworks, including TensorFlow, TF Lite, Caffe, Caffe2 and custom third party offerings.
The chipset is also optimized to reduce frame-rate jitter and improve latency for touch controls and display visuals for a smooth gaming experience.
Helio P70 supports a variety of AI-infused photo and video experiences including real-time beautification, scene detection and artificial reality (AR) capabilities. The chipset features improved deep-learning facial detection with up to 90 percent accuracy. It supports a super-sized 32MP single camera, or 24+16MP dual cameras, and its three ISPs are tuned to provide power savings, reducing consumption by 18 percent compared to previous Helio generation dual-camera setups.
Helio P70 comes with a 4G LTE modem and 300MBit/s of download performance. It supports Dual 4G VoLTE and also features MediaTek's smart antenna technology, which automatically uses the best antenna combination to sustain signal quality.
Specifications
CPU Type(s): ARM Cortex-A53,  ARM Cortex-A73
Max CPU Frequency: Up to 2.1GHz Cores: Octa (8)
CPU Bit: 64-bit
Heterogeneous Multi-Processing: Yes
Memory Type: LPDDR3,  LPDDR4x
Max Memory Frequency: 1X LPDDR3 933MHz, 2X LPDDR4x Up to 1800MHz
Max Memory Size: Up to 8GB (LPDDR4x), Up to 4GB (LPDDR3)
Storage Type: eMMC 5.1,  UFS 2.1 connectivity
Cellular Technologies: Carrier Aggregation (CA),  CDMA2000 1x/EVDO Rev. A (SRLTE),  FDD / TDD LTE,  HSPA +
Specific Functions: 2x2 UL CA, TAS 2.0, HUPE, IMS (VoLTE\ViLTE\WoWi-Fi), eMBMS, Dual 4G VoLTE (DSDS), Band 71
LTE Category: Cat-7 DL / Cat-13 UL
General Connectivity: Bluetooth,  FM Radio,  GNSS,  Wi-Fi
GNSS: Beidou,  Galileo,  Glonass,  GPS
Wi-Fi: a/b/g/n/ac
Bluetooth Version: 4.2 (Low Energy)
FM Radio: Yes
Max Camera ISP: 32MP,  24MP+16MP
Max Video Capture Resolution: 3840 x 2160
Capture FPS: Up to 32MP @ 30fps with ZSD or 16MP @ 90fps
Camera Features: (AI) Facial Detection & Scene Detection; Hardware Warping Engine (EIS); Anti-Blooming Engine; MEMA 3DNR; Multi-Frame Noise reduction; Real-time HDR recording and viewing; Zig-Zag HDR; RAW-domain multi-frame HDR; PDAF
GPU Type: ARM Mali-G72 MP3
Max GPU Frequency: Up to 900MHz
Max Display Resolution: 2160 x 1080
Video Encoding: H.264
Video Playback: H.264,  H.265 / HEVC mediatek Technologies CorePilot,  Imagiq,  NeuroPilot,  Pump Express,  Pump Express Wireless,  Response Time Enhancement Technology
AI Accelerator: Yes
Performance: Up to 280GMAC/s