Mellanox Launches ConnectX-6 Dx SmartNICs and BlueField-2 I/O Processing Units Featuring Security Accelerators for Cloud Platforms
Mellanox Technologies, Ltd. has made available the ConnectX-6 Dx SmartNICs and announced the soon-to-be-released BlueField-2 I/O Processing Units (IPUs).
Both feature a suite of security acceleration engines and platform security capabilities for building secure and efficient data center infrastructures at massive scale, across public, on-premises and edge environments.
ConnectX-6 Dx and BlueField-2 play a key role in distributed security architectures that extend traditional perimeter security to every endpoint. Integrating IPsec and TLS cryptographic acceleration technologies with open-source, upstream software solutions, Mellanox allows its customers and partners to take advantage of hardware acceleration capabilities in both new and existing data center environments. Both virtualized and bare metal servers benefit from secure web application delivery, east-west communication encryption, RoCE transport communication encryption and data-at-rest storage encryption, at data rates of up to 200Gb/s, and enhanced CPU efficiencies.
Mellanox ConnectX SmartNICs and BlueField IPUs provide in-hardware security policy enforcement and connection tracking at full wire speed with up to 100X performance gains compared to non-accelerated solutions - making them ideal to boost next-generation firewalls in bare-metal, virtualized and containerized cloud environments.
ConnectX-6 Dx delivers two ports of 10/25/40/50/100Gb/s or a single-port of 200Gb/s Ethernet connectivity.
ConnectX-6 Dx offers a portfolio of SmartNICs in several form factors:
Low-profile PCIe, OCP 2.0 and OCP 3.0 compliant cards
SFP28/56, QSFP28/56 and SFP-DD
Mellanox Multi-Host and Mellanox Socket Direct configurations
ConnectX-6 Dx's ASAP technology delivers SR-IOV and VirtIO acceleration, offloading Open vSwitch data path forwarding from the host's CPU to the adapter's ASIC, and enabling performance and scalability.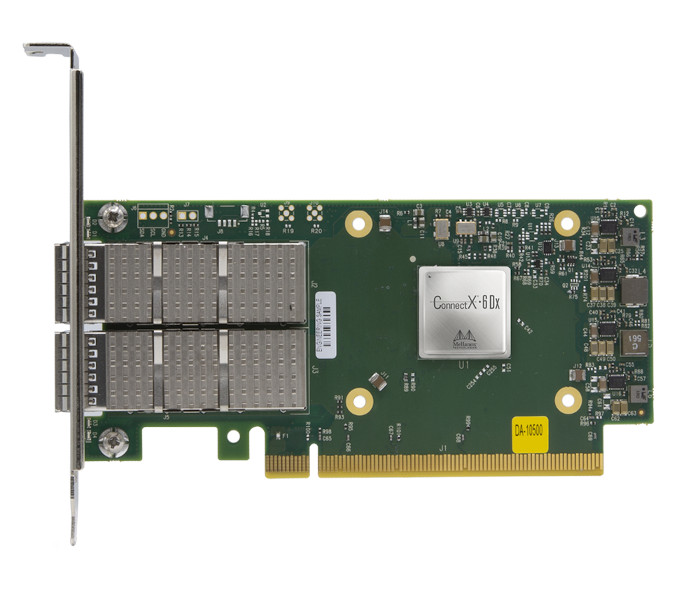 ConnectX-6 Dx brings security to every end-point, including:
Purpose-built inline acceleration engines that offload IPsec and TLS data-in-motion and XTS-AES data-at-rest cryptographic operations.
Stateful firewall solution acceleration, powered by Open vSwitch connection tracking and Mellanox's ASAP2 technology.
Embedded hardware root-of-trust and support for RSA-based secure firmware update and secure boot, providing guaranteed integrity of the network adapter.
As an IPU, BlueField-2 provides even more in-hardware security capabilities, including agentless micro-segmentation, malware detection, deep packet inspection and application recognition.
Powered by 50Gb/s PAM4 SerDes technology and PCIe Gen 4.0, BlueField-2 provides up to two ports of 25, 50 or 100Gb/s, or a single port of 200Gb/s Ethernet and InfiniBand connectivity. BlueField-2 combines the capabilities of the ConnectX-6 Dx ASIC network adapter with an array of Arm processors and a high-speed memory controller, which enable flexible software programmability.
BlueField-2 storage capabilities which include NVMe-oF offload and NVMe emulation—may be leveraged on both the storage target and the storage client. As a SmartNIC, it may operate as a co-processor to offload and accelerate specific storage tasks from the host. Moreover, Mellanox NVMe SNAP logically presents networked storage as a local NVMe drive on the PCIe bus to host software, thus bringing virtualized flash storage to bare-metal clouds, simplifying composable storage.