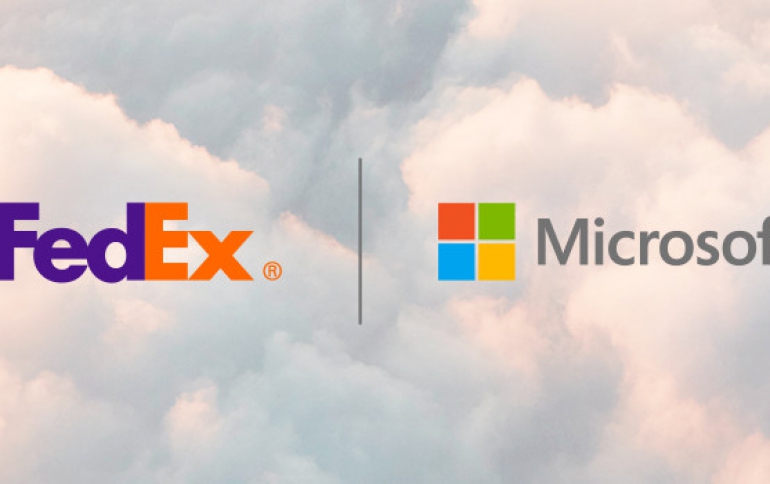 FedEx and Microsoft Announce New FedEx Surround Platform For End-to-end Commerce
FedEx Corp. and Microsoft Corp. on Monday announced a new multiyear collaboration to help transform commerce by combining the global digital and logistics network of FedEx with the power of Microsoft's intelligent cloud.
Together, FedEx and Microsoft plan to develop multiple joint offerings powered by Azure and Dynamics 365 that will use data and analytics solutions to improve the most critical aspects of the commerce experience and enable businesses to better compete in today's increasingly digital landscape.
"FedEx has been reimagining the supply chain since our first day of operation, and we are taking it to a new level with today's announcement," said Frederick W. Smith, chairman and CEO, FedEx. "Together with Microsoft, we will combine the immense power of technology with the vast scale of our infrastructure to help revolutionize commerce and create a network for what's next for our customers."
Today, FedEx networks link more than 99% of the world's gross domestic product across 220 countries and territories, and Microsoft Azure is trusted by more than 95% of Fortune 500 companies.
"Now more than ever, organizations are counting on an efficient and capable supply chain to remain competitive and open for business," said Satya Nadella, CEO, Microsoft. "Together with FedEx, we will apply the power of Azure, Dynamics 365 and their AI capabilities to this urgent need, building new commerce experiences that transform logistics for our mutual customers around the world."
FedEx Surround, the first solution resulting from the FedEx and Microsoft collaboration, is designed for any business to digitize its supply chain by leveraging data to drive real-time inventory tracking and logistics management. The system
provids near-real-time analytics into shipment tracking, which will drive more precise logistics and inventory management. While most carriers are reactive to global logistics dynamics with limited visibility options built into a package's journey, FedEx Surround will provide near-real-time insights — down to the granular level of ZIP code, for example — to shine a digital light on the progress and movement of physical inventory.
The benefits offered by FedEx Surround will extend to any business with a supply chain and particularly those that depend on highly time-sensitive deliveries. For example, a hospital may urgently need a package to help save a life, or a part may need rapid transport to a manufacturing facility to avoid an operational shutdown.
FedEx Surround can also collect multiple data points gathered through the enhanced scanning and proprietary IoT technology of FedEx and analyze them using Microsoft's suite of AI, machine learning and analytics solutions. This will provide participating businesses with not only enhanced visibility of a package's location during its journey, but also knowledge of global commerce conditions and external challenges in near-real-time, such as severe weather or natural disasters, mechanical delays, clearance issues, and incorrect addresses. This level of data-driven insight will give FedEx Surround customers the opportunity to intervene early and act to avoid logistical slowdowns before they occur to reduce friction and costs. And with every package that ships, FedEx Surround will analyze past trends to identify future opportunities for streamlined shipping, creating a stronger and more resilient commercial ecosystem.
FedEx Surround won't cost customers extra and will roll out broadly after a pilot program this summer. The service will use Microsoft's Azure cloud services and artificial intelligence tools, as well as software that handles data from devices likes FedEx scanners and sensors.
FedEx and Microsoft expect to announce additional solutions as part of their collaboration in the coming months, which will leverage even more Microsoft technologies, including Dynamics 365. This includes new commerce experiences for businesses to offer consumers more integrated ways to shop, and faster and more efficient deliveries.
FedEx Surround may lead to other initiatives designed to help the courier position itself as a logistics alternative to Amazon for small and large retailers.
For Microsoft, the collaboration could help narrow the gap with Amazon, which is the leader in the cloud-infrastructure market.