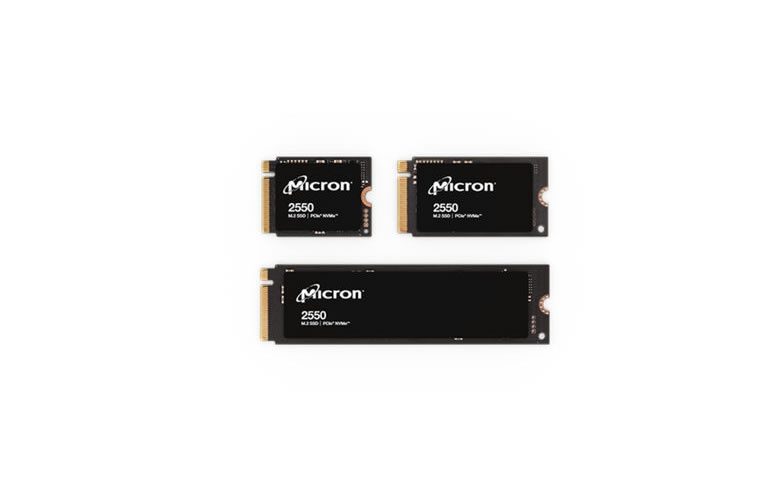 Micron announces new 2550 NVMe SSD With 232-Layer NAND
Micron unveiled the first client SSD shipping with 232 layers of NAND flash, this new product is called the "2550 series". The Micron® 2550 NVMe™ SSD delivers the latest, most advanced NAND technology with outstanding PCIe Gen4 performance and a superior user experience.
The 2550 SSD is the world's first client SSD from any NAND OEM to incorporate >200-layer-class NAND. It enables fast, responsive applications and consumes extremely little power — driven by several Micron innovations. Low power consumption dramatically helps extend compute time. The Micron 2550 SSD is designed to meet the rigorous requirements of both the Intel Modern Standby Partner Platform Component List and the Open Labs' SSD test requirements of Intel's Project Athena. This leading-technology NAND offers 100% higher write bandwidth and more than 75% higher read bandwidth per die than our prior generation and is the world's first six-plane production TLC. Power savings are provided through Micron's optimization of entry and exit into self-initiated, energy-saving states, use of an advanced process node for the controller, and elimination of DRAM via HMB technology. These innovations collectively deliver batterysipping sleep power consumption under 2.5 milliwatts, active idle power consumption under 150 milliwatts, and active power consumption below 5.5 watts. These advances enable longer battery life for daily computing needs.
The Micron 2550 SSD performance surpasses competitors' in PCMark® 10 benchmark scores. This new Micron SSD firmware is optimized for the needs of client devices with features like: a) Predictive Cache Optimization: The Micron 2550 SSD actively manages data writes by putting the busiest, most active data in the fastest part of the SSD, the SLC mode cache. and b) Modern Standby: This breakthrough technology enables devices to quickly wake up from low-power sleep to active working modes.
Performance goes up to 5GB/sec for reading and up to 4GB/sec for writing, at least for the 1TB variant. It is available in 22x30mm, 22x42mm, and 22x80mm form factors and comes in a variety of capacity options ranging from 256GB/512GB and 1TB. These options provide OEM system designers the flexibility to build PCs with the right mix of performance, size, weight, and battery life.
More information at
https://www.micron.com/products/ssd/product-lines/2550
https://media-www.micron.com/-/media/client/global/documents/products/pr...