Microsoft Xbox One Update Coming Later This Week
Microsoft is delaying the February Xbox One update. Instead of today, it is coming later this week, and the March update will bring imporvementsto multiplayer and parties. As we
previously reported
, Microsoft's February Xbox One update is primarily focused on managing content and displaying battery life for controllers. The update will allow Xbox One owners to see what has been downloaded and installed, and separates out the My Games and My Apps sections to make it easier to manage large libraries of games and apps.
Regarding the Multiplayer and Party Updates for Xbox One coming in March, you should expect the following:
- The friends list will be front and center on the homepage of the Friends app. You'll be able to click the Social tile on Home, or say "Xbox, go to Friends" to see who's online and what they're up to. From there you will be able to send messages and get into a party.
- Party chat will be turned on by default and chat audio will be turned on by default.
- Party chat will be also separated from people playing your game, so you can chat with your friends who are online or you can chat with everyone playing the game.
- Microsoft is adding an "Invite friends to game" option to your multiplayer titles moving forward. Similar to Xbox 360 titles, this will appear inside a games' menu and offer a quicker way to set up your multiplayer battles. Selecting "Invite friends" will let you invite friends to your game and party.
- A "Recent Players" list will be also added and will show you Xbox Live members you've recently played with.
Microsoft also today announced a pair of new audio device options for Xbox One.
The new Xbox One Stereo Headset pairs a full-range (20Hz ? 20kHz) audio experience with an unidirectional microphone taking advantage of Xbox One's Skype-powered chat audio codec. Included in the package is a detachable Stereo Headset Adapter that puts all of the audio controls right at your fingertips. You can balance the game and chat audio levels, control the master volume, and mute the microphone.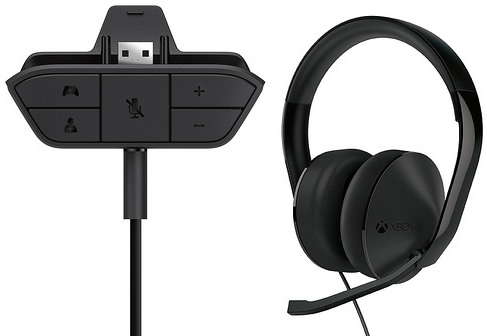 The Xbox One Stereo Headset does not use separate batteries and is passively powered through the Wireless Controller. Additionally, headset is compatible with mobile devices, tablets and PC/Mac.
The Xbox One Stereo Headset will cost $79.99 (MSRP).
For Xbox fans that already have a favorite set of stereo gaming headphones, the Stereo Headset Adapter will also ship separately. The Xbox One Stereo Headset Adapter will cost $24.99 (MSRP.)