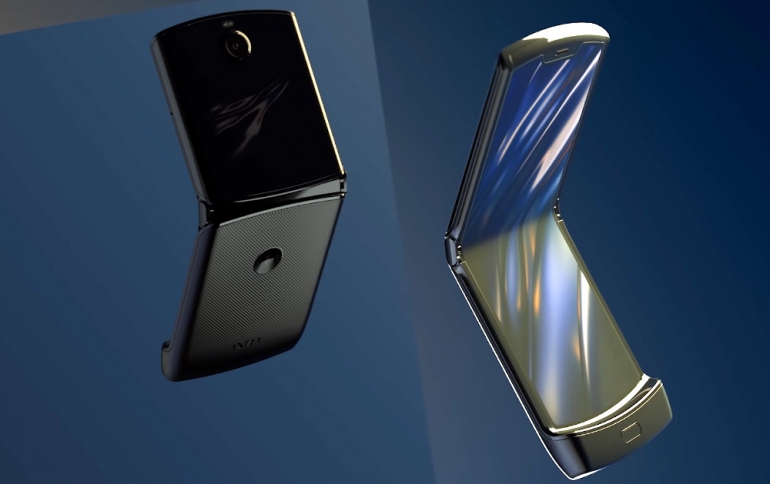 Motorola Razr Foldable Smartphone Coming For $1,500
Motorola is bringing back the the iconic Razr flip phone as a 6.2-inch smartphone with a foldable display that costs $1,499 and will be available for pre-order in December in Europe and as a Verizon exclusive in the U.S., ahead of its retail arrival in January.
Launched in late 2004, the first Razr sold 130 million units. With the new foldable model, Motorola executives are confident that their design won't succumb to the durability issues that pushed back Samsung's Galaxy Fold launch.
The 2019 Razr is no bargain, but compared to the $1,980 Galaxy Fold or Huawei Technologies Co.'s $2,600 Mate X, it's the most affordable member of the foldable phone category.
In terms of specifications, the device has a small battery at 2,510mAh and runs the older Android 9 Pie operating system on Qualcomm's sub-flagship Snapdragon 710 chip. It lacks the 5G option and the large memory of its rivals - it has 6GB of RAM. Aside from the U.S. and Europe, it'll also be on sale in Latin America, Asia and Australia.
Instead of a vertical hinge that makes it open like a book, the new Razr opens and closes like a classic flip phone. Its OLED inner display has and a 2142 x 876 resolution and is 6.2-inches long when fully extended.
Closed shut, the phone is a square that's about half the size of an iPhone 11 Pro Max. The action of flipping the phone shut to hang up calls id also brough back in the new device.
Samsung is also planning to introduce its own square-shaped foldable phone as its second Galaxy Fold device early next year.
The device looks studry, feturing stainless steel structural plates between the bottom of the inner screen and the device's internals. There's also a 2.7-inch exterior touchscreen for quick access to commonly used functions and checking notifications.
It also has a notch at the top of the main display, lacks a headphone jack, and will be available only in black and with 128GB of storage without further upgrade options. Its camera and battery specs are underwhelming, though Motorola promises "all-day battery life" without quoting an exact number of hours. There is asingle 16MP f/1.7 rear camera and there isn't an additional wide or telephoto lens.
Similar to Samsung, Motorola will offer 24-hour turnaround replacements under a standard warranty for display failures, and it will charge $299 if the issue falls out of warranty in the U.S.

The phone will be sold via Verizon Wireless as the exclusive launch carrier in the U.S. and will be available at Verizon and Walmart stores from January.
Over the past several quarters, Motorola has turned its mobile business from a flailing unit of China's Lenovo to profitability in many markets.