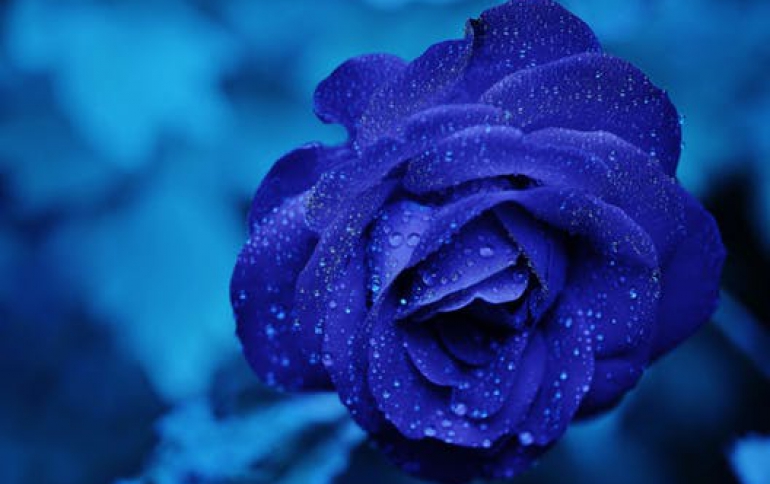 MSI Introduces Overclocked N460GTX Cyclone Series
MSI officially launched today the N460GTX Cyclone series graphics cards, including the N460GTX Cyclone 768D5 and N460GTX Cyclone 1GD5. Equipped with the latest NVIDIA GeForce GTX 460 GPU and Military Class components, N460GTX Cyclone series releases the overclocking potential up to 30% through MSI Afterburner Over voltage function of GPU. Moreover, adopting MSI Cyclone thermal design with 9cm PWM fan, dual heat pipes and nickel-plated copper base which effectively decrease temperature, MSI N460GTX Cyclone series generates 15.7% lower noise than reference cooler at full speed to create a quiet environment for users.
MSI N460GTX Cyclone series is equipped with exclusive Cyclone thermal design. After sinking the heat from the GPU with the nickel-plated copper base, two heat pipes evenly transfer heat to the fins. Through 9cm PWM fan, the airflow dissipates the heat quickly. Aside from effectively reducing the GPU temperature, compared to the reference cooler, the Cyclone thermal design can reduce 15.7% noise.
Furthermore, utilizing MSI exclusive Afterburner overclocking software, users can adjust the fan speed as well as tune the voltage of the GPU to completely unleash its power to significantly enhance the overclocking capability up to 30%.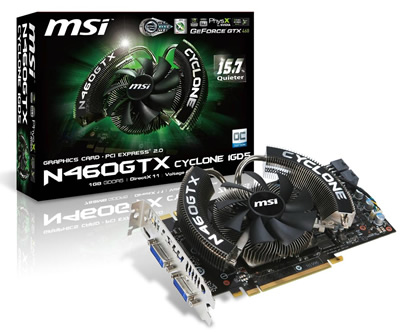 MSI N460GTX Cyclone 1GD5/OC specs
Graphics Engine: GeForce GTX 460
Bus Standard: PCI Express x16 2.0
Memory Type: GDDR5
Memory Size (MB): 1024
Memory Interface: 256 bits
Core Clock Speed(MHz): 725
Memory Clock Speed(MHz): 3600
DVI Output: 2
D-SUB Output: 2( optional, via DVI to D-Sub adaptor)
HDMI-Output: 2 (optional, via DVI to HDMI adaptor)
Mini HDMI-Output: 1
Display Ouput (Max Resolution): 2560x1600
RAMDACs: 400
DirectX Version Support: 11
OpenGL Version Support: 4.0
SLI Support: Yes
Card Dimension(mm): 200.61x110.1x38
Weight: 512g
MSI N460GTX Cyclone 768D5/OC specs
Graphics Engine: GeForce GTX 460
Bus Standard: PCI Express x16 2.0
Memory Type: GDDR5
Memory Size (MB): 768
Memory Interface: 192 bits
Core Clock Speed(MHz): 725
Memory Clock Speed(MHz): 3600
DVI Output: 2
D-SUB Output: 2( optional, via DVI to D-Sub adaptor)
HDMI-Output: 2 (optional, via DVI to HDMI adaptor)
Mini HDMI-Output: 1
Display Ouput (Max Resolution): 2560x1600
RAMDACs: 400
DirectX Version Support: 11
OpenGL Version Support: 4.0
SLI Support: Yes
Card Dimension(mm): 200.61x110.1x38
Weight: 512g