MWC: Lenovo Showcases The Detachable Miix 320, New Yoga 720 and 520 Convertibles And The Tab 4 Series
Lenovo is introducing a new device portfolio at Mobile World Congress 2017 that spans nearly all mobile form factors: the detachable Miix 320, the convertibles Yoga 720 and 520, along with the Tab 4 family of tablets.
Lenovo Tab 4 Series Tablets for Kids and the Family
All tablets in the Lenovo Tab 4 family run on Android OS 7.0. The Lenovo Tab 4 8 and Lenovo Tab 4 10 tablets offer HD displays and performance from Quad-core Snapdragon processors, coupled with 2GB of RAM. The tablets offer multimedia options such as front-facing dual-stereo speakers with Dolby Atmos moving audio. Multiple users can also open their own account and maintain their own customized space on the tablet, tweaking their own settings and wallpaper and accessing their own Facebook or Instagram accounts.
The Lenovo Tab 4 8 Plus and Lenovo Tab 4 10 Plus are "dual-glass tablets", shielded on the front and back with a layer of protective glass, which combines with its ultra-slim and light profile-between 7.15mm and 8.4mm in thickness.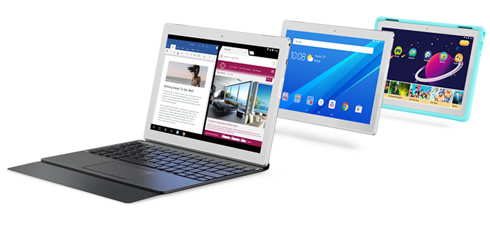 The Lenovo Tab 4 8 Plus and Lenovo Tab 4 10 Plus are powered by a 64-bit Octa-Core 2.0GHz processor, featuring up to 4GB RAM and 32GB storage. The devices are offering dual speakers and Dolby Atmos moving audio for cinematic viewing on FHD IPS screens. Fingerprint quick log-in also provides simple security for multiple users in a household, and USB Type C and Quick Charge 3.0 capability allow for lightning-fast charge times.
Lenovo is also offering a Kid's Pack, which comes with a shock-resistant bumper, a blue-light filter and a pair of colorful, scratch resistant 3M stickers, augmented by an optimized kid's experience from the Lenovo Kid's Account, which features up-to-date and curated kid's content, a browser with whitelisted websites and scheduling tools for parents. The tablets can also transform into a 2-in-1 Android workhorse with the addition of the optional Productivity Pack with Bluetooth keyboard, which complements the Lenovo Tab 4's productivity interface. This interface incorporates a taskbar for quick switching between apps, multi-window support, support for common keyboard shortcuts, and optimization for mouse and keyboard operations.
The Lenovo Tab 4 8 Plus and Lenovo Tab 4 10 Plus come in either Sparkling White or Aurora Black. The Tab 4 8 and Tab 4 10 come in Slate Black and Polar White. The Tab 4 8 and Tab 4 10 start at €169 and €179, respectively. The Tab 4 8 Plus retails at €259 and the Tab 4 10 Plus at €299. Tab 4 Series tablets will be available globally in May.
Miix 320 Detachable with Lightning-Fast LTE Option
To continue offering professionals the versatility they need, Lenovo built the new Lenovo Miix 320 - a lightweight Windows 10 detachable with up to 10 hours of battery life. Use it as a laptop with its up to FHD 10.1-inch display for work, or detach and use it as a portable tablet on-the-go, and connect nearly anywhere with its optional LTE. Continuum will automatically adapt it to laptop or tablet mode - making the multimode transitions seamless.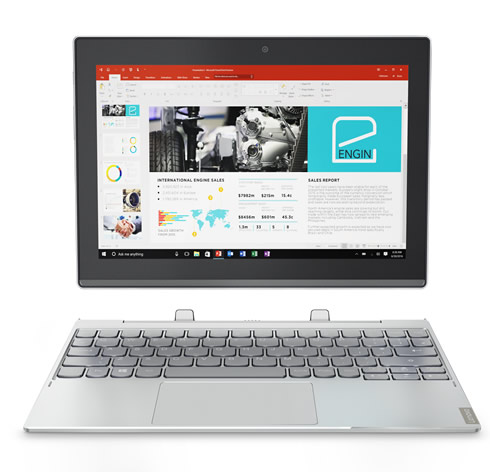 The Miix 320 has an Intel Atom X5 processor, Intel HD graphics, up to 4GB memory and up to 128GB eMMC storage. For those who need to lighten the load commuting across town, they can detach the keyboard and take the Miix 320's touchscreen display weighing only 550g with Dolby Advanced Audio speakers to share a pitch video with a prospective investor.
The Miix 320 (keyboard included, Wi-Fi only without LTE) starts at €269, and the Miix 320 (keyboard included, with LTE) starts at €399 and are available beginning in April 2017. The Miix 320 with Active Pen support and Microsoft Office 365 (for 12 months) will be available in select markets starting in July 2017.
Yoga Convertibles
The Yoga 720 and 520 convertiblea are available in 13, 14 and 15-inch models, each weighing less than five pounds.
The 15-inch Yoga 720 comes with up to the latest 7th Gen Intel Core i7 processors, NVIDIA GeForce GTX 1050 discrete graphics, Thunderbolt 3 and up to nine hours of battery life.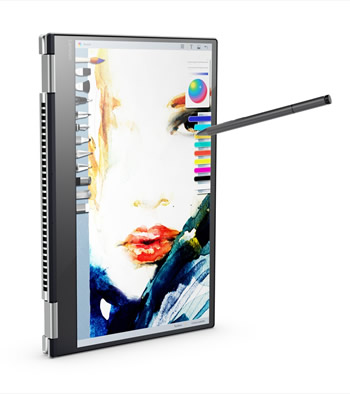 Coupled with a touchscreen, the new Yoga 720 and Yoga 520 both offer optional active pen support for editing, note-taking and sketching on Windows Ink. Lenovo also added an advanced integrated fingerprint reader on the Yoga 720, as well as making it an option on the Yoga 520, allowing you to swiftly and securely log onto your new Yoga convertibles through Windows Hello with a built-in fingerprint reader.
The Yoga 720 (13-inch) will be available starting at €999 in April 2017. Yoga 720 (15-inch) will be available starting at €1099 in April 2017. Yoga 520 (14-inch) will be available starting at €599 in July 2017.