New Blu-ray Disc Player With Surround System By Pioneer
Pioneer will soon make available in Japan the MCS-434, a Blu-ray disc player with a 5.1ch surround system designed to serve as a digital AV center. The main device is a BD player capable of reproducing a wide variety of video and music files includng BD, DVD, CD, SACD, Blu-ray 3D, DTS-HD Master Audio, Dolby TrueHD or Dolby Digital Plus, SACD Blu-ray 3D, MP3, AAC, DivX, MKV, WMV and FLV.
It is equipped with 2x USB input for connecting an external HDD or your iPhone/iPad/iPod, along with 4x HDMI inputs, 1x optical digital input and 1x analog audio input.
The player also supports DLNA and Wi-Fi wireless connectivity and offers access to YouTube and Picasa.
The 5.1ch surround system includes 5 x 6.6 cm (cones) speakers and a 16cm sub woofer with bass reflex. Pioneer's "virtual 3D sound" technology ensures a great 3D audio experience.
The MCS-434 will be available in Japan in June.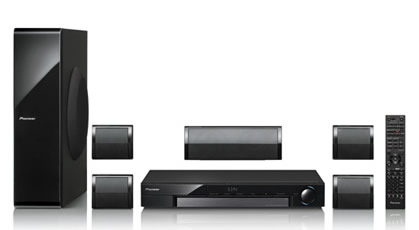 BD player
Inputs
HDMI input
x4
Optical digital input
x1
Analog audio input
x1
USB inputs
x2 (Front, rear)
Prortable IN
x1
Outputs
HDMI output
1xsystem
Rated output (RMS 30% power)
1,000 W (170 W × 4: front rear / 170 W: Center / 170 W: subwoofer)
FM reception frequency
76 MHz ~ 90 MHz
Power consumption
145 W (standby power consumption: 0.3 W)
Dimensions (W) × (H) × (D)
430 mm × 63 mm × 349 mm
Weight
3.1 kg
Speakers
Format
Sealed bookshelf full range 6.6 cm (cone type)
Bandwidth
Front / surround speakers: 120 Hz ~ 20 kHz
Center speaker: 110 Hz ~ 20 kHz
Impedance
Front / center / surround speakers: 4 Ω
Dimensions (W) × (H) × (D)
Front / surround speakers: 95 mm × 80 mm × 90 mm / 1 units
Center Speaker: 230 mm × 80 mm × 90 mm
Weight
Front / surround speakers: 0.4 kg / 1 units
Center speaker: 0.7 kg
Subwoofer
Format
Bass reflex floor type formula 16 cm (cone type)
Bandwidth
40 Hz ~ 1.8 kHz
Impedance
4 Ω
Dimensions (W) × (H) × (D)
130.5 mm × 420 mm × 375 mm
Weight
4.4 kg