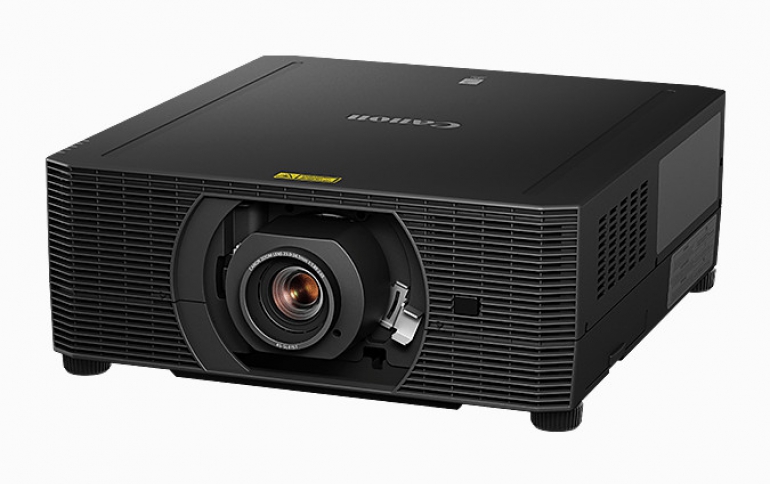 New Canon REALiS 4K6020Z And 4K5020Z 4K Laser LCOS Projectors Are Small, Light Weight But Expensive
Canon today announced two new Canon Native 4K Laser LCOS Projectors - the REALiS 4K6020Z and 4K5020Z.
Compact and lightweight, both new projectors measure 18.8in (W) x 7.1in (H) x 21.4in (D) and weigh a mere 41.8 pounds -- less than half the weight of competing Native 4K laser projectors. In addition, both projectors offer a Five-Year (or 12,000 Hours) Laser Limited Warranty. Canon is also adding to the company's lineup of RS projector lenses with the introduction of the RS-SL07RST 4K Standard Zoom Lens. The RS-SL07RST projector lens is the seventh in the lineup and features Canon's red line around the barrel of the lens. All seven RS projector lenses are compatible with the two new projectors.
The new 4K6020Z and 4K5020Z Native 4K Laser LCOS Projectors are designed for a variety of applications, including art galleries, museums, schools and medical institutions. Both projectors feature LCOS panels and Canon's proprietary AISYS optical system that helps to deliver 6000 and 5000 lumens respectively.
The laser-light source for both projectors can achieve up to 20,000 hours of operation in typical use or up to 40,000 hours when in Long Duration Mode 2. The laser-light source allows the projectors to start up in as little as two seconds while in Fast Boot mode, as compared to conventional lamp projectors that may require additional time to light up and stabilize brightness. In addition, users are able to create presets to be set-up to their specific preferences and needs.
The HDR technology of both projectors increases the dynamic range ability, expanding not only the color-gamut range but also the overall brightness. Additionally, the projectors support HDR10 and Hybrid Log-Gamma (HLG), which produce broadcast-quality HDR images.
Additional Features of the 4K6020Z and 4K5020Z Projectors Include:
Compatible with seven optional Canon interchangeable lenses
High dynamic contrast of up to 22,000:1 in the 4K6020Z and 20,000:1 in the 4K5020Z.
Covers 99.9 percent of the sRGB color space
Supports HDMI, HDBaseT, Wi-Fi technology and other various interfaces
Compatible with Canon Service Tool for PJ App
Six preset Image modes provide different variations of color reproduction characteristic suitable for the type and projection environment, includes DICOM
Simulation mode and additional five customizable modes that can be stored
The new RS-SL07RST 4K Standard Zoom Lens can project images up to 600 inches and can even project onto curved surfaces; maintaining focus in the center of the image when peripheral focus has been adjusted.
Additional Features of the RS-SL07RST Projector Lens Include:
Unique Marginal Focus feature which allows incremental focus adjustment on peripheral areas of image, designed for concave and convex surfaces
Substantial lens shift of vertical ±73 percent and horizontal ±11 percent
Powered lens shift, zoom and focus
Equipped with a UD lens to help reduce color shift and bleeding
Minimal luminance difference from wide to tele position as F value exhibits minor change from 2.1 to 2.4
Deep focal length of 22.67mm up to 37.79mm
Large zoom ratio of 1.76x
Weighing in at 4.1 pounds
The Canon 4K6020Z, 4K5020Z Native 4K Laser projectors and RL-SL07RST Standard Zoom Lens are all scheduled to be available in late November 2018 for a suggested retail price of $45,799.00, $43,499.00 and $8,000.00 respectively.