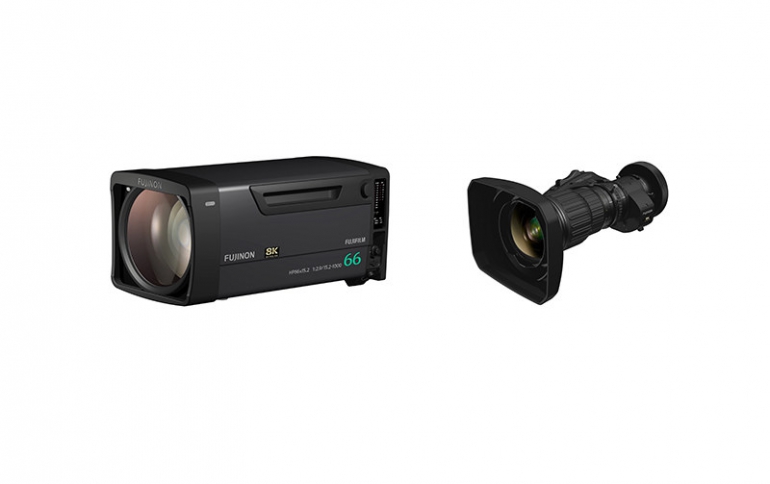 New Fujifilm Broadcast Lenses Produce Dynamic 8K UHD Video
Fujifilm Corp. announced the development of new broadcast zoom lenses "FUJINON HP66×15.2-ESM" (HP66×15.2) and "FUJINON HP12×7.6ERD-S9" (HP12×7.6), capable of producing dynamic 8K ultrahigh-definition (UHD) video.
Recording 8K video, which has four times the resolution of 4K video, requires lenses with an advanced optical performance.
The HP66×15.2 and HP12×7.6 are broadcast zoom lenses capable of capturing 8K UHD video. The ultra-high resolution that supports 8K equipment is combined with vivid color reproduction and high contrast to produce rich tonal gradation in high dynamic range (HDR). The lenses can be used with the focus position demand unit "FUJINON EPD-51A-D02/F03", released in March this year, to achieve precise focusing.
The HP66×15.2 is a box type zoom lens covering focal lengths ranging from 15.2mm to the world's longest 1000mm in telephoto. It offers the world's highest zoom magnification of 66x, ensuring to capture a decisive moment of athletes far away. The HP12×7.6 is a portable type zoom lens covering focal lengths from the world's widest 7.6mm to 91mm, delivering a wide angle of view that can capture, for example, an entire stadium.
The HP66×15.2 and the HP12×7.6 are due to be released in the summer of 2020 and the fall of 2020 respectively.