New Microsoft Surface Book 2 Packs Real Power, Windows 10 Creators Update Release
Microsoft today announced the new Surface Book 2, the most powerful Surface laptop yet. The company is also rolling out today the highly-advertised Windows 10 Creators Update.
The new laptop is powerful enough to fuel the next wave of computing across mixed reality, artificial intelligence, machine learning, and immersive gaming.
It is powered by the latest 8th Gen Intel Core processors and NVIDIA GeForce GTX 1050 and 1060 discrete graphics options, making it up to five times more powerful than the original and is twice as powerful as the latest MacBook Pro. All this power and Surface Book 2 still provides all-day battery life - up to 17 hours of video playback. That's 70% more than the latest MacBook Pro.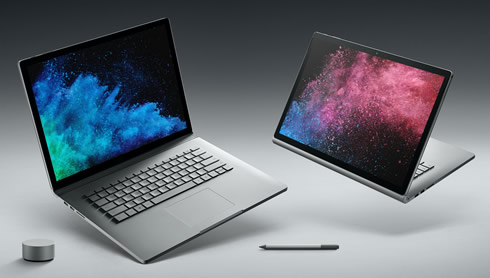 Surface Book 2 with the 13" (3,000 x 2,000, 267 ppi) weighs 3.38lbs and the 15" (3,240 x 2,160, 260 ppi) Surface Book 2 at 4.2lbs. It comes with PixelSense Display with multi-touch, Surface Pen, and Surface Dial on-screen support. The 15" Surface Book 2 delivers almost seven million dazzling pixels - 45% more than the MacBook Pro.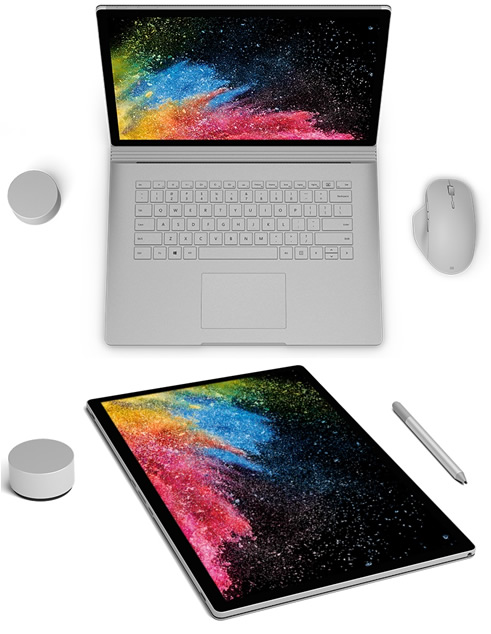 Microsoft says that the detachable display and hinge of Surface Book 2 have been redesigned to provide a faster detach into Tablet or Studio Mode. And when you detach to sketch an idea or watch a video, the Surface Book 2 turns into the world's thinnest and lightest 8th Gen Intel Core i7 PC. The available ports include USB-A, USB-C, and a full-size SD card reader.

Microsoft has provided options for consumers to choose between different amounts of memory and SSD storage. Here are the options, according to Microsoft:
13-inch Surface Book 2:
2.6GHz dual-core Core i5-7500U; 8GB RAM; 256GB SSD: $1,499
1.9GHz quad-core Core i7-8650U 8GB RAM, 256GB SSD; dGPU: $1,999
1.9GHz quad-core Core i7-8650U 16GB RAM, 512GB SSD; dGPU: $2,499
1.9GHz quad-core Core i7-8650U 16GB RAM, 1TB SSD; dGPU: $2,999
15-inch Surface Book 2:
1.9GHz quad-core Core i7-8650U 8GB RAM, 256GB SSD; dGPU: $2,499
1.9GHz quad-core Core i7-8650U 16GB RAM, 512GB SSD; dGPU: $2,899
1.9GHz quad-core Core i7-8650U 16GB RAM, 1TB SSD; dGPU: $3,299

With built-in Xbox One Wireless support on the 15" you can pair your Xbox One controllers and compatible headsets to play with no cords or additional dongles required. The laptop is also ready for Windows Mixed Reality Ultra. Connect a compatible headset and controller for apps and experiences with crisp visuals and a higher refresh rate (90 frames per second).
Surface Book 2 13" will be available for pre-order beginning November 9th in the United States and additional markets around the world, along with Surface Book 2 15" in the United States at your local Microsoft Store and Microsoft.com. Delivery will begin on November 16th.
All that power also make this the ideal laptop for some of the features of the Windows 10 Fall Creators Update, which is also rolling out today for all Windows 10 PCs.
The Windows 10 Fall Creators Update is offering new experiences in creativity - from bringing mixed reality and 3D to the masses, to faster broadcasting for gaming, to turning photos and videos into real memories, and so much more.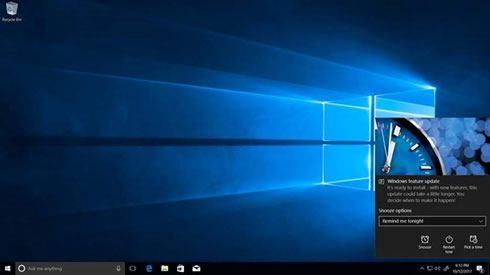 Basic features include:
inking directly on PDFs
a new Find my Pen feature
Continue on your PC with Cortana or your phone's browser
Introducing mixed reality (Acer, Dell, HP, and Lenovo headsets launching today for $399, Samsung HMD Odyssey coming November 6th)
Mixed Reality Viewer brings mixed reality to the PC. By using the camera on your PC, you can see 3D objects mixed into your actual surroundings - people, places, things, or anything you can imagine.
Paint 3D - easily manipulate objects, create and share in 3D. Bring 3D objects into your Office files.
Mixer for near real-time game streaming - you can now launch and jump into a game stream faster than before. And Game Mode enables gamers to access more power of the PC and dedicate it to games, delivering a more performant gaming experience on Windows 10.
New Photos app - convert photos into memories and stories with personalized 3D effects, Ink, transitions, and video. Take photos from your vacation and edit them into a collage of photos and videos with a soundtrack, theme, Ink, and cinematic transitions. And with 3D, you can make objects dynamic, like a soccer ball bursting into flames as it passes the goalie and soars into the net.
How to install
Microsoft recommends you wait until Windows 10 is automatically offered to your device. You don't have to do anything to get the update; it will roll out automatically to you through Windows Update if you've chosen to have updates installed automatically on your device.
If you don't want to wait for the update to roll out to you, you can manually check for updates on your personal PC. This will only work if your device is eligible to get the Fall Creators Update as part of the initial roll out phase. Alternatively, you can manually get the update today via the Software Download Site.