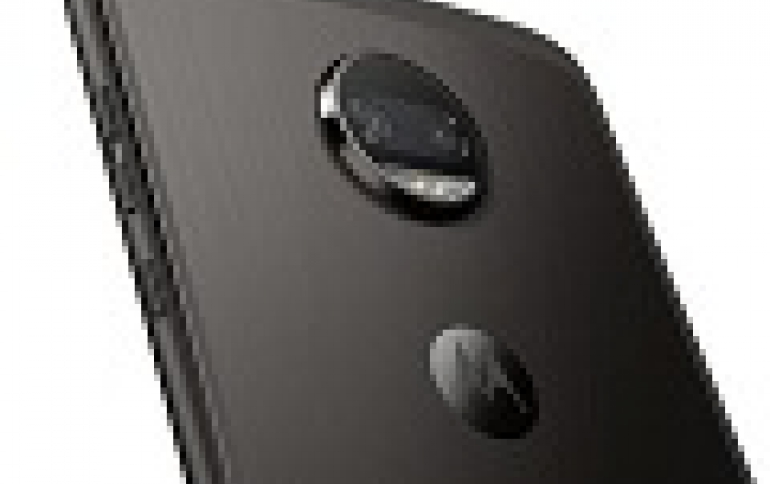 New Motorola Z2 Force Edition Comes With 360-degree Camera Mod
Motorola is introducing its most advanced smartphone ever and a new Moto Mod that lets you capture everything. The Z2 Force Edition brings back the shatterproof display, and it has a new spin on the dual-camera trend on smartphones.
Last month Motorola announced Moto Z2 Play and a collection of new Moto Mods, including an on-the-go gaming powerhouse, a splash-proof speaker with extra battery life, a wireless charging shell with style and a Moto Mod offering TurboPower charging in a snap.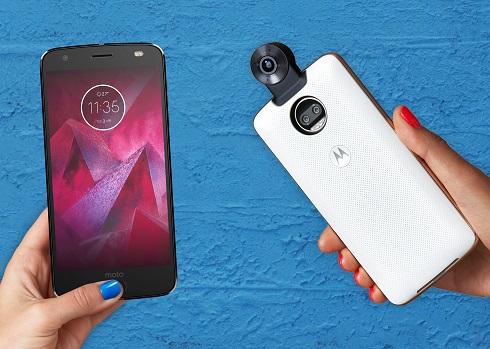 The new Moto Z2 Force Edition shatters limitations with a screen guaranteed not to crack or shatter, a slim, all-metal design, dual 12MP cameras.
The device has a 5.5" Quad HD AMOLED display that's guaranteed by Motorola not to crack or shatter. And the new Moto Z's polished design is reinforced with the strength of 7,000 series aluminum.
Two cameras mean twice the focus. Now you can focus on what's most important and take professional looking photos with dual 12MP cameras, one monochrome and one color. These cameras work together to capture high-quality photos. You can even add a blur effect to the background or foreground of images, thanks to the two cameras that enable true depth of field.
The new Moto Z's all-day battery allows you to keep going without searching for a power outlet, and when it is time for a boost, add 8 hours of power in just minutes with TurboPower charging. The device is powered by a Qualcomm Snapdragon 835 Mobile Platform and suppoprts Gigabit LTE.
Just like Moto Z2 Play, Moto Z2 Force Edition features a night display that automatically adjusts your screen to warmer tones at night and instant queries in Moto Voice that provide information like the daily weather or calendar updates. Also the front fingerprint reader with one button nav lets you navigate your phone.
And because this new Moto Z is also compatible with Moto Mods, you can use your phone to interact with the world around you in new ways - instantly transforming into a 360° camera, gaming console, stereo speaker, video projector, battery powerhouse and more.
Snap the new 360 Camera Moto Mod on your Moto Z and turn it into a 360-degree camera that captures everything. With the click of a button, you can record interactive 360-degree 4k video featuring 3D audio. You can also capture a whole new perspective with 150-degree ultra-wide-angle still front and rear photos.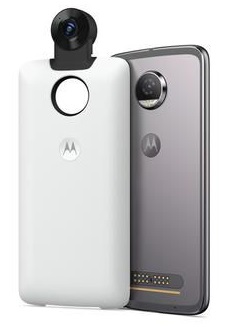 Edit your 360-degree photos and videos from your Moto Z with editing software that allows you to adjust content to fit your needs. Once they're ready to be viewed, share your photos and videos with friends and on social media right from the Google Photos app. And you can stream live across social channels.
In the U.S., you'll find our flagship smartphone at all major carriers. This means Moto Z2 Force Edition will be available at AT&T, Sprint, T-Mobile, U.S. Cellular and Verizon, in addition to Best Buy and Motorola.com. Pre-orders begin today and it will be available August 10 starting at $30 per month. For a limited time, when you buy one, you'll get a free Insta-Share Projector Moto Mod by mail.
The device will roll out in Mexico, Brazil and various countries in Europe, the Middle East and Africa starting later this summer.
Moto 360 Camera will be available globally for $299.99 USD (MSRP) beginning August 10.
Specifications
Operating system: Android 7.1.1 Nougat
Screen: 5.5-inch QHD (1440x2560) Super AMOLED with ShatterShield
Processor: Qualcomm Snapdragon 835
Memory: 4GB in the US, 6GB outside the US
Storage: 64GB w/microSD support up to 2TB (128GB in China).
Battery: 2730mAh
Camera: Dual 12-megapixel rear camera, 5-megapixel front camera
Connectivity: Bluetooth 4.2 (after Android O update, Bluetooth 5.0), Wi-fi 802.11 a/b/g/n/ac 2.4 GHz, 5 GHz with MIMO, NFC, A-GPS
Size: 76 x 155.8 x 6.1 mm, 143g