New NVIDIA GeForce GTS 450 Delivers DX11 to Even More PC Gamers
Nvidia today officially released the new GeForce GTS 450 graphics card, designed to deliver the DX11 price/performance in the $129 USD price category. The company also released the first beta of its Geforce Release 260 drivers. The card has been designed for LAN gamers and it is capable of delivering high DX11 performance with 4X antialiasing turned on at resolutions of up to 1600x1050.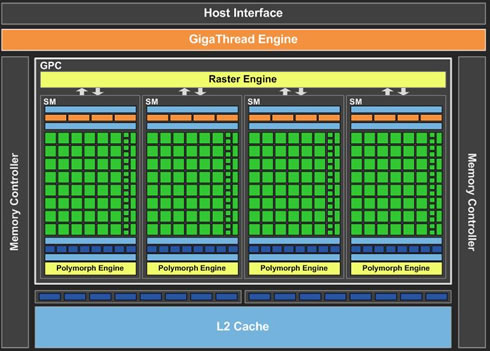 The card is based on the GF106 Fermi chip, it has 192 CUDA cores clocked at 783/1566 Mhz (Gfx/Proc clock) and 1GB/128-bit GDDR5. According to unconfirmed information, Nvidia also plans to release a 192-bit vresion of the card later this year.
Nvidia claims that for games and applications that feature tessellation -- the key feature of DX11 -- the GTS 450 is up to 65% faster than the closest competitive product. Even in last generation DX9 and DX10 games, the GTS 450 is faster by over 30%, including in the blockbuster PC title StarCraft II.
The GeForce GTS 450 is available starting today from the Nvidia's add-in card partners, including ASL, ASUS, Colorful, ECS, EVGA, Gainward, Galaxy, Gigabyte, Innovision 3D, Jetway, KFA2, Leadtek, MSI, Palit, Point of View, PNY, Sparkle, Zotac and others.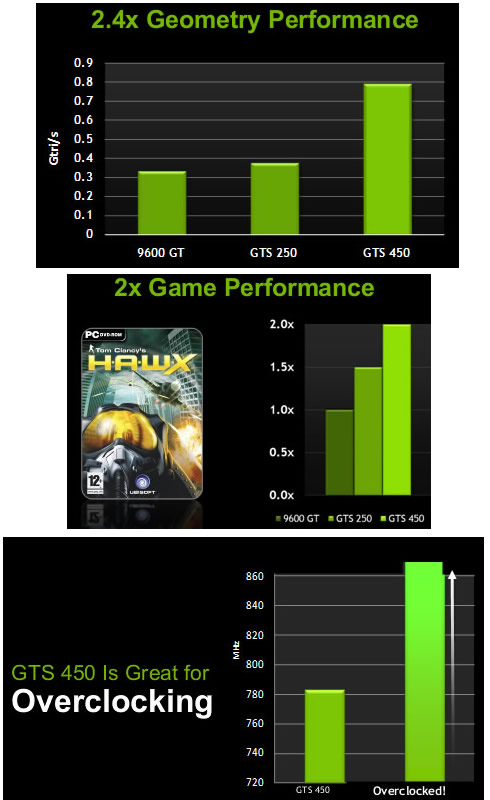 Nvidia Release 260 drivers
Nvidia also today released version 260.63 beta drivers, the first release from its new Release 260 family of drivers. The new drivers offer a performance boost for the GTX 400 series of graphics cards, offers Nvidia 3D Vision and Surround enhancements and also comes in a redesigned installer.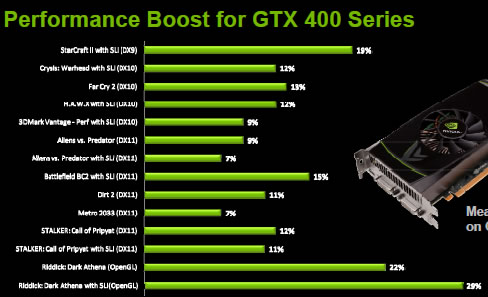 With 260.63 drivers, users can now connect their GeForce GPU to a 3D TV and watch Blu-ray 3D movies with rich surround sound. The Fermi architecture?s dedicated video processing engine decodes 1080p 3D streams, resulting in less system power and heat. For surround sound, the latest GeForce GPUs starting with GTX 460 support high definition 24-bit multi-channel audio at up to 192 KHz or lossless DTS-HD Master Audio and Dolby TrueHD audio bitstreaming with compatible Blu-ray 3D movies.
Nvidia's driver team has also been working in optimizing the setup experience for NVIDIA Surround technology. Release 260 adds a new UI for connecting and arranging displays, including the option to configure portrait or landscape mode. For users with an extra GPU, the new Surround setup provides the option to dedicate it to PhysX or to drive a fourth extended display. Nvidia has also added a new help page that shows users which resolutions to select in-game.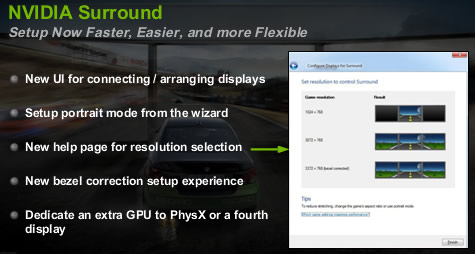 Nvidia's installer team has been also working on a complete redesign of the driver install experience and, with Release 260, Nvidia is rolling out the first phase of that redesign. Users will have the choice of a one-click express installation or a custom installation with new advanced capability. Specifically, the custom install options allow users to choose which driver components to install, including PhysX, 3D Vision and more. Also, for the advanced users that prefer to uninstall their older driver first, or rely on 3rd party driver cleaner software to completely remove older drivers, NVIDIA Install offers the choice of a clean install. During the clean install process, the older driver is completely removed from the system before installing the new driver. The new NVIDIA Install is faster, especially in the case of systems with multiple GPUs.
NVIDIA 3D Vision users will notice that Release 260 has simplified the driver upgrade experience, removing the need to install a separate 3D Vision driver. Version 260.63 also improves the 3D Vision experience for some of the most popular titles including StarCraft II, Mafia II, and more. It also adds support for new desktop monitors and projectors and enables users to view Sony's 3D Sweep Panorama picture format available in the Sony NEX-5 camera from the NVIDIA 3D Photo Viewer.