New PayPal Send Money App for Facebook
Paypal released the "Send Money" application on Facebook to allow Facebok users to send money to their friends and family directly from Facebook. The new app is free, meaning that all Facebook users with a Paypal account will be able to send money to friends and family in the U.S. if they pay via their bank account or PayPal balance.
"In a world that's turning increasingly to social media, we are giving our customers the flexibility to send their money to whoever they want, whenever they want and for whatever (occasion) they want" said JB Coutinho, Senior Product Marketing Manager, PayPal.
Here is how it works: Go visit PayPal's
send money app page
on Facebook. You select a card for your occasion and choose a recipient. Log-in to your PayPal account within the app, choose the dollar amount and click send. The card is immediately posted to the recipient?s wall though the message of the card is kept private. If you just want to send money, you can enter the money amount and login to PayPal to complete payment.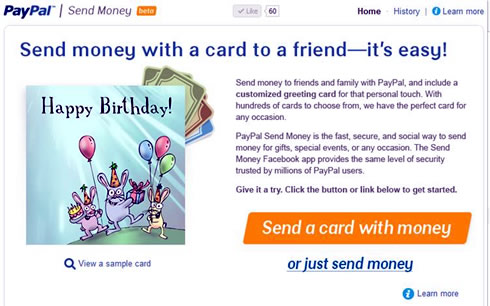 PayPal says that nearly 80 percent of active PayPal users also actively use Facebook.
According to Facebook, about 50 percent of its 750 million users log onto the social media network daily and average about 130 friends.