New Pioneer BDR-207JBK BD Burner Supports 6x BDXL, 12x BD-R Recording
Pioneer has just announced the BDR-207JBK, the company's second generation of BDXL burners. The drive supports 6x recording with BDXL and 12x with BD media. The internal BDR-207JBK drive will be released next month on Japan for about ¥18,000 ($231).
The internal drive can write up to 128 Gbytes on a single BDXL Quad Layer disc (equal to 27 single layer DVDs). Designed for professional users, this computer drive allows users to author high-definition Blu-ray Disc content while also delivering the ability for high-capacity data storage. The drive can read BD-ROM discs, read/write triple/dual/single layer BD-R and BD-RE discs, read DVD-ROM, and read/write most DVD and CD recordable media formats.
The Pioneer BDR-207JBK writer is able to burn and read 3-layer and 4-layer BD-R XL (100GB and 128GB) at 12x and 3-layer BD-RE XL (100GB) discs at 2X.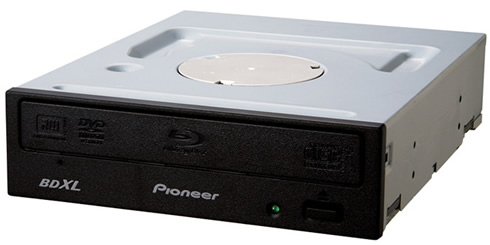 Compared to the single and dual layer Blu-ray disc formats, the BDXL still uses the Partial Response - Maximum Likelihood (PRML) data recover methods and 17PP channel modulation. However, BDXL features an increased linear density. In addition, the thickness of the BDXL discs' spacer (layer) is different than BD SL and DL to avoid any optical interference issues introduced by the disc's multi-layers.
The drive is also compatible with the Blu-ray 3D format and of course is capable of writing on both BD-R SL and DL discs at 12X, BD-R LtH (6X), BD-RE SL /DL at 2x, DVD recordables (SL) at 16X max, DVD recordables (DL) at 8x, DVD-RW at 6X, DVD+RW at 8X, DVD-RAM at 5X, CD-R at 40x and Cd-RW at 24X.
The maximum reading speeds for BD-ROM SL is 10x, BD-ROM DL 8x, DVD-ROM SL 16x, DVD-ROM DL 12x and CD at 40x.
The "Peak Power Reducer" technology maintains low power consumption and stable operation. The "Limit Equalizer technology" purifies unclear signals generated when reading data on BD discs in order to improve reading quality. Last but not least, the "Disc vibration Resonance Stabilizer" technology is dedicated for precision writing in a high speed environment: high speed disc rotation causes disc warping due to disc resonant vibration. This results in unstable writing quality, especially in the outer areas the newly designed top chassis, air flow caused by the high speed rotation will press the disc.
The internal SATA drive is equipped with a 4MB internal buffer.
Specifications
Discs compatible for burning
BD

BD-R (Single / Dual / Triple (BD-R SL/DL/TL)/ Quadruple layer (BD-R QL))

BD-RE (Single / Dual / Triple layer (BD-RE SL/DL/TL)

DVD

DVD-R , DVD-R DL, DVD-RW, DVD+R, DVD+R DL, DVD+RW, DVD-RAM

CD
CD-R, CD-RW, HS CD-RW, US CD-RW
Discs compatible for playing
BD
BD-ROM (Single / Dual layer), BD-R (Single / Dual / Triple / Quadruple layer), BD-RE (Single / Dual / Triple layer)
DVD

DVD-ROM (Single / Dual layer), DVD-Video, DVD-R, DVD-R DL, DVD-RW

DVD+R, DVD+R DL, DVD+RW, DVD-RAM

CD

CD-ROM (Mode 1 & 2), CD-ROM XA, Photo CD (Single / Multi-session)

Video CD, CD-DA, CD-Extra, CD-R, CD-RW

Interface
Serial ATA Revision 2.6
Write speeds
BD
-R
2x, 4x, 6x, 8x, 10x, 12x
-R DL
-R Triple layer (TL)
2x, 4x, 6x
-R Quad Layer (QL)
-R (LtH)
6x
-RE
2x
-RE DL
-RE TL
DVD
-R
1x, 2x, 4x, 6x, 8x, 12x, 16x
-R DL
2x, 4x, 6x, 8x
-RW
1x, 2x, 4x, 6x
+R
2.4x, 4x, 6x, 8x, 12x,16x
+R DL
2.4x, 4x, 6x, 8x
+RW
-RAM
2x, 3x, 5x
CD
-R
4x, 10x, 16x, 24x, 32x, 40x
-RW
4x, 10x, 16x, 24x
Read Speed
BD-ROM SL
10x Max
BD-ROM DL
8x Max
DVD-ROM SL
16x Max
DVD-ROM DL
12x Max
DVD-RAM
5X Z-CLV Max
CD-ROM/CD-R/-RW
40x CAV Max
Random Seek Time
BD
140ms
DVD
CD
Average Seek Time
BD
180ms
DVD
CD
Buffer size
4MB
Installation position
Horizontal / Vertical
Suggested Working
Environment
Supported OS: Microsoft Windows 7,Microsoft Windows Vista, Windows XP Home Edition / Professional
CPU: Intel Core Duo T2700, Intel Core 2 Duo E6300 or greater
Memory: 1GB ABOVE
HDD space: 50 GB or above
Dimensions and weight
148 mm x 42.3 mm x 180 mm (W x H x D), 750 g