New RICOH THETA Z1 Camera Can Shoot 360-degree Spherical Images in a Single Shot
RICOH is launching the THETA Z1, the latest model from the family of 360-degree cameras.
The RICOH THETA Z1 supports approximately 23-megapixels resolution (6720×3360 pixels) 360-degree still image photo shooting as a high-end model of the RICOH THETA camera series, which can shoot spherical images in a single shot.
RICOH has deployed optical and image processing technologies, cultivated through years of high-performance camera development, to pursue its highest resolution and quality to date. The Z1's compact main body is equipped with a 1.0-inch back-illuminated CMOS image sensor, enabling approx. 23MP resolution 360-degree still images. It supports a diverse range of shooting modes, such as aperture priority, allowing users to take high-quality images regardless of the setting: outdoors, nighttime, indoors, tropical beaches or snowy mountain views - nothing is off limits. Moreover, it is possible to shoot considerably smooth 360-degree videos in 4K (3840×1920 pixels) and 30 frames per second (fps) thanks to 3-axis rotational stabilization to compensate for rotational shake.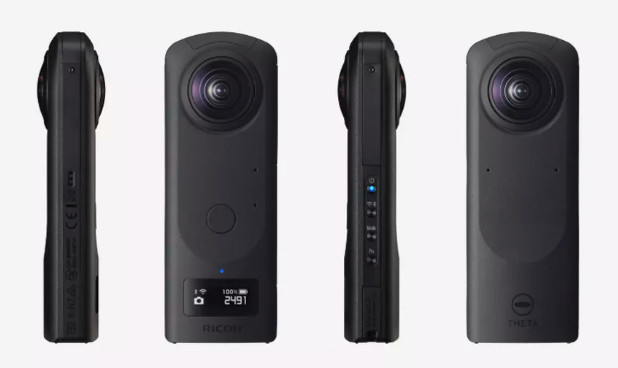 The main body of the camera, with a 0.93-inch organic EL monitor and a Function (Fn) button, provides access to a multitude of information at a glance, including number of possible shots, exposure settings, and more. In addition to JPEG, RICOH THETA Z1 now supports Adobe DNG format (RAW) so that users can enjoy professional image editing as with a digital SLR camera. Basic performance improvements are most evident in the Android-based system, which now offers flexibility in number of expansions one can add to the Z1 through the installation of additional plug-ins.
The THETA Z1 will be available to preview up ahead of its official release at the RICOH Imaging booth during CP+ 2019, the world's premier show for Camera and Photo Imaging held at PACIFICO Yokohama this February 28, 2019. Market availability wasn't announced, but the Theta Z1's site lists a price of $999.