New Seagate Backup Plus Series Of Hard Disks Automate Backup, Online Photo Sharing
Seagate today introduced Backup Plus storage devices, a storage product family that delivers easy setup, one-click backup and the ability to save and share content on Facebook and Flickr. Seagate Backup Plus hard drives are newly designed external storage that work interchangeably with both Windows and Apple computers. These products come loaded with the new Seagate Dashboard software for one-click local backup making it easier to back up digital content. The new external drives also provide backup for content on social networks, such as Facebook and Flickr.
With a click of an icon, computer files are replicated onto a Backup Plus drive. The Seagate Dashboard included on Backup Plus also provides a single click path to Save (download) and Share (upload) personal photos and videos on Facebook and Flickr.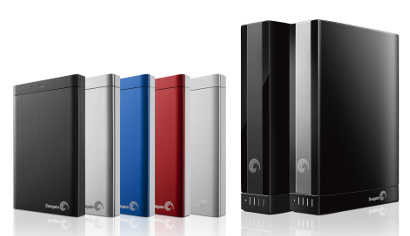 The drives adopt the Universal Storage Module (USM) standard and work cross-platform with both Mac and Windows operating systems without reformatting.
Available immediately from Amazon, BestBuy and other retailers including Seagate.com, Seagate Backup Plus drives will initially be available in capacities of 500GB, 750GB and 1TB capacities for portable drives and 1TB to 4TB for Backup Plus Desk drives.
This new family of external storage will be available in red, blue, silver and black for the portable 2.5-inch form factor with a manufacturer?s suggested retail prices at launch are: 500GB, $119.99; 750GB, $129.99 and 1TB, $139.99. The Backup Plus Desk 3.5-inch drive: 1TB, $129.99; 2TB, $149.99; 3TB, $179.99 and 4TB, $249.99 MSRP.
Backup Plus for Mac portable is available in silver and will ship in 500GB for an MSRP of $119.99 and 1TB at $139.99. The Backup Plus Desk for Mac will be available at launch for 2TB, $189.99 and 3TB, $209.99 MSRP.
Seagate Slim and Seagate Slim for Mac storage in a 9.5-mm package will now be available in a 500GB capacity at $129.99 MSRP and will also include the new Seagate Dashboard software for simple backup of on-board and social media albums.