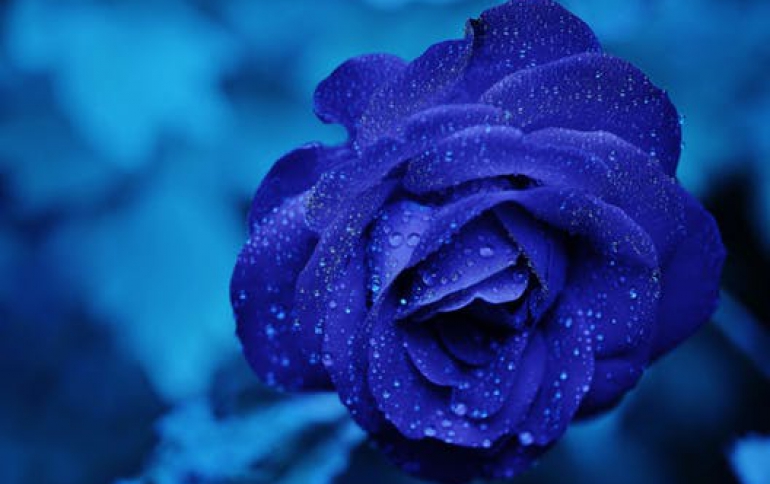 New Shuttle SH170R6 Barebone Supports Intel Skylake Processors
Shuttle keeps updating its legendary XPC series of mini-PCs, with the latest XPC cube Barebone SH170R6 to feature the sixth generation of Intel Core processors in 14 nm micro-architecture. The SH170R6 has four slots for DDR4 memory modules and supports up to 64 GB RAM (4x 16 GB). Almost any Intel Celeron, Pentium, Core i3, Core i5 or Core i7 LGA1151 processors from the 6000 series up to 95 Watt of TDP can be installed.
A closer look under the hood reveals space for at least three drives and brings four SATA 6 Gbit/s connectors. The SH170R6 also features 1x PCI-Express-x16-3.0 and 1x PCI-Express-x4-3.0. In addition, a Mini-PCI-Express-x1-2.0 and M.2 slot enable installation of a WLAN module and an SSD. The external dimensions are 33.2 x 21.6 x 19.8 cm (DWH).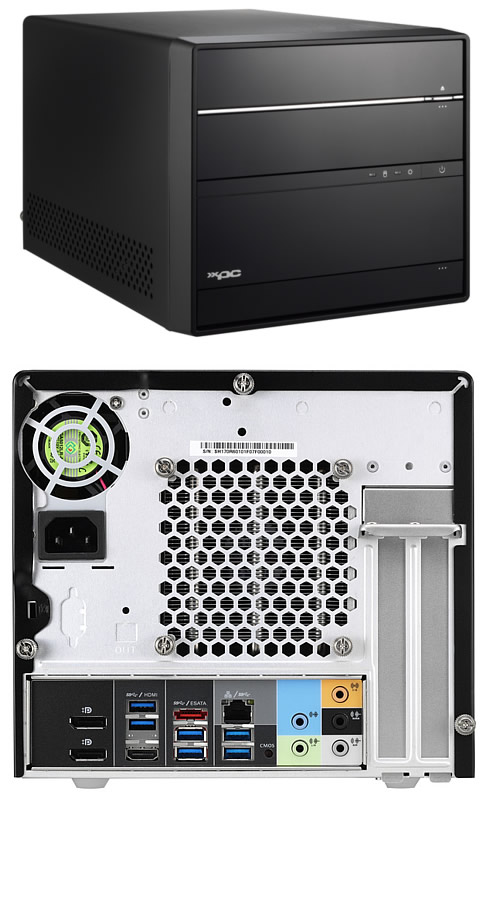 The eight blue external USB 3.0 ports are accompanied by 8-channel audio, two further USB ports, one of which can be used to charge mobile devices, eSATA and Intel Gigabit Ethernet.
2x DisplayPort and 1x HDMI are available for connecting displays. These can be operated in parallel and are able to support (Core i3 or higher required) 4K monitors at 60 Hz (DP) or 30 Hz (HDMI).
A 300 W power supply unit provides the SH170R6 with source of energy even at maximum system configuration (processor, memory, drives). If necessary, it can be replaced by a 500W power supply unit, e.g. if high-end graphics cards are installed. The machine is cooled by an active heatpipe cooling system.
The recommended retail price for the Shuttle Barebone SH170R6 is EUR 258.00 (ex VAT). Optional accessories include a WLAN module (WLN-C), an RS-232 connector (H-RS232), 1x 3.5" to 2x 2.5" installation frame (PHD3) and a 500 W power supply unit (PC63J).

Specifications
Chassis

Black aluminium chassis
Storage bays: 1 x 5.25" (external), 2 x 3.5" (1x internal, 1x external)
Using the optional accessory PHD3 two 2.5" drives can be installed into one 3.5" bay.
Front doors for I/O ports and storage drives
Kensington Security Slot at the back panel (also called K-Slot or Kensington lock) as a part of an anti-theft system
Dimensions: 33.2 x 21,6 x 19.8 cm (LWH), 14.2 litre
Weight: 3.5 kg net / 5.0 kg gross

Mainboard / Chipset

Shuttle "FH170", Shuttle Form Factor proprietary design for XPC cube Barebone SH170R6
Dimensions: 270 x 195 mm
Chipset: Intel H170 Chipset (Intel DH82H170 PCH, code name "Sunrise Point")
Platform Controller Hub (PCH) as Single-Chip-Solution


BIOS

AMI BIOS, SPI Interface, 32 MBit Flash-ROM with SPI interface
Supports PnP, ACPI 3.0, Hardware Monitoring
Supports Unified Extensible Firmware Interface (UEFI)
Supports boot up from external USB flash memory

Power supply

Built-in 300 Watt mini switching power supply (Shuttle PC61J)
AC input voltage: supports 100~240V, 50~60 Hz
80 PLUS Bronze compliant
Active PFC circuit (Power Factor Correction)
ATX main power connectors: 2x10 and 2x2-pin
Graphics power connector: 6-pin
Other connectors: 4x SATA, 2x Molex, 1x Floppy

Operation System: This system comes without operating system. It is compatible with Windows 10 / 8 / 8.1 / 7 and Linux.- 64 bit.
Processor support

Socket LGA 1151 (H4) supports the sixth generation of Intel Core i7 / i5 / i3, Pentium and Celeron processors
Maximum supported processor power consumption (TDP) = 95W
Codename "Skylake", 14nm process technology, up to 8 MB of L3 cache
Not compatible with older Socket LGA 1150 processors.
Does not support the unlock-function of Intel K-Series processors.
The processor integrates PCI-Express, memory controller and the graphics engine on the same die (performance features 
depending on processor type) .

Processor cooling

Shuttle I.C.E. (Integrated Cooling Engine)
Advanced I.C.E. Heatpipe technology with 3 pipes
Temperature controlled 92 mm fan
SilentX cooling and noise reduction technology with Active Airflow

Memory support

4 x 288-pin slots
Supports DDR4-2133 memory (PC4-17066) at 1.2V
Supports 2+2 Dual Channel mode
Supports max. 16 GB per DIMM, maximum total size of 64 GB

Integrated Graphics
The features of the integrated Intel HD graphics function  depend on the processor type used.
Supports DirectX 12, OGL 5.x, OCL 2.x
The PC features three digital video outputs:

HDMI v1.4 (supports 1080p/60 and 2160p/30)
2x DisplayPort v1.2 (support 1080p/60 and 2160p/60)

Supports displays with 4K Ultra HD resolution at 3840 x 2160
Supports three independent FullHD displays with the integrated graphics function
Supports more displays in combination with a discrete graphics card
Supports Blu-ray (BD) playback with HDCP content protection
Supports multi-channel digital audio over the same cable
Maximum shared memory of 512 MB
PCIe Expansion Slots
1x PCI-Express x16 v3.0 slot (PEG, for graphics cards only)
1x PCI-Express x4 v3.0 slot
This XPC supports dual-slot (double-width) graphics cards - in this case the second PCI-Express slot will be occupied.
Graphics power connector: 6-pin
M.2 slot


The M.2 2280 BM slot provides the following interfaces:

PCI-Express Gen. 3.0 X4 with up to 32 Gbps Data Transfer Speed
SATA v3.0 (max. 6 Gbps)
USB 2.0
It supports M.2 cards with a width of 22 mm and a length of 30, 42, 60 or 80 mm (type 2230, 2242, 2260, 2280).
Supports M.2 SATA SSDs, M.2 PCIe SSDs and other M.2 cards

Mini PCIe Slot: Mini-PCIe Half-Size slot with PCIe 2.0 and USB 2.0 interface supports one optional Wireless Network (WLAN) card
7.1-Channel HD audio

7.1 channel High Definition Audio with Realtek ALC892 codec
Analog: line-out (7.1-ch), line-in, microphone, AUX input (onboard)
Digital Audio via HDMI and DisplayPort outputs

Gigabit LAN

Intel i219LM PHY connected to the MAC of the processor
Supports 10 / 100 / 1.000 MBit/s operation
Supports WAKE ON LAN (WOL)
Supports network boot by Preboot eXecution Environment (PXE)

SATA connectors

The mainboard provides six Serial-ATA 3.0 interfaces, max. 6 Gbps supported
4x Serial ATA connector onboard
1x External Serial ATA (eSATA) connector at the back panel
1x M.2 slot onboard for flash memory cards
Supports Intel Rapid Storage Technology (RST, Raid 0/1/5/10, JBOD)

Front Panel Connectors and Buttons

Microphone input
Headphone output (line-out)
2x USB 3.0
2x USB 2.0 (1x Fast charge port with up to 2A)
Power indicator (blue LED)
Hard disk drive indicator (yellow LED)

Back Panel Connectors

HDMI v1.4
2x DisplayPort v1.2
6x USB 3.0
GigaBit LAN (RJ45)
External Serial ATA (eSATA 6 Gb/s)
7.1-ch Audio line-out (2x rear/front, bass/center, surround/back)
Audio Line-in
Clear CMOS button
Optional: serial port RS-232 (Accessory: H-RS232)
3x perforation for optional WLAN antennas

Other Onboard Connectors

2x USB 2.0 (2x 5-pin)
1x RS232 (2x 5-pin) for optional accessory H-RS232
2x fan connectors (4 pin), one connector is occupied
Low Pin Count header (LPC, 2x 10 pin, 2 mm pitch size)
Occupied front connectors: USB 3.0, USB2.0, audio, power buttons, LEDs