New Sound Bars, TV Sound System And Full-HD 3D Projector by Sony
Sony has just announced two new sound bars and a new sound system, as well as a new Full-HD 3D home cinema projector, the VPL-HW40ES. Both the new HT-CT370 and HT-CT770 sound bars feature a 2.1 channel surround sound system. The HT-CT770 has a 330 watt S-Master amplifier that powers a 2-way, 4-speakers sound bar and wireless subwoofer. The HT-CT370 has a 300 watt S-Master amplifier. They both feature S-Force digital signal processing to create a virtual front surround experience.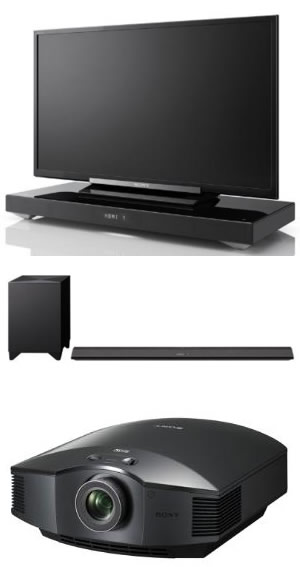 Both sound bars also allow music lovers to stream and control their Bluetooth audio with compatible music devices, and also pair their devices with Near Field Communication (NFC).
Both models have a 2" profile and can be mounted on a wall or placed on a table top TV stand. They also include a gyro-sensor built into the audio processor that can detect what position the bar is in to deliver the best possible sound. The HT-CT770 has a 120W down-firing wireless subwoofer while the HT-CT370 features a 100W wireless subwoofer. Additionally, the HT-CT370 subwoofer has a flexible design that permits either a horizontal or vertical placement.
Both sound bars offer 4K and 3D pass-through using the three HDMI 2.0 inputs for connecting HD devices like a cable box, Blu-ray Disc player or gaming console. A single HDMI TV connection with Audio Return Channel (ARC) also ensures the best possible HD audio signal. Additionally, both models include digital optical and analog inputs. The audio processor supports most HD formats including Dolby TrueHD and DTS-HD.
Both models offer seven selectable sound modes and adjustable voice and subwoofer level controls. In addition to the included remote control, they can be controlled over Bluetooth with the SongPal app. This free downloadable app for both Android and compatible iPhone or iPod devices, provides full system control but also allows users to navigate and stream music apps, such as Pandora and Spotify, all within one interface.
The HT-XT1 offers a simple, single-unit solution. It offers 170 Watts, 2.1 channel S-force front surround-sound and integrated dual active subwoofers. It also supports Dolby TrueHD and DTS-HD audio formats.
The HT-XT1 features a scratch-resistant glass finish and supports up to 66 lbs and 55" TVs.
Like the HT-CT770 and HT-CT370, the HT-XT1 sound system has the same HDMI connectivity and audio control options. It also supports Bluetooth with NFC and easy control via SongPal app.
The HT-CT770, HT-CT370 and HT-XT1 will be available in April for a suggested retail price of $449, $349 and $299.
Sony's new Full-HD 3D home cinema projector, the VPL-HW40ES joins the VPL-HW55ES model. The VPL-HW40ES is using the same SXRD panel technology featured in Sony's high-end digital cinema projectors, but at a fraction of the price.
Reality Creation, which reproduces colors and textures that often get lost when movies are packaged to disc, promises to offer extreme clarity in every pixel. The updated optical engine features a 1700 lumen color brightness. Additional features include Sony's Bright Cinema and Bright TV mode.
Contrast Enhancer analyzes scenes in real time, continuously optimizing dynamic range in each area of the image. Sport and action scenes also benefit from Motionflow technology, which inserts extra images between the original frames, to provide smoother on-screen motion with less blur.
With an extra-wide lens shift range, the VPL-HW40ES offers more options for positioning the projector from a ceiling mount or off-center horizontally. The VPL-HW40ES has a built-in IR 3D transmitter, automatically recognizes 2D or 3D content and offers a choice of picture modes to suit any content. Noise-shaping ensures that fan sounds are at a lower frequency, emitting 21dB.
The VPL-HW40ES will be available in April 2014 in black for under $2,500.