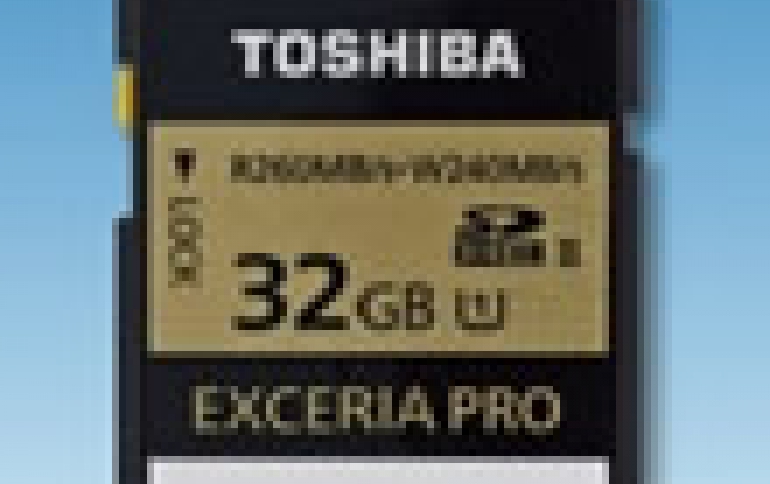 New Toshiba SD Memory Cards Offers A 240MB/sec Write Speed
Toshiba will launch a new series of SD memory cards offering the world's fastest data write speed. The latest edition to its line-up of EXCERIA memory cards, the EXCERIA PRO and EXCERIA cards, will be launched in markets worldwide, starting with Japan in October. EXCERIA cards compliant with UHS-II will be available in two series. The EXCERIA PRO series will offer photographers a data write speed of 240MB/se2 the world's fastest, while the EXCERIA series will write at 120MB/sec. They will allow digital camera users to shoot still images continuously at high speed.

The cards are the first in the EXCERIA line-up to integrate a newly developed controller compliant with UHS-II the ultra high speed serial bus interface defined in SD Memory Card Standard Ver. 4.10, and they achieve significantly higher data transfer speeds than earlier UHS-I compliant cards.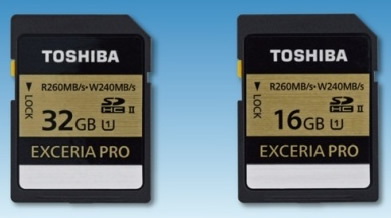 Specifications

1. UHS-II Compliant EXCERIA PRO Cards
Part Number
 
THNSX032GAABM4
 
THNSX016GAABM3
Capacity
 
32GB
 
16GB
Maximum Read Speed
 
260 MB/s
Maximum Write Speed
 
240 MB/s
UHS Speed Class
 
UHS Speed Class 1
Interface
 
Reference clock = 52MHz Data rate = 1.56Gbps(FD156), 3.12Gbps(HD312) UHS-II Bus modes = HD312, FD156
Power Supply Voltage
 
VDD1=2.7-3.6V, VDD2=1.7V-1.95V
Compliant Standard
 
SD Memory Card Standard Ver.4.10
File Format
 
FAT32
External Dimensions
 
32.0mm(L)×24.0mm(W)×2.1mm(T)
Weight Approx.
 
Approx. 2g
2. UHS-II Compliant EXCERIA Cards

Part Number
 
THNSX064GAB4M4
 
THNSX032GAB4M3
Capacity
 
64GB
 
32GB
Maximum Read Speed
 
260 MB/s
Maximum Write Speed
 
120 MB/s
UHS Speed Class
 
UHS Speed Class 1
Interface
 
Reference clock = 26MHz

Data rate = 1.56Gbps(FD156), 3.12Gbps(HD312)

UHS-II Bus modes = HD312, FD156

Power Supply Voltage
 

VDD1=2.7-3.6V, VDD2=1.7V-1.95V

Compliant Standard
 
SD Memory Card Standard Ver.4.10
File Format
 
exFAT

 

 

FAT32

External Dimensions
 
32.0mm(L)×24.0mm(W)×2.1mm(T)
Weight Approx.
 
Approx. 2g