Nvidia Launches The GeForce GTX 465
Nvidia today announced the release of the mid-range GeForce GTX 650 graphics card, based on Nvidia's Fermi architecture. The card's GPU is clocked at 607MHz, the same speed as the Geforce GTX 470 card. It will also have 352 processors, 44 texture units, 1,215 MHz shader clock and 802 MHz memory clock. The card will have 1 GB GDDR5 memory with a 256-bit interface. For comparison, the GTX 470 has 448 stream processors, 1280MB of RAM, and a 320-bit interface.
According to early benchmarks appeared online in Chinese web sites, the GTX 465 is a little bit faster than an ATI Radeon HD 5870 running Far Cry 2, but it was slower than an ATI Radeon HD 5830 in Crysis Warhead.
Other features of the new card inslude:
-11 dedicated tessellation engines
-NVIDIA SLI(R) technology
-Support for Blu-ray 3D, with GPU decoding for enhanced 3D movie playback and 3D Internet streaming
-NVIDIA PhysX(R) technology
-Next-generation CUDA architecture, with complete language and API support, including CUDA C/C++, DirectCompute, OpenCL, Java, Python, and Fortran
It's available for purchase now from add-in-card companies including ASUS, EVGA, Galaxy, MSI, Palit, PNY, Zotac and others, with a target price of $279.
Specifications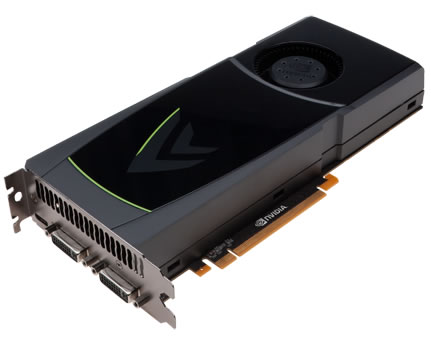 GPU Engine Specs:
- CUDA Cores 352
- Graphics Clock (MHz) 607 MHz
- Processor Clock (MHz) 1215 MHz
- Texture Fill Rate (billion/sec) 26.7
Memory Specs:
- Memory Clock (MHz) 1603
- Standard Memory Config 1024 MB GDDR5
- Memory Interface Width 256-bit
- Memory Bandwidth (GB/sec) 102.6
Feature Support:
- NVIDIA SLI-ready 2-way/3-Way
- NVIDIA 3D Vision Ready
- NVIDIA 3D Vision Surround Ready
- NVIDIA PureVideo Technology HD
- NVIDIA PhysX-ready
- NVIDIA CUDA Technology
- Microsoft DirectX 11
- OpenGL 4.0
- Bus Support PCI-E 2.0 x 16
- Certified for Windows 7
Display Support:
- Maximum Digital Resolution 2560x1600
- Maximum VGA Resolution 2048x1536
Standard Display Connectors
Mini HDMI
Two Dual Link DVI
Multi Monitor
HDCP
HDMI
Audio Input for HDMI - Internal
Standard Graphics Card Dimensions:
- Height 4.376 inches (111 mm)
- Length 9.5 inches (241 mm)
- Width Dual-slot
Thermal and Power Specs:
Maximum GPU Temperature (in C) 105 C
Maximum Graphics Card Power (W) 200 W
Minimum Recommended System Power (W) 550 W
Supplementary Power Connectors 6-pin x2