Optware to Release 30 GB Holographic Card for Less than $1
Optware Corp. is planning to release a Holographic Versatile Card (HVC) media product around the end of 2006. The card capacity is expected to be 30 GB, priced less than $1. Optware also intends to set the price of a reader device lower than $1900 and a reader/writer device lower than $9000. The launch of these HVC-related products is planned to coincide with the standardization of the technology, expected in December, 2006, by Ecma International, an organization promoting standardization of information and communication technologies.
The company also revealed photos of mockups. Dimensions of the card are almost the same as those of a credit card, while the drive system is designed to be the size of a surface-mounted hard disc drive system.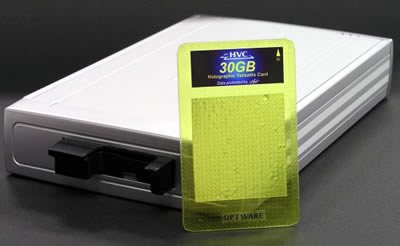 Collinear holographic technology developed by Optware is used to read from and write onto the holographic card. The technology requires only one objective lens, because the information beam and reference beam are arranged into a single laser beam on the same axis, which is used for both reading and writing.
In the HVC, hologram data are recorded in either longitudinal or lateral directions. A reader system moves both the medium and the optical head horizontally to pickup specified holograms. For example, card might be shd to the right and left, with the optical head shifted back and forth.
The company has designed the card to be almost as large as a credit card for users' convenience. Optware said that, technically, the size can be reduced to that of a memory card.