2. Main Features - Page 1
Padus DJ .NET - Page 2
Main Features - Page 1
- Network mastering

DiscJuggler.NET enables users to send their disc images to a server running the Padus Network Service. The PNS will write the disc images to the applicable writers based on the order the jobs were received and job priority. With the correct hardware, the process can be completely automated for scalability in an office or online storefront. This process can be properly demonstrated by the following illustration: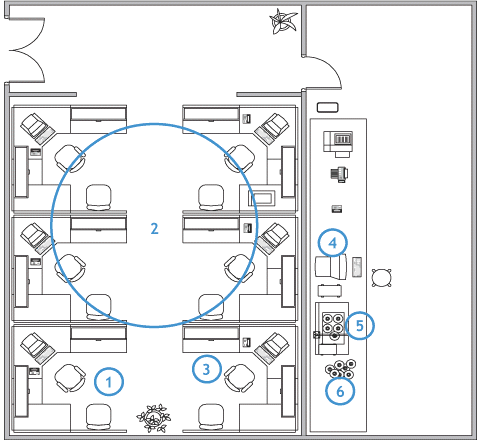 1- After installing the Padus Network Service on the group server (4), the Administrator returns to his cubicle and uses a Padus Network Client interface to test the PNS and begins the process of user management. He announces to his group that the server is up, and can be accessed for CD and DVD mastering.
2- Using a PNC interface, the group immediately begins to send their CD and DVD images over the LAN to the DiscJuggler.NET server for mastering. The jobs are queued based on the order that they were received, user priority, and drive availability. The first disc is now in the drive, writing.
3- One of the pre-determined Superusers realizes that they must have a CD immediately for the product demonstration. Frantically, the CD is pre-mastered and sent to the server.
4- The PNS commands the attached robotic device (5) to load the blank discs into the writing drives and start the jobs. Upon recieving the Superuser's urgent job, it puts it as the next job in queue.
5- The autoloader does the job of taking discs from the input spindles, writing and printing labels on the discs. After each one is finished it is placed in the output location for manual or automated sorting.
6- The final products are ready for distribution back to the job owners. With a disc printer, any information from source IP address to office location is available on a small area of the disc for the sorting and distribution process.