Panasonic Develops a "Makeup Design Tool" That Lets You Use Create Digital Professional Makeup
Utilizing image recognition and processing technologies, Panasonic has developed a "Makeup Design Tool," which lets users easily design makeup by using a touch pen and applying makeup to a facial photograph.
Working with professional makeup artists, Panasonic has transformed "makeup," which has traditionally been an analog technology, into digital.
Moreover, using facial recognition technology, the makeup designed can be applied to different facial photographs. With the video simulation mode, makeup can also be applied to moving facial images taken with a video camera.
The tool may be used for a wide range of applications, for example, as a communication tool that can be used by beauty advisors to speak to customers at cosmetic counters, to recommend makeup to customers at photo studios, wedding venues, beauty salons, and by beauty and cosmetology schools to create educational materials and for makeup technique training.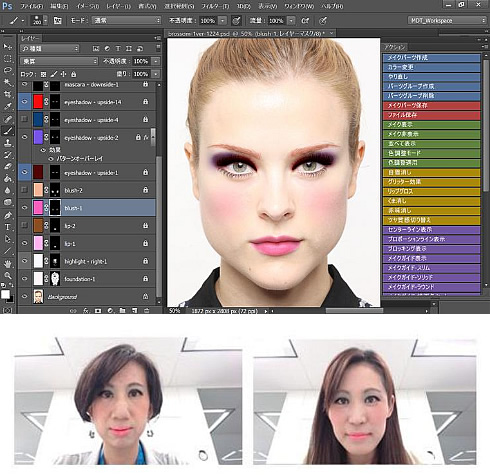 Features
Design freely, as though you are actually applying makeup You can design makeup as though you are actually applying makeup. The tool replicates the colors and textures of cosmetics, and the brush tool can actually respond to pen pressure to apply a denser colored makeup. The brush tip size can also be adjusted.
All the know-how for each process involved in the application of makeup, from how to apply colors or layers, how to move the brush, etc. can be recorded and used as reference.
Using facial recognition technology, the tool analyzes the proportions of one's face, which is fundamental when applying makeup (the balance of each part of one's face such as the eyes or nose) and displays tips on how to apply makeup. For example, the tool analyzes the balance when one's face is divided vertically into 3 parts (compared against equal proportions), and can show tips on how to apply makeup for a better balance using any facial image.
The makeup designed can be superimposed on moving facial images captured by the same tablet to simulate what it would look like under actual lighting.
Using a tablet, beauty advisors can design makeup freely, arrange colors, and share the image with customers in a very short amount of time. Moreover, in the past, makeup artists could only hand down their knowledge from mouth to ear, or only by showing how it is down, but because this tool records and makes the processes visible, it will help improve and maintain the makeup design skills of beauty advisors at a high level.