Panasonic Introduces World's First 3D Consumer Camcorder
Panasonic today announced the launch of the Panasonic HDC-SDT750, the world?s first consumer 3D camcorder, a new 3D lens system for its LUMIX G series of digital cameras as well as a new 3D Blu-ray player.
Panasonic HDC-SDT750
In addition to shooting 3D, the SDT750 can record full 1080p High Definition (HD) in AVCHD, when the 3D conversion lens is unattached, and includes features such as a 3MOS system, a Leica Dicomar lens and a 12x optical zoom.
To shoot 3D video with the Panasonic HDC-SDT750 camcorder, the user needs to attach the 3D conversion lens that comes included, to record dynamic images. The 3D conversion lens records right-eye and left-eye images simultaneously through its two lenses, thus resulting in video that can be viewed in 3D. The right and left images (each with 960 x 1080 pixels) that enter through the lenses are recorded using the side-by-side method.
The Panasonic SDT750 features a Time Lapse Recording feature, which plays a scene such as a sunset or a blooming flower at an accelerated speed, similar to a fast-forward. By setting the recording interval to 1 second, 10 seconds, 30 seconds, 1 minute or 2 minutes, the user can view an otherwise long recording in a reduced time period. For example, when a scene is recorded at the 1-second interval setting, a 10-minute sunset scene can be played back in approximately 10 seconds, making the slow change in the subject appear as if it were taking place in a very short time. This interval recording feature is also available when the 3D conversion lens is attached to the SDT750.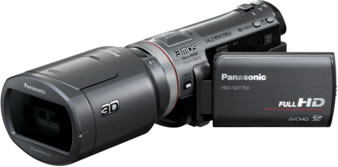 Panasonic offers a 5.1-channel audio recording sound system that uses five microphones, so when voices are recorded from the front, right, left and back are played on a 5.1-channel home cinema system, users are surrounded by detailed sound. The Focus Microphone function, which has been made possible by five highly-directional microphones, picks up the sounds from sources in the area in front of the camcorder, regardless of whether the lens is focusing on a near or distant object. It also allows footage recorded in 3D to be enjoyed with lifelike and dynamic sounds.
The high-sensitivity 3MOS System has 7.59 million effective motion image pixels (2.53 megapixels x 3), so this advanced image sensor separates the light received through the lens into the three primary colors ? red, green and blue ? and processes each color independently. Adding to the quality, the SDT750 also features a large-diameter (46mm) F1.5 Leica Dicomar lens and Crystal Engine PRO, a high-speed processing unit ? both components which contribute to the effectiveness of the camcorder?s light gathering, increased sensitivity, and reduced noise when shooting, even in dim lighting.
Users can play back 3D videos recorded on the Panasonic HDC-SDT750 on 3D-capable televisions. Playback using a VIERA TV is done by connecting the 3D camcorder to the television using an HDMI cable. In addition, it is also possible to play 3D images recorded on SD Memory Cards by using an AVCHD compatible player.
The SDT750 comes with HD Writer AE 2.6T PC editing software, which allows users to edit recorded 3D images, and save them onto PCs or Blu-ray/DVD discs. HD Writer AE 2.6T features a "Smart Wizard" that starts as soon as the SDT750 is connected to the USB port of the computer, which gives simple on-screen guidance. HD Writer AE 2.6T also enables uploading and sharing online without the need for any cumbersome processes, so that even an inexperienced user can post video clips on the web. When uploading 3D images from a PC onto the web, they must first be converted into 2D images.
Even without the 3D conversion lens attached, the Panasonic SDT750 is Full HD camcorder that is equipped with a wide range of functions, including the 3MOS System, which features improved noise reduction (NR) technologies, and a wide-variety of manual adjustments controlled by a manual ring for easy shooting. The manual ring provides fingertip control of the focus, zoom, exposure (iris), shutter speed and white balance settings. Only the white balance setting is available when the 3D conversion lens is attached. The SDT750 can shoot 1,080/60p recording (Full-HD 1,920 x 1,080, 60 progressive recording).
When the 3D lens is not attached and Panasonic?s Intelligent Auto (iA) function is engaged, the SDT750 automatically selects the most suitable shooting mode with the press of a button. While shooting HD video, the Panasonic SDT750?s iA function offers the following six functions: Face Recognition, the new HYBRID O.I.S., AF/AE Tracking, Intelligent Scene Selector, Face Detection and Intelligent Contrast Control. HYBRID O.I.S., a new feature, provides accurate hand-shake correction with its four-axis blur detection.
Other features of the Panasonic HDC-SDT750 include:
* Auto Power LCD automatically adjusts the brightness of the screen according to the shooting environment for comfortable use in a variety of different lighting situations.
* 3.0" touch-screen LCD allows icons to be easily operated by touching them with a fingertip. On the LCD, recorded 3D images are displayed only as the 2D images that were recorded with the left lens.
* Eco Mode automatically turns off the power when the camcorder is not operated for five minutes, reducing wasteful energy use and saving battery power.
* Pre-Rec allows for the camcorder to continuously record three seconds of content into internal memory. Then, when the record button is pressed, the three seconds immediately prior will have been recorded.
The Panasonic HDC-SDT750 will be available in October 2010 with a suggested retail price of $1,399.95.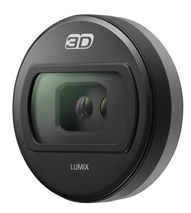 Interchangsble 3D Lens For Lumix G Micro System
Panasonic also today announced the development of the world's first digital interchangeable twin-lens, making it possible to shoot 3D with an interchangeable lens system camera. The twin-lens will allow high-quality shooting in 3D. Panasonic plans to release this new lens for sale before the end of the year.
Currently, 3D shooting with an interchangeable lens system camera is possible only by using panorama systems or by combining two lenses and two CCDs. However, these systems are not ideal and have difficulty capturing moving objects. Panasonic's new 3D lens for the LUMIX G Micro System features two optical systems installed within the diameter of the lens mount, creating stereo images from the left and right lenses that are then processed with a 3D image processing system. Thanks to Panasonic's advanced technologies in optical technology, image processing systems, and lens barrel design, the 3D lens will be compact in size.
Full 3D HD Blu-ray Disc players
Panasonic also today expanded of its line of Full HD 3D Blu-ray Disc players to include the DMP-BDT100. The DMP-BDT100, available in August, joins the DMP-BDT300 and DMP-BDT350 in providing 2D and 3D picture quality, as well as features such as VIERA CAST internet functionality.
The BDT100 outputs Full HD 3D imagery to compatible HD displays. The player also handles a wide variety of audio standards, and upconverts all standard definition video formats to 1080p.
The DMP-BDT100 also features VIERA CAST, Panasonic?s proprietary internet functionality, which brings a variety of streaming services including NETFLIX, Amazon VOD, Pandora, Twitter and YouTube Videos into the living room. Wireless LAN capability eliminates the need to connect a LAN cable, so the DMP-BDT100 can be used without having to worry about the length of the cable.
Users can also watch 2D images (JPEG) and movies (AVCHD/MPEG2) from digital cameras and camcorders via the integrated SD card and USB slot, as well as 3D Content shot by a Panasonic HDC-SDT750 Camcorder.
Ease of use remains a major consumer concern and the BDT100 addresses the issue of boot up time by reducing the time to 0.5-second.
Panasonic also focuses on important environmental issues in its production system. For example, the single chip LSI, UniPhier, is used for image signal processing. Unification of this chip helps to lower power consumption and achieve a more compact design (reducing the DMP-BDT100 size by 1-17/32 inches) while also decreasing the burden on the environment by using limited natural resources more efficiently.
HD pocket -sized mobile video camera
The company continued the announcements today with the introduction of the the Panasonic HM-TA1, a new Full High Definition (HD), 1920 x 1080 pixels-capable mobile video camera with pocket-sized dimensions. The TA1 features an integrated USB terminal and software that allows for easy PC connection and uploading videos to online sharing sites such as YouTube and Facebook. The TA1 also supports the Apple iFrame video format (960 x 540/30p), which is optimal for Mac users to import quickly and maintain small file sizes. When using iMovie, the iFrame video data in the video camera is the same format as the one that is used to edit.
Beyond its HD video-capturing capabilities, the TA1 can also double as a Web camera and microphone, working with IP-based video chat programs, such as Skype, by simply connecting the video camera to a computer via an included USB port. Thanks to integrated software, using the TA1 with video chatting services is seamless ? an easy way to enjoy face-to-face communication with long-distance family or friends.
Measuring a mere 2.09 inch (w) x 0.70 inch (d) x 4.09 inch (h), and weighing just 0.25lb (with battery and SD card), the Panasonic TA1 is a compact and lightweight HD mobile video camera that records high-quality videos and photos. The TA1?s single-function buttons include: Power, Play, Record, Still Photo, LED Light (on/off) and Delete. In addition, there is a center keypad for selecting additional settings.
The Panasonic TA1 can record still photos with up to eight Megapixels. All data records to an SDXC/SDHC/SD Memory Card. The TA1 can also cut still images out of a video clip during editing. There is no need to connect any other device or to load the video into a PC for editing. To cut out and save a still image, simply press the Still Picture button when the desired image appears on the TA1's 2.0" LCD monitor. A unique feature for mobile video cameras, the Panasonic TA1 includes a built-in LED light, which comes in handy when shooting in dimly-lit situations, such as indoors.
The TA1 has an integrated USB terminal with pre-loaded software that allows recorded video clips and still images to be easily loaded into a PC, edited, and then uploaded to popular sharing websites. When the TA1 is connected to the PC?s USB slot, its built-in software, HD Writer PE 1.0, automatically launches, enabling one-touch loading of data into the PC for editing. The TA1 records MPEG-4 AVC file format (MP4), which offers PC compatibility.
Other features of the Panasonic HM-TA1 include:
- E.I.S. (Electrical Image Stabilization) to minimize hand-shake issues.
- Digital zoom up to 4x, helping to expand the user's shooting range.
- Color effects enabling creative shooting, including Sepia, Monochrome, and Soft Skin. Sepia mode adds warmth to the captured images; SoftSkin produces realistic skin tones; and Monochrome mode transforms the appearance to create a cool ambience.
- USB-capable charging by connected the TA1's USB cord to a PC, eliminating the need to carry a separate cord or charger.
The Panasonic HM-TA1 will be available in three different color options, purple, dark grey and red in August 2010 with a suggested retail price of $169.95.
Full HD camcorder for web chat
Last but not least, the Japanese company today introduced the new HDC-SDX1, a lightweight (0.41 lbs) full-High Definition (HD) camcorder. The new Panasonic SDX1 features a 35.8mm wide-angle lens, 23x Intelligent Zoom and can also double as a Web camera with built-in capabilities for Internet video calling.
In addition to being a camcorder that can capture HD video content, the SDX1 also serves as a Web camera and microphone, allowing for users to connect with online video chat programs. In addition, the SDX1 supports Apple iFrame video format for smooth and easy loading and editing of image data using a Mac computer.
The Panasonic HDC-SDX1 also features a newly-developed HYBRID Optical Image Stabilization system (O.I.S.), an image stabilization system that provides optical and electrical hand-shake correction. In addition to the HYBRID O.I.S. system, the SDX1 provides even more powerful hand-shake correction with O.I.S. Lock. By pressing the O.I.S. Lock button on the LCD monitor, the blur detection sensitivity is maximized and other camera movements are detected and corrected.
The SDX1 is also packed with advanced features. It has full-HD AVCHD recording capabilities with 1920 x 1080 image quality, and records in the PC-friendly MP4 format. Its 35.8mm wide-angle setting is optimal for recording portraits indoors, as well as sweeping landscapes and even allows for voices to be clearly recorded at far distances. The Intelligent Zoom function which was achieved with the Intelligent Resolution technology of the newly-evolved image processing LSI, makes it possible to take telephoto shots with zoom power up to 23x.
The Panasonic HDC-SDX1 will be available in black in September 2010 with a suggested retail price of $499.95.