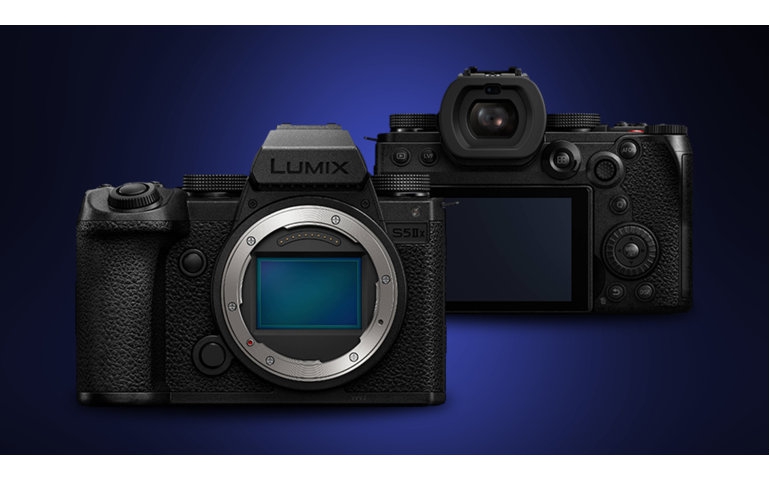 Panasonic Releases Lumix S5 IIX with Extensive Video Features
Panasonic made waves earlier this year with the announcement of its second-generation, full-frame cameras: the Lumix S5 II and S5 IIX. The two cameras are nearly identical. They both contain newly designed 24.2MP sensors and processors, dual native ISO and 5-axis Sensor-Shift Image Stabilization. The Panasonic S5 IIX mirrorless camera, however, has some bonus video recording options, such as RAW video output and All-Intra and internal ProRes recording to an external SSD via USB. It also features a completely monochromatic body, with the only color found on the red recording button.
The new autofocus system relies on 779 point detection, compared to the 225-point contrast autofocus system found in the first-generation S5. The improved autofocus will be especially noticeable in low-light scenarios and situations involving multiple subjects. As far as video goes, both the S5 II and S5 IIX can record 4K 30 fps and 6K 30 fps in full frame and will crop to ASP-C size when shooting 4K at 30 fps. They can also both have a 3.3K anamorphic mode and can shoot 120 fps at 1080p.
A clever built-in heat dispersion fan allows for unlimited recording in 4K but caps recording at thirty minutes for anything above 4K. Internal audio can be recorded at 48kHz/24bit by using the built-in microphone. There are also two 3.5mm jacks to connect headphones and an external mic. Finally, both cameras also include live cropping, adjustable waveforms and vectorscopes.
As we mentioned earlier, only the S5 IIX will be able to capture 5.8K ProRes to a SSD with All-Intra compression and ProRes RAW to an Atoms recorder. The S5 II will have the ability to capture ProRes but only after a $200 firmware update. Which, if you consider that S5 IIX is only $200 more than the S5 II, you might want to save yourself the hassle and just get the S5 IIX right off the bat.
Video connoisseurs will surely appreciate the S5 IIX's higher maximum bitrate, USB tethering, and wired and wireless IP streaming. The two cameras are identical in terms of photo functionality but, if additional video recording modes are important to you, then the S5 IIX was well worth the wait.
Panasonic Lumix S5 IIX First Look YouTube Video https://youtu.be/zY68QX1-R9I
Learn More with B&H Explora
https://www.bhphotovideo.com/explora/videos/photography/panasonic-lumic-...