Panasonic Releases New H.264 Full HD Camcorders
Panasonic announced on Thusday the HDC-SD3 and the HDC-DX3 camcorders, capable of capturing 1920 x 1080p HD video on SD memory cards and 8cm DVD media, respectively. The new models will be available in the Japanese market March 25. Panasonic announced these new models just a few months after the release of the HDC-SD1 and HDC-DX1 models (MPEG-4 AVC at 1,440?1,080), which are currently available in the U.S.
The camcorders encode video using MPEG-4 AVC/H.264 codecs, which offer the picture quality of MPEG-2 at a lower bit rate. The HDC-SD3 records video in AVCHD format, which has made it easy to record full HD video on SD memory cards and other media with smaller capacity compared to small size HDDs.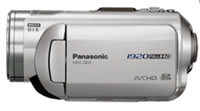 Equipped with a new codec LSI that consumes just 550 mW during encoding, the camcorders are able to record 40 minutes full HD video (13 Mbps CBR) on a 4 GB SDHC card. The recording time can be extended to 90 minutes by selecting the 6 Mbps VBR encoding at a resolution of 1440 x 1080 pixels.
Both models also feature the kind of 3CCD video recording system used in many professional broadcast cameras. In a 3CCD camera system, the light received through the lens is split into its three primary color components (red, green and blue), and the signal from each is processed by one of the three CCDs (charge-coupled devices or chips). Compared with conventional 1CCD camera systems, Panasonic's 3CCD system provides higher image quality.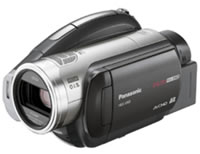 These two new models also incorporate Panasonic Optical Image Stabilizer (O.I.S.) that minimizes the effect of the slightest shake of the hands. In addition, they feature a 5.1-channel surround sound system with 5 microphones with zoom functions for clear, surround sound.
Panasonic plans to simultaneously launch HDC-DX3, which uses 8cm DVD-R/RW/RAM and DVD-R DL media, along with the HDC-SD3. Street pricing for this product is expected to be around JYen 140,000 (US $1,178). It is not clear whether the company will release these models overseas. The previously announced (HDC-SD1 and HDC-DX1, Dec 2006) Panasonic models are currently available in the U.S. at an SRP of $1,299.95.