Panasonic Reveals The Lumix DMC-LX100, Lumix DMC-GM5 Cameras And the DMC-CM1 Smartphone
Panasonic has announced the latest member of its enthusiast compact LX-series, the Lumix DMC-LX100, the Lumix DMC-GM5 and the Lumix DMC-CM1 smartphone, which boasts a huge, 1 inch 20MP sensor. The LX100 features the Four Thirds MOS Sensor, a 16MP chip and a 24-75mm equiv. F1.7-2.8 lens. It supports 4K video recording at 30p, and also provides Wi-Fi with NFC. The LX100 is equipped with a built-in LVF (Live View Finder) with 2764K-dot equivalent high resolution and approx. 100% color reproduction. This 16:9 Wide Screen LVF boasts approx.1.39x / 0.7x (35mm camera equiv.) magnification and 100% field of view. It also comes with a 3" 920k-dot tilting touch LCD.
Although there is no pop-up flash on board, but a clip-on external flash is included in the box.
The Lumix DMC-GM5 offers a 16MP Four Thirds sensor in a point-and-shoot sized camera body equipped with a Micro Four Thirds lens mount. It provides some enthusiast touches like a built-in 1.2m dot equivalent EVF and hot shoe. Also included is built-in Wi-Fi, 1080/60p HD video, 3" 921k dot touch LCD and a bundled external flash.
Taking advantage of 16.00-megapixel Digital Live MOS Sensor and Venus Engine, images are rendered with high resolution and at a max. 25,600 ISO sensitivity.
Furthermore, the GM5 allows photographers to use a max. shutter speed of 1/16,000 for action photography. The GM5 is also compatible with Focus Peaking, Silent Mode, Highlight/Shadow Control and Level Gauge.

Other features include:
Max.1/16,000 sec Shutter Speed, Time (Long Exposure) Shooting, Focus Peaking, Silent Mode, Level Gauge, Highlight/Shadow Control, WB (White Balance) Bracket, iA+ (Intelligent Auto) Mode for Photo and Video, Bundled Software SILKYPIX Developer Studio 4.2 SE
The Panasonic Lumix DMC-GM5 will cost $899 when it becomes available in mid November.
Topping off its Photokina 2014 announcements, Panasonic announced two lenses designed to fit the dimensions of the GM-series cameras. The Lumix G Vario 35-100mm F4.0-5.6 ASPH Mega O.I.S. is a truly compact telephoto zoom covering a range equivalent to 70-200mm.
Also announced is the 14mm F2.5 II ASPH, a version of an existing lens but with revised graphics (equivalent to 28mm).
The 14mm prime offers a stepping motor for quieter focus, and the 35-100mm zoom uses Panasonic's Mega O.I.S. optical image stabilization. Each lens will retail for $399.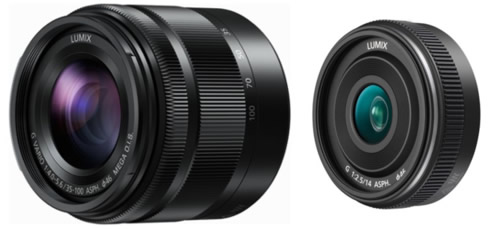 Last but not least, Panasonic announced firmware upgrades for the LUMIX DMC-FZ1000 and the LUMIX DMC-GH4 cameras.The upgrades will be released to enhance their performance and controllability, featuring the new 4K Photo Mode.
The 4K Photo is a new method of Hybrid Photography that Panasonic is proposing. It encourages users to capture the spur-of-the-moment in a high resolution 4K photo by cropping out a designated frame from 4K video. With the new firmware, it is easier to get 4K photo by using the 4K Photo Mode. Once selecting the 4K Photo Mode, recording format / picture quality setting / brightness level are automatically set to the optimum parameter for photo shooting. Users can record high quality video either in 4:3, 3:2 or even 1:1 aspect ratios in addition to 16:9 – all can provide a still image with 8-megapixel equivalent resolution. Each JPEG image cropped out of the video footage complies with EXIF just as a normal still picture. While recording the 4K video in 4K Photo Mode, it is possible to mark the designated portion by just pressing the [Fn1] button. This can reduce postproduction work for searching the spur-of-the-moment worth cropping out.
There are more functional upgrades such as an addition of 4K video recording in 23.98p (MP4, AAC) and 3 new additional options for shutter sound.
The PHOTOfunSTUDIO 9.5PE and Panasonic Image App for iOS/Android will also be updated to support these functional upgrades.
The new firmware programs are scheduled to be released in the beginning of October, 2014.
Besides the new cameras, Panasonic also unveiled today the Lumix DMC-CM1 smartphone, which boasts a 1 inch 20MP sensor -- a component typically found in high-end compact cameras.
Its 1-inch 20MP chip is multiple times larger than the 1/3-inch sensors that are common on more conventional smartphones. The large sensor is coupled with an F2.8 Leica lens that offers an equivalent focal length of 28mm. The CM1 is also capable of recording 4K-video and Raw images. Focus, aperture, shutter speed, ISO and white balance can all be adjusted manually.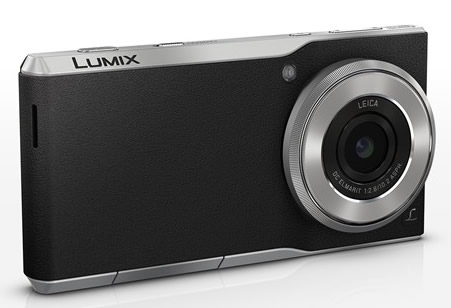 The smartphone featrues a 4.7-inch 1080p display and Android 4.4 and it is powered by a Qualcomm Snapdragon S801 quad-core processor that is clocked at 2.3 GHz. It also comes equipped with 16GB of internal memory and a microSD-card slot (up to 128GB).
The 21mm device will be available for 900 Euros from November in some countries.
Key specifications:
20MP 1-inch CMOS sensor
F2.8 aperture
28mm equivalent focal length
ISO 100-25,600
4K-video
Raw capture
1.1MP front camera
4.7-inch 1080p display
Android 4.4
Qualcomm Snapdragon S801 quad-core processor
2GB RAM
16GB built-in memory
microSD cards up to 128GB
2600mAh batttery