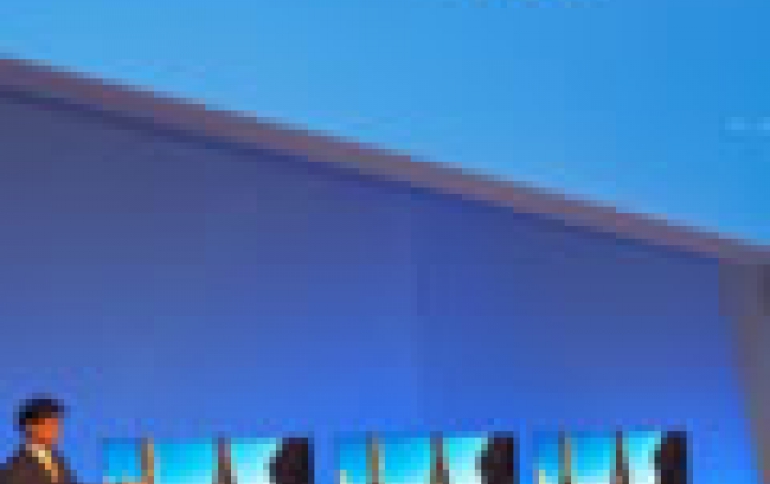 Panasonic To Showcase New Technics Products And THX-Certified OLED TVs At IFA
Panasonic will exhibit its latest products and technologies at the Internationale Funkausstellung Berlin (IFA) 2015. Among the interesting products on display will be the THX-certified TX-65CZ950 4K TV and a new Technics Direct Drive analog turntable. The latest lineup of Panasonic's 4K VIERA TVs, includes the new "4K Pro" 65-inch OLED (TX-65CZ950) to be released in October in Europe. The CZ950 is equipped with Panasonic's original 4K Studio Master Processor image processing engine. The TV runs on the Firefox OS that makes web content more accessible, while SAT>IP allows for receiving TV broadcasts via LAN and wireless transmissions without using an antenna.
Panasonic does no longer develops OLED displays - the TVs at IFA use screens made by LG Elecrtonics. However, the interesting aspext is that the Panasonic TX-65CZ950 is the first 4K TV to earn THX certification.
In addition to delivering 4K resolution, the CZ950 series also supports high dynamic range technology to produce images with wider luminance and color ranges to deliver a more lifelike picture.
The TV's curved display is housed in an equally attractive chassis, with the entire back panel wrapped in a soft suede-like material that begs to be touched.
Its price tag is said to be around $10,000.
Panasonic will also have on display a prototype of the Ultra HD Blu-ray player compatible with the next-generation Blu-ray standard. The player supports the latest technologies like 4K and High Dynamic Range.
Audiophiles will have the chance to see at IFA a full lineup of Technics products.
The direct drive analog turntable prototype on stage is equipped with a newly developed direct drive motor.
In conventional analog turntables, sound quality degradation caused by tiny vibrations of the motor and rotational speed fluctuations has been a major challenge. To overcome this challenge and assure highly-stable rotation, Panasonic has developed a new direct drive motor and redesigned high-precision motor control technology. This makes it possible to reproduce the warm sound and subtle nuances of musical expression engraved in the analog record grooves.
The newly-developed direct drive motor has the following features:
Coreless stator design that eliminates cogging
Twin rotors that reduce bearing load and minimize tiny rotational fluctuations (wow & flutter), while maintaining high torque
Oil impregnated high-precision bearings that minimize unwanted vibrations during rotation
The redesigned direct drive motor control technology involves the following:
Spindle motor control technology that switches the stator winding drive mode according to operating conditions to provide both high starting torque and high rotational stability
Adaptive rotational control technology5 that achieves optimized compensation according to precision rotational position detection and load fluctuation factors

Demand for analog turntables has been on the rise in recent years as music aficionados once again find the value in the sound of analog records, mainly in the North American, European and Japanese markets.
The new turntable will be released next year.
Panasonic put on sale the world's first direct drive analog turntable in 1970 under the Technics brand. This was followed by the SL-1200 series, which earned the brand critical acclaim for its outstanding sound quality and reliability, not only from audiophiles, but also dance and music clubs, studios, broadcasters and other commercial users around the globe. Technics has become synonymous with "turntable" as the first choice of club DJs, whose support has remained strong and who are awaiting a new model to come out. The latest Technics turntable was the SL-1200MK6, which was releases in 2007.
Other High Resolution Audio Products
Also at Panasonic's booth at IFA will be the following products:
SU-G30 Grand Class Network Audio Amplifier (to go on sale in Europe in spring 2016)
This Hi-Fi network amp designed for the high-resolution era. Inheriting the digital technology featured with the Reference Class, the amp with a simple configuration promises to deliver "uncompromising"audio quality by sending the digital audio data via the shortest signal path for minimum deterioration.
ST-G30 Grand Class Music Server (to be released in Europe in spring 2016)
The Hi-Fi music server offers high-quality sound. Panasonic's noise reduction technology realizes accurate data transmission, while Bit-Perfect Ripping realizes precision data importing from CDs by using a CD drive enclosed in a sound damping shelter to suppress vibration and noise to minimal levels.
OTTAVA (SC-C500) Premium Class All-in-one Hi-Fi System (to be released in Europe in 2015)
This all-in-one premium audio offers new listening style, with genuine Hi-Fi sound and a compact, stylish design. It uses a unique speaker system - with tweeters and horns set in three directions - to fill the entire space with music.
The speaker system has also two woofers arranged symmetrically to reduce cabinet vibrations, as well as a spiral acoustic port design to produce powerful bass.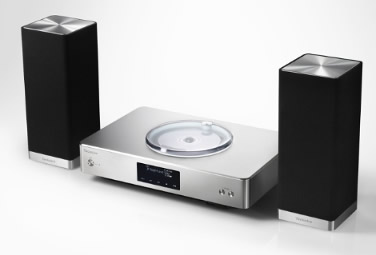 The the OTTAVA SU-C501 is incorporating many of Technics' components, such as the JENO Engine, LAPC and Battery Driven Clock Generator.
EAH-T700 Premium Stereo Headphones (to be released in Europe in 2015)
These headphones provide a wide band two-way drive (50 mm dynamic driver and 14 mm super tweeter) to faithfully reproduce the sound of each instrument.
Specifications - EAH-T700 Premium Stereo Headphones
Headphone Type: Closed
Driver & Diaphragm:

50mm + Super Tweeter(ST)
Advanced MLF + Aluminum

Frequency Response: 3Hz- 100kHz
Headphone Adjustment:

Horizontal Slider / Swivel
Headband Slider / Housing Tilt

Cord:

1.2m 4N-OFC / 3.0m 4N-OFC
3.5 -> 6.3mm adaptor
Balance connection Compatible

Features and Technologies:

Natural Sound-field with Angled-Driver [AD] System
100kHz High Resolution Sound with Super Tweeter
High Linearity 50mm Dynamic Driver
Floating Dynamic Driver & Anti-vibration Driver's Frame for Unnecessary Resonance and Vibration Elimination
Anti-reverberation Structure with Speaker Plate and Ear Pads
3D Ergonomic Ear Pads

Specifications - SU-G30 Network Audio Amplifier:
Accurate Digital Technology:

JENO Engine (Jitter Elimination and Noise-shaping Optimization)
GaN-FET Driver
High-speed Silent Hybrid Power Supply
LAPC (Load Adaptive Phase Calibration)
Battery Driven Clock Generator
High Rigidity Metal Double Chassis

Noiseless Signal Technology:

Digital Noise Isolation Architecture
Ultra-Low Distortion Oversampling Digital Filter
High Res Remaster - enhanced for compressed audio
Optimally Activated Circuit System

Technics Definitive Design:

High Rigidity Aluminum Cabinet
Symmetric Structure

Output Power:
Dimension & Weight: W: 430mm H: 98.5 mm D: 424.5mm / Approx. 11.0 kg
Terminal: Digital Coaxial Input x2 / Digital Optical Input x1 / Analog Line Pin input x1 / USB-A input / USB-B input /
Phono(MM) input x1 / Ether Terminal / Headphone Output / WiFi abgn / Bluetooth(aptX, AAC, SBC) / AirPlay
Digital Input Format:

Digital Coaxial : PCM up to 192kHz 24bit
Digital Optical : PCM up to 96kHz 24bit
DLNA, USB-A : FLAC , WAV, AIFF, ALAC up to 192kHz 24bit
AAC up to 96kHz 320kbps
MP3, WMA up to 48kHz 320kbps
DSD 2.8MHz, 5.6MHz
USB-B : PCM up to 384kHz, 32bit / DSD 2.8MHz, 5.6MHz, 11.2MHz with Asynchronous Transfer Mode
Specifications - ST-G30 Music Server:
Noiseless Signal Technology:

Low Noise USB Transfer SSD
Digital Noise Isolation Architecture
Optimally Activated Circuit System
Bit-Perfect Ripping
Rigidly-Mounted Sheltered Drive
High Rigidity Metal Double Chassis

Technics Definitive Design:

High Rigidity Aluminum Cabinet
Symmetric Structure

Dimension & Weight: W:430mm H: 98.5mm D:388.5mm / Approx. 10 .5kg
Terminal: USB 3.0 x1 / USB 2.0 x1 / Ether terminal x1
USB Audio Output: PCM up to 384kHz 32bit
DSD 2.8MHz, 5.6MHz, 11.2MHz
DLNA : FLAC, WAV, AIFF, ALAC up to 192kHz 24bit
DSD up to 11.2MHz
AAC up to 98kHz 320kbps
MP3, WMA up to 48kHz 320 kbps
Ripping format: FLAC /WAV encode
Storage: 2.5 inch SATA SSD, replaceable