Part Laptop, Part Tablet, The Lenovo Flex 11 Represents a New Generation of Chromebooks
Lenovo makes a play for mainstream consumers with the new Lenovo Flex 11 Chromebook, packing the fun of a tablet with the power punch of a PC.
Designed with Android apps in mind, the Flex 11 is a 2-in-1 laptop. Its 360° hinge and 11.6" HD multi-touch display gives users the flexibility to shift between four dynamic modes (watch, tent, laptop, and tablet) for any combination of work and play activities. Powered by a 2.10 GHz Quad Core ARM processor, the Flex 11 is built for running apps from the Chrome Web Store, and soon, the Google Play Store. Combine all of that with a lightweight durable design, up to 10-hour battery life, USB Type-C connectivity, and the security, and you have a simple to use Chromebook that does it all.
Part laptop, part tablet, the Flex 11 allows for seamless work-to-play possibilities with its 360° hinge and multi-touch display. With the Flex 11, users can shift from streaming shows in watch mode to sharing photos in tent mode, or presenting in laptop mode to browsing in tablet mode.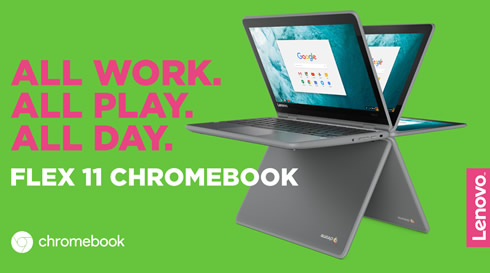 The Flex 11 is weighing less than 3 pounds and it's compact enough to slip in your bag when you're on the move or to carry from room to room when you're at home.
The Chromebook also withstands the rigors of the entire day with its drop-resistant design for falls from up to 75cm (2.4 feet). Additionally, its ports are reinforced and its touchpad is sealed to protect against accidental spills, while its non-slip texture ensures you can get a secure grip when you're mobile. What's more, the Flex 11 features a water-resistant keyboard that can handle spills of up to 330 ml (around 1 cup of water).
A wide range of ports include HDMI, USB 3.0, a mic/audio jack and an SD card slot. A USB Type C port is also available for fast connectivity to peripherals. USB Type-C can charge your laptop or your peripherals, and provides video and data I/O.
Lenovo Flex 11 Chromebook starts at $279.