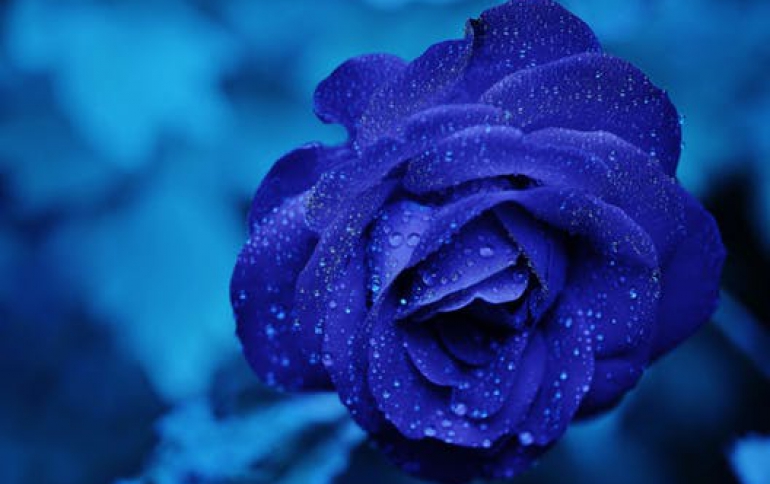 PENTAX K-70 SLR Camera Released
RICOH is launching the PENTAX K-70, an advanced entry-level DSLR with an AA-filterless 24MP APS-C sensor and a compact, dustproof and weather-resistant body designed for all types of outdoor photography. The PENTAX K-70 is designed to be an all-weather camera, thanks to its dustproof, weather-resistant construction and dependable cold-proof performance down to temperatures as low as -10°C. It incorporates a newly developed accelerator unit, which performs noise processing in collaboration with the PRIME MII imaging engine and allows super-high-sensitivity photography at a top sensitivity of ISO 102400.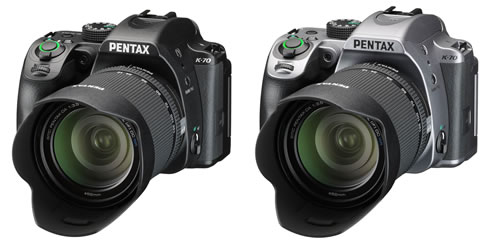 It also features a new Hybrid AF system, which harmonizes the advantages of both the image-plane phase-matching AF system and the contrast detection AF system, in order to assure the maximum speed and accuracy of AF operations during Live View shooting.
It even provides a range of features, including the PENTAX-developed Pixel Shift Resolution System; an AA (anti-aliasing) filter simulator with the same moire reduction effect as an optical AA filter; an optical viewfinder with nearly 100 percent field of view; and an in-body shake reduction mechanism with a shake reduction effect equivalent to approximately 4.5 shutter steps. For remote shooting operation and easy transfer of captured images to smartphones and tablet computers, it also features a built-in wireless LAN (Wi-Fi) module.
A PRIME MII image processor allows for 14-bit readout and a maximum ISO of 102,400. Movie recording tops out at 1080/30p, augmented by a 4K interval mode that combines 4K resolution stills into a movie file.
The PENTAX K-70 comes equipped with an outdoor-friendly, 3" 921k-dot vari-angle LCD monitor whose brightness level can be instantly adjusted to the lighting level of a shooting location.
The camera will cost $649.95. Ricoh says it will announce availability at the beginning of July.
PENTAX K-70 Specifications
| | |
| --- | --- |
| Type | TTL autofocus, auto-exposure SLR digital-still camera with built-in retractable P-TTL flash |
| Lens Mount | PENTAX KAF2 bayonet mount (AF coupler, lens information contacts, K-mount with power contacts) |
| Compatible Lens | KAF4, KAF3, KAF2 (power zoom not compatible), KAF, KA mount lens |
Image capture unit
Image Sensor
Primary color filter, CMOS. Size: 23.5 x 15.6 (mm)
Effective Pixels
Approx. 24.24 megapixels
Total Pixels
Approx. 24.78 megapixels
Dust Removal
SP coating and CMOS sensor operations
Sensitivity
(Standard output)
ISO AUTO/100 to 102400 (EV steps can be set to 1EV, 1/2EV or 1/3EV)
Image Stabilizer
Sensor-shift Shake Reduction
AA Filter Simulator
Moir? reduction using SR unit. OFF/Type1/Type2/Bracket (3 frames)
File formats
File format
RAW (PEF/DNG), JPEG (Exif 2.3), DCF2.0 compliant
Recorded Pixels
JPEG: L(24M:6000x4000), M(14M:4608x3072), S(6M:3072x2048), XS(2M:1920x1280)
RAW: (24M:6000x4000)
Quality Level
RAW (14bit): PEF, DNG
JPEG: ★★★ (Best), ★★ (Better), ★ (Good), RAW + JPEG simultaneous capturing available
Color Space
sRGB, AdobeRGB
Storage Medium
SD, SDHC and SDXC Memory Card (Conforms to USH-I standards)
Storage Folder
Folder Name: Date (100_1018,101_1019...) or User assigned folder name (Default "PENTX")
Recording File
File Name: "IMGP****" or User assigned file name
File name numbering: Sequential, Reset
Viewfinder
| | |
| --- | --- |
| Type | Pentaprism Finder |
| Coverage (FOV) | Approx. 100% |
| Magnification | Approx. 0.95x (50mmF1.4 at infinity) |
| Eye-Relief Length | Approx. 20.5mm (from the view window), Approx. 22.3mm (from the center of lens) |
| Diopter adjustment | Approx. -2.5m to + 1.5m-1 |
| Focusing Screen | Interchangeable Natural-Bright-Matte III focusing screen |
Live view
Type
TTL method using image sensor
Autofocus
Hybrid AF (Image plane phase-matching and Contrast detection)
AF area: Face detection, Tracking, Multiple AF points, Select, Spot
Focus Peaking: ON/OFF
Display
Field of View approx. 100%, Magnified view (up to 16x), Grid Display (4x4 Grid, Golden Section, Scale display, Square 1, Square 2, Grid Color: Black/White ), Histogram, Bright area warning
LCD monitor
| | |
| --- | --- |
| Type | Vari-angle TFT color LCD monitor featuring an air-gapless structure, tempered-glass front panel |
| Size | 3.0 inch (aspect ratio 3:2) |
| Dots | Approx. 921K dots |
| Adjustment | Brightness, Saturation and Colors adjustable |
| Outdoor View Setting | Adjustable ±2 step |
| Night Vision LCD Display | ON/OFF |
Autofocus System
| | |
| --- | --- |
| Type | TTL: Phase-matching autofocus |
| Focus Sensor | SAFOX X, 11 points (9 cross type focus points in the center) |
| Brightness Range | EV-3 to 18 (ISO 100 / at normal temperature) |
| AF mode | Single AF (AF.S), Continuous AF (AF.C), Auto select AF (AF.A) |
| AF Point Selection | Auto:11 points, Auto:5 points, Select, Expanded Area Select, Spot |
| AF Assist Light | Dedicated LED AF assist light |
Shutter
Type
Electronically controlled vertical-run focal plane shutter
* Electronic shutter when using Pixel Shift Resolution
Shutter Speed
Auto:1/6000 to 30 sec., Manual: 1/6000 to 30 sec. (1/3EV steps or 1/2EV steps), Bulb (Timed exposure setting possible from 10 sec. to 20min.)
Flash
Built-in Flash
Built-in retractable P-TTL flash, GN: approx. 12 (ISO100/m), Angle of view of 28mm lens (35mm format equivalent)
Flash Modes
Auto Flash Discharge, Auto Flash + Red-eye Reduction (Auto Picture, Scene) Flash On, Flash On+ Red-eye Reduction, Slow-speed Sync, Trailing Curtain Sync, Manual Flash Discharge (Full-1/128)
Sync Speed
1/180sec.
Flash Exposure
Compensation
-2.0~+1.0EV
External Flash
P-TTL, Leading Curtain Sync, Trailing Curtain Sync, Contrast-control-sync, High-speed sync, Wireless sync
* Contrast-control-sync and High-speed sync requires two or more dedicated external flash
Movie
File Format
MPEG-4 AVC/H.264(MOV)
Recorded Pixels
Full HD(1920x1080, 60i/50i/30p/25p/24p)
HD (1280x720, 60p/50p)
Auto Focus
Hybrid AF (Image plane phase-matching and Contrast detection)
AF mode: Single AF (AF.S), Continuous AF (AF.C) * Continuous AF (AF.C) is available with the dedicated lens.
AF area: Multiple AF points, Select, Spot
Focus Peaking: ON/OFF
Sound
Built-in stereo microphone, external microphone (Stereo recording compatible) Recording Sound Level adjustable
Recording Time
Up to 25 minutes or 4GB ; automatically stops recording if the internal temperature of the camera becomes high.
Custom Images
Auto Select, Bright, Natural, Portrait, Landscape, Vibrant, Radiant, Muted, Flat, Bleach Bypass, Reversal Film, Monochrome, Cross Processing
Cross Processing
Random, Preset 1-3, Favorite 1-3.
Digital Filter
Extract Color, Replace Color, Toy Camera, Retro, High Contrast, Shading, Invert Color, Unicolor Bold, Bold Monochrome
Power supply
Battery Type
Rechargeable Lithium-ion Battery D-LI109
AC Adapter
AC Adapter Kit K-AC168 (Optional)
Battery Life
Number of recordable images:
(with 50% flash usage): approx. 410 images, (without flash usage): approx.: 480 images
Playback time: Approx. 270 minutes
* With a fully-charged Rechargeable Lithium-ion Battery under the temperature at 23°C. Tested in compliance with CIPA standard.
Actual results may vary depending on the shooting condition.
Interfaces
| | |
| --- | --- |
| Connection Port | USB2.0 (micro B), HDMI output terminal (Type D) , Stereo microphone input / Cable switch input ( ?3.5mm connector) |
| USB Connection | MSC/PTP |
Wireless LAN
| | |
| --- | --- |
| Standards | IEEE 802.11b/g/n (Standard wireless LAN protocol) |
| Frequency (Center Frequency) | 2412MHz to 2462MHz (channels: Ch.1 to Ch.11) |
| Security | Authentication: WPA2, Encryption: AES |
Dimensions and Weight
Dimensions
Approx. 125.5mm (W) x93.0mm (H) x 74.0mm (D) (excluding protrusions)
Weight
Approx. 688g (Including dedicated battery and SD Memory Card),
Approx. 628g (body only)
Operating Environment
| | |
| --- | --- |
| Temperature | -10°C~40°C (14°F~104°F) |
| Humidity | 85% or less (no condensation) |
Accessories
| | |
| --- | --- |
| Included | Strap O-ST132, Rechargeable Lithium-ion Battery D-LI109, Battery Charger D-BC109,Software (CD-ROM) S-SW168 ?Mounted on the camera? Eye-cup FR, Hot shoe cover FK , Body Mount Cover |
| Software | Digital Camera Utility 5 |