Pioneer Releases 80th Anniversary TAD-ME1 "Micro Evolution One" Speakers
Pioneer marked the 80th anniversary of its foundation on January 1, 2018 and will release an anniversary Model of a compact bookshelf-type speaker system, "Micro Evolution One" developed by Technical Audio Devices Laboratories, Inc.
The new high-end speaker system (TAD-ME1-80" x 2, Speaker) will be relreased early May in Japan and oversea for a limited time, priced at a recommended retail price of 1,300,000 yen ($12,363).
Featuring a 9-cm CST (Coherent Source Transducer) driver and Bi-Directional ADS (Aero-Dynamic Slot) ports, the system promises to deliver excellent sound field expression, along with natural and rich bass reproduction. A mid-range and tweeter are arranged coaxially to homologize their directional characteristics and exclude acoustic disturbance. At the same time, the tweeter features a highly rigid, light-weight beryllium diaphragm. These properties deliver "highly stable sound localization and natural sounds in a wide range, from 420 Hz to 60 kHz," according to Pioneer.
The 16-cm woofer adopts a MACC diaphragm with enhanced strength and low internal loss, as well as a magnetic circuit with "outstanding" linear drive characteristics. This diaphragm is constructed of aramid fiber and nonwoven fabric separately formed then laminated, achieving rich bass tones with linearity and clear mid-range tones free from coloration.
Slit-shaped ports are positioned on the enclosure's side panels with front and back openings and a flared-shaped section leading to the opening. The symmetrical front-back, left-right layout eliminates unnecessary sound from the port and the influence of internal standing waves.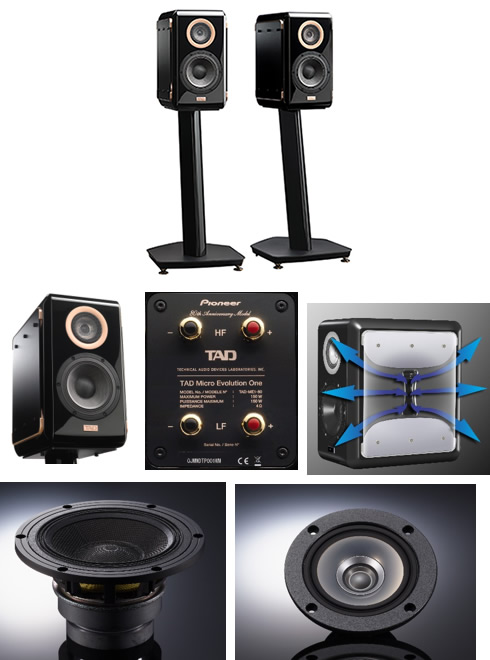 TAD's brand plates and speaker trim rings are decorated in ROSE GOLD, while the nameplate on the back side of the speaker was printed with the words "80th Anniversary Model."
TAD-ME1-80
| | |
| --- | --- |
| Type | 3-way, bass reflex, bookshelf type |
| Speaker Structure | 3-way system |
| Woofer | 16 cm cone type |
| Midrange/Tweeter | coaxial 9 cm cone type / 2.5 cm dome type |
| Reproduction Frequency Band | 36 Hz ~ 60 kHz |
| Crossover Frequency | 420 Hz, 2.5 kHz |
| Output Sound Pressure Level | 85 dB (2.83 V-1 m) |
| Maximum Input | 150 W |
| Nominal Impedance | 4 Ω |
| Unit Polarity | Low range (+), middle range (+), high range (+) |
| External Dimensions | 251 mm(W) x 411 mm(H) x 402 mm(D) |
| Weight | 20 kg |
| Accessories | short cable x 2, cleaning cloth, owner's manual, warranty, nonslip pad x 4 |
TAD-ST3-80 (1 pair per package)
| | |
| --- | --- |
| Dimensions after assembly | 376 mm(W) x 652 mm(H) x 460.2 mm(D) |
| Weight | 16 kg (1 unit) |
| Accessories | Accessory kit (for 2 units): spike (L) x 6, spike (S) x 6, spike shoe x 6, spike (for height adjustment) x 4, screw (for attaching base to struts M6) x 8, screw (for attaching top board to struts M6) x 8, screw (for attaching speaker M6) x 4, owner's manual |