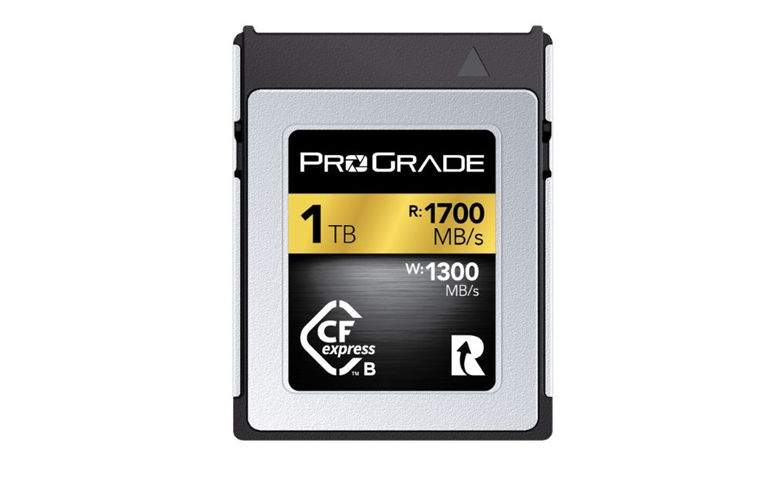 ProGrade Digital Announces 3rd Generation CFexpress Type B 1TB Memory Cards
ProGrade Digital announces its new 3rd generation of 1TB CFexpress™ Type B Gold memory cards. This new generation features the same industry-leading quality of ProGrade current 2nd generation CFexpress cards – leveraging PCIe, Gen 3 interconnect with NVMe 1.3 host controller interface. ProGrade Digital 3rd generation CFexpress 1TB cards provide read speeds of up to 1,700MB/s and burst write speeds of up to 1,500MB/s and sustained write speeds of up to 1,300MB/s – ideally suited for high-resolution video capture applications. ProGrade Digital is also introducing a 3rd generation 512GB CFexpress Type B Gold memory card with read speeds of up to 1,700MB/s, burst write speeds of up to 1,500MB/s and sustained write speeds of up to 800MB/s. The 512GB card will be shipping in February 2023. All new 3rd generation CFexpress Gold cards now clearly state the sustained write speed on the front label. This additional messaging clearly states the real-world capability of our cards – especially critical for high performance video capture applications.
"The introduction of our 3rd generation CFexpress 1TB Gold cards provides the large capacity and dramatically improved performance needed for a very broad range of video capture needs,"" said Wes Brewer, founder, and CEO of ProGrade Digital. "Our re-introduction of a 1TB capacity point, at 1,300MB/sec sustained write speed, ensures that nearly all video capture modes can be utilized while also providing our traditionally high read speeds for quick offloading."
ProGrade Digital CFexpress Type B 1TB Gold Memory Cards:
Maximum read speed up to 1700MB/s
Burst write speed up to 1500MB/s
Minimum sustained write speed up to 1,300MB/s
Capacities: 1TB
MSRP: $399.99
CFexpress Type B 1TB Delivers:
- Fully compliant with CompactFlash™ Association 2.0 specification
- NVMe host interface with PCIe Gen3 X2 interconnect
- Extended battery life and low standby power through NVMe PS0 – PS4 support
- Metal enclosure for improved durability and heat dissipation
- Thermal throttling protects the card from overheating
- Laser etched unique serial numbering for the tracking of key components and manufacturing data for the highest quality control
- Temperature ranges: operating 14°F to 158°F/ -10°C to 70°C; storage -4°F to 185°F/ -20°C to 85°C
- Packaging: Biodegradable fiber tray
- Refresh Pro ready*
- X-ray proof and shock-proof
- 3-year warranty
Customers may purchase ProGrade Digital products on www.progradedigital.com, B&H Photo and Video, or Adorama websites along with many other retailers around the globe. Customers in select regions may purchase on Amazon with Prime shipping.