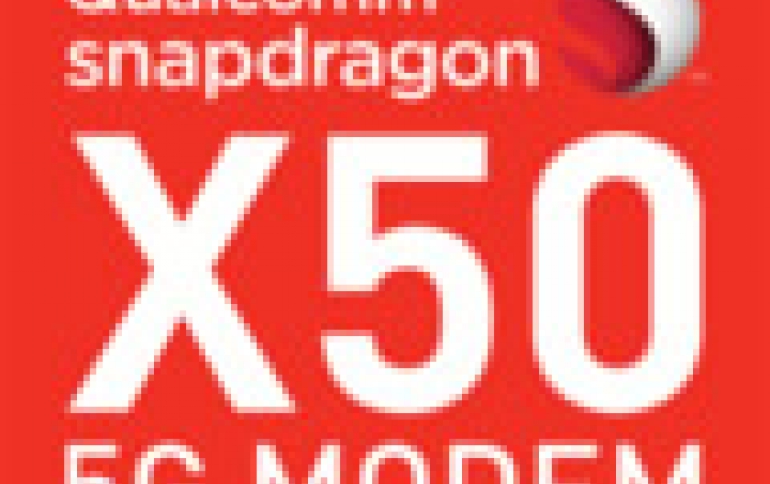 Qualcomm Lists Carrier and Smartphone Makers that Will Use its 5G Chips in 2019
Qualcomm is confident that it has the lead in the 5G model market and says that its Snapdragon X50 5G NR modem family has been selected by a number of global original equipment manufacturers (OEMs) for 5G NR mobile device product launches starting in 2019.
Qualcomm says that it is working with Asus, Fujitsu Limited, Fujitsu Connected Technologies Limited, HMD Global, HTC, Inseego/Novatel Wireless, LG, NetComm Wireless, NETGEAR, OPPO, Sharp Corporation, Sierra Wireless, Sony Mobile, Telit, vivo, Wingtech, WNC, Xiaomi and ZTE. These OEMs are working to commercialize 5G mobile devices for the sub-6 GHz and millimeter wave (mmWave) spectrum bands starting in 2019 based on Qualcomm's Snapdragon X50 5G NR modem family.
Qualcomm is also working with carriers on mobile 5G NR trials. The company's Snapdragon X50 5G modem has been selected for use in live, over-the-air mobile 5G NR trials with multiple global wireless network operators in both the sub-6 GHz and millimeter wave (mmWave) spectrum bands.
AT&T, British Telecom, China Telecom, China Mobile, China Unicom, Deutsche Telekom, KDDI, KT Corporation, LG Uplus, NTT DOCOMO, Orange, Singtel, SK Telecom, Sprint, Telstra, TIM, Verizon and Vodafone Group will conduct the trials, which will be based on the 3GPP Release 15 5G NR standard. The mobile 5G NR trials will utilize Qualcomm Technologies' 5G mobile test platform and smartphone reference design, which incorporate the Snapdragon X50 chipset and optimize 5G technology within the power and form factor constraints of a smartphone while maintaining interoperability and coexistence with 4G LTE.
At this year's Mobile World Congress in Barcelona, Qualcomm will showcase the Snapdragon X50 5G modem achieving download speeds of several gigabits per second. In addition, Qualcomm will demonstrate 5G NR interoperability, based on the 5G NR standard, with multiple infrastructure vendors utilizing prototype systems.
Qualcomm believes they're more than one year ahead of the competition in the 5G modem space, as Intel plans to release their own modem in 2019.
The arrival of 5G will expand mobile into new spectrum bands and all spectrum types, allowing for enhanced mobile broadband and increasing the overall average download speeds for virtually all smartphone users. 5G NR technologies will allow for multi-gigabit per second data rates at significantly lower latency than today's network, amongst other capabilities. Furthermore, for the Always Connected PC, lower latency will allow for an instant link to the cloud for applications requiring real-time interactivity, such as interactive gaming, real-time audio translation, real-time text translation and real-time collaborative editing.