Razer Chroma to Enable Alexa in Gaming Devices, Razer Hypersense Launched for Haptic-Powered Devices
Razer is bringing Amazon Alexa to compatible Razer devices via Razer Synapse 3, an Internet-of-Things platform. The company also announced Razer HyperSense, an ecosystem of interconnected haptic-powered gaming devices.
The ability to voice-control gaming hardware via Alexa will be unlocked via Razer Synapse 3, Razer's unified hardware configuration tool. Users can speak through their Razer headsets and mics to control compatible devices. For example, Razer Chroma features in-game lighting synced with Razer mice, keyboards, headsets and other hardware that can be verbally controlled through Alexa. Alexa integrated with Synapse 3 likewise enables Razer users to control ambient Philips Hue lighting, access tens of thousands of skills and more – hands-free via mic-enabled Razer products. A unified Razer Chroma lighting experience can be achieved across third-party hardware devices, as well, including PC cases, motherboards and cooling fans, using the Razer Chroma Connect module.
Within Q2 of 2019, Razer Synapse users in Canada and the U.S. who connect their compatible Razer devices to Amazon Alexa will notice a new module allowing them to transmit commands directly to Alexa or through Razer headsets, standalone microphones and laptops mics to change lighting or game settings. Activation in other countries is anticipated by year end.
Razer and Amazon will be jointly working with game developers to enable Alexa in-game functionalities together with the Chroma SDK.
Razer Hypersense
Razer also announced Razer HyperSense, an ecosystem of interconnected haptic-powered gaming devices designed to deliver a high-fidelity haptics experience for gaming immersion.
"Much like Razer Chroma where we have demonstrated the power of a connected lighting system across gaming devices, Razer HyperSense syncs gaming devices equipped with high-fidelity haptic motors to enhance immersion in gaming," said Razer Co-Founder and CEO Min-Liang Tan.
Razer HyperSense takes advantage of each device's position in a traditional PC gaming setup to provide 360-degree tactile feedback that allows gamers to feel explosions on their right, enemies approaching from behind or an incoming attack from the front. It features advanced haptic technologies developed by Lofelt, SUBPAC and others.
Out of the box, Razer HyperSense triggers devices to provide high-fidelity feedback based on positional audio or specific sound cues like the impact of a hammer, firing of a rocket launcher or the blowing of a gust of wind from the left to the right.
Like Razer Chroma, Razer HyperSense is capable of a more distinct immersive experience via game developer integrations which tie specific game events, audio queues and game mechanics to high-definition haptics capable of reproducing a wider variety of vibrations than conventional haptic devices for natural and lifelike feedback.
Razer is currently orking with game developers for integration with the technology.
A preview of Razer HyperSense can be experienced at CES 2019, delivered also with positional audio powered by THX Spatial Audio. The setup will include the Razer Nari Ultimate, the first wireless gaming headset from Razer to feature Razer HyperSense as well as a mouse and wrist wrest with haptics by Lofelt and a chair with haptics by SUBPAC.
Razer Tomahawk PC Gaming Chassis
Last buy not least, Razer announced the latest entry to the Designed by Razer Case program – The Lian Li O11 Dynamic. Additionally, it introduced two mid-tower PC gaming chassis developed in-house – The Razer Tomahawk and Razer Tomahawk Elite.
First announced in 2014, the Designed by Razer Case program is an initiative that provides for third-party production and sale of Razer-designed and branded PC cases.
The new Lian li O11 Dynamic Designed by Razer case will be the first of its kind to feature Chroma lighting that is fully controllable through Razer Synapse 3. The mid-tower ATX chassis retains all its features and includes the Razer triple-headed snake logo on the front glass, which illuminates via reflections from light strips on the side.
The Designed by Razer licensing program is open to selected case manufacturers.
The Razer Tomahawk is Razer's first PC gaming chassis that has been developed in-house in the form of a traditional mid-tower form factor. The chassis features a square, minimalist design, with a small-footprint that supports ATX motherboards. The Razer Tomahawk is also powered by Razer Chroma lighting for 16.8 million color capabilities and, with qualified components from Razer's Chroma Connected devices program, users can maximize their lighting displays in and around their desktop chassis.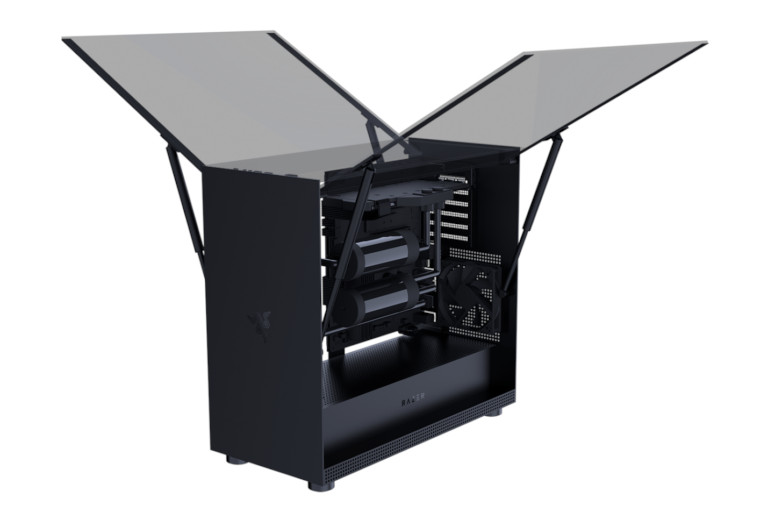 The flagship Razer Tomahawk Elite is a PC gaming chassis that is engineered to accommodate high-end components, with tempered glass panels lining the sides and top of the case, and a matte black aluminum front panel. The side panels feature vertical wing opening doors that allow the user quick and easy access to the internals.
The reverse mount placement of the ATX motherboard allows for optimal placement of the GPU to disperse hot air outside the case via the hydraulic-powered top panel that automatically lifts itself for additional ventilation during intense gaming sessions.
Designed with liquid cooling in mind, the Razer Tomahawk Elite is optimized to work with bespoke liquid cooler solutions like EK Water Blocks that matches the chassis aesthetics and design.

The Lian Li O11 Dynamic Designed by Razer has an MSRP of $169.99 and will be available via major retailers worldwide starting Q1 2019.
The Razer Tomahawk line of gaming chassis will be available between Q2 and Q3 of 2019 with pricing to be made available shortly.