Razer Releases New line-up of Wireless Basilisk Mice
Razer launched of the Razer Basilisk Ultimate and the Razer Basilisk X HyperSpeed gaming mice.
Both mice are powered by Razer HyperSpeed, a wireless technology that is 25% faster than any other wireless gaming technologies, according to the company.
The improved Adaptive Frequency Hopping of Razer HyperSpeed is constantly scanning frequency channels for any interference and switching across channels in real-time.

The Razer Basilisk Ultimate is equipped with the same Focus+ 20K DPI Optical Sensor as the Razer Viper Ultimate. On top of having the highest sensor specifications available to-date, it features new intelligent functions like Smart Tracking, Asymmetric Cut-Off and Motion Sync for greater tracking accuracy.
The Razer Basilisk Ultimate is fitted with Razer Optical Mouse Switches. They require no physical contact to send electrical signals to the PC, eliminating the need for debounce delay and causing zero corrosive effects.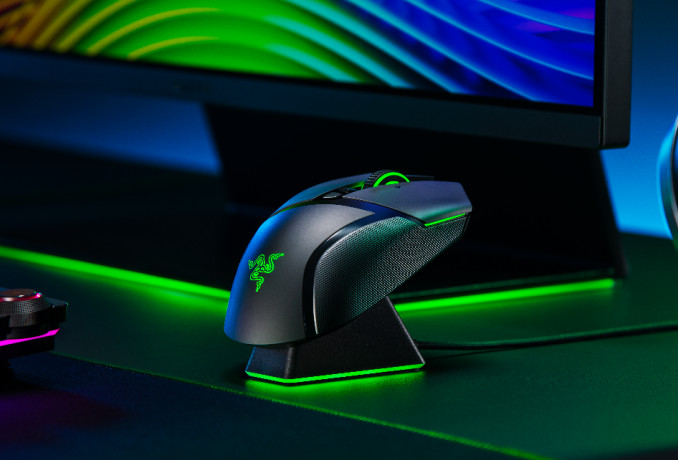 The Razer Basilisk Ultimate also allows up to five on-board memory profiles. The mouse can run at peak performance for up to 100 continuous hours. Similar to the Razer Viper lineup, the Razer Basilisk Ultimate is improved with smoother PTFE mouse feet to aid users in executing fast flicks. The mouse is bundled together with the Razer Mouse Dock that can indicate the current battery status or charging level. Gamers can also enjoy the mouse in wired mode with the included Razer Speedflex Cable. Plug it into the mouse dock's USB-A input for full control and minimal drag.
The Razer Basilisk Ultimate boasts 11 programmable buttons, including the multi-function pedal for extended controls where users can switch between game functions or settings with speed and ease. Fitted with 14 Razer Chroma RGB lighting zones, each LED can be individually programmed in Chroma Studio, illuminating gameplay. For personalized tactility, users can also adjust the scroll wheel resistance to their preference via a dial below the mouse.
RAZER BASILISK ULTIMATE
20,000 DPI Focus+ optical sensor with 99.6% resolution accuracy
Up to 650 inches per second (IPS) / 50 G acceleration
Advanced Lift-off/Landing distance customization
HyperSpeed wireless technology
Eleven independently programmable buttons
Replaceable Multi-function paddle
Razer Optical Mouse Switches rated for 70 M clicks
Ergonomic right-handed design with textured side-grips
Gaming-grade tactile scroll wheel with infinitely customizable resistance
On-The-Fly Sensitivity Adjustment (Default stages: 800/1800/4000/9000/20000)
Hybrid On-board and Cloud Storage (4+1 profiles)
Razer Synapse 3 enabled
14 Razer Chroma RGB lighting zones with true 16.8 million customizable color options
Inter-device color synchronization
Wired and Wireless usage modes.
4 GHz dongle
8 m / 6 ft Speedflex cable for charging and wired use
Razer Mouse charging dock compatible
Battery life: Approximately 100 hours (without lighting) (Battery life depends on usage settings)
Approximate size: 130 mm / 5.11 in (Length) x 75 mm / 2.75 in (Width) x 42 mm / 1.65 in (Height)
Approximate weight: 107 g / 3.77 oz (Excluding cable)
Compatible with Xbox One for basic mouse input
Price
Razer Basilisk Ultimate & Razer Mouse Dock: $169.99 USD / €189.99 MSRP
Razer Basilisk Ultimate: $149.99 USD / €169.99 MSRP
Razer Mouse Dock: $49.99 USD / €59.99 MSRP
Razer.com and selected retailers – November 6, 2019
Razer Basilisk X HyperSpeed
The Razer Basilisk X HyperSpeed mouse is equipped with Razer HyperSpeed Wireless and the same 5G 16,000 DPI Optical Sensor as the Razer DeathAdder Elite.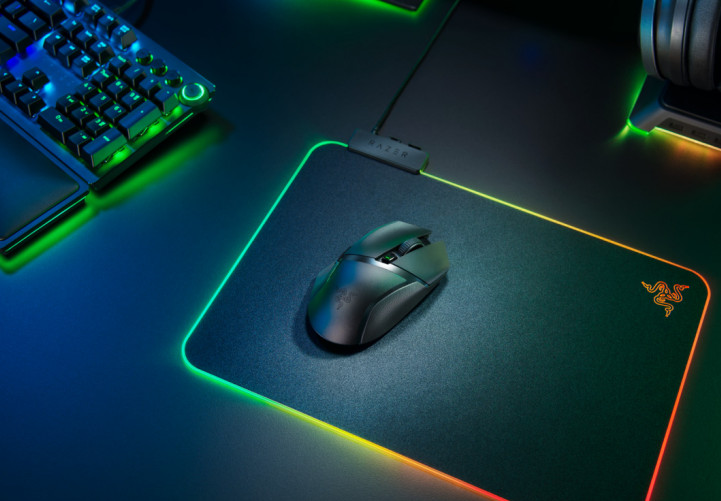 The Basilisk X HyperSpeed features dual-mode Razer HyperSpeed Wireless and Bluetooth connectivity. Users can switch to Bluetooth mode for an extended battery life of up to 450 hours. Together with 6 programmable buttons and on-board DPI Storage, users can take their settings anywhere without the need for software. The Razer Basilisk X HyperSpeed also houses Razer Mechanical Mouse Switches with a durability of up to 50 million clicks.
Features
Razer 5G Advanced Optical Sensor with true 16,000 DPI

Up to 450 inches per second (IPS) / 40 G acceleration
HyperSpeed wireless technology (using 2.4 GHz Dongle)
Dual-mode wireless (2.4 GHz and BLE)
Six independently programmable buttons
Razer Mechanical Mouse Switches rated for 50 M clicks
Ergonomic right-handed design
Gaming-grade tactile scroll wheel
On-The-Fly Sensitivity Adjustment (Default stages: 800/1800/4000/9000/16000)
On-board DPI and keymap storage
Razer Synapse 3 enabled
Battery life: Up to 285 hours (2.4 GHz), 450 hrs (BLE) with included AA battery.
Approximate size: 130 mm / 5.11 in (Length) x 60 mm / 2.36 in (Grip Width) x 42 mm / 1.65 in (Height)
Approximate weight: 83 g / 2.9 oz (Excluding battery)
Price
$59.99 USD / €69.99 MSRP
Razer.com and selected retailers – November 6, 2019