Ricoh Launches Updated RICOH GR III and the Rugged WG-6 Cameras
Ricoh today announced the launch of the RICOH GR III and the RICOH WG-6 digital cameras.
The latest model in the RICOH GR series features a newly designed lens, image sensor and imaging engine. The 18.3mm F2.8 lens delivers imaging performance with a slim design, consisting of six optical elements in four groups, while retaining the 28mm angle of view. It also comes equipped with a macro shooting capability with a minimum focusing distance of six centimeters.
The RICOH GR III camera body is smaller than its predecessor, and is equipped with a large APS-C-size CMOS image sensor with approximately 24.24 effective megapixels. Its short start-up time of approximately 0.8 seconds allows for quick shooting. The camera's high-definition LCD monitor features touchscreen operation, offering control of camera functions right on the screen.
The camera also features a high-speed hybrid autofocus system, built-in shake reduction, in-camera image finishing options, USB Type-C, Bluetooth and wireless LAN connectivity options. An accessory wide-angle conversion lens designed exclusively for use with the RICOH GR III is also available. The GW-4 Wide Conversion Lens expands the angle of view to 21mm ultra-wide angle.
The RICOH GR III will ship in March 2019. Price is $899.95 for the camera, $249.95 for the GW-4 Wide Conversion Lens.
The RICOH WG-6 is a compact, waterproof and shockproof digital camera that produces super high-resolution photos and 4K video. Equipped with a 5x optical zoom lens with 28mm wide-angle coverage and a large, wide-frame LCD monitor, the new, top-of-the-line model in the rugged WG series makes it easy to capture a range of images.
The WG-6 adds a host of newly designed features including a multi-application ring light ideal for macro-photography and the most dependable waterproof body in WG-series history, capable of shooting to a depth of 65 feet, for up to two continuous hours. The WG-6 body is shockproof against a fall from heights of 6.5 feet and operational in temperatures as low as -10°C.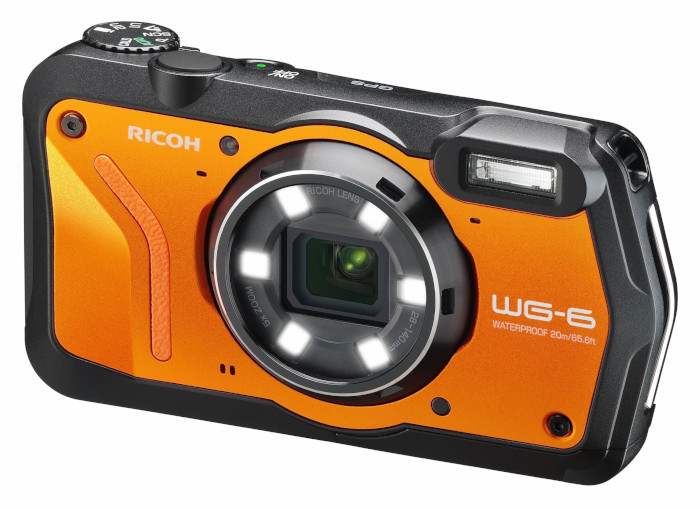 Equipped with a back-illuminated CMOS image sensor with approximately 20 effective megapixels and a high-performance imaging engine, the RICOH WG-6 delivers super-high-resolution still images and 4K-resolution video clips. In addition to the conventional Movie SR (Shake Reduction) mode, it features a new Movie SR+ mode to assure high-quality shooting with more active, fast-action outdoor activities.
A six-LED ring light unit positioned around the lens allows use of a faster shutter speed to minimize camera shake and subject shake in macro and close-up photography. This feature also allows the photographer to choose specific LEDs to illuminate a subject more three-dimensionally and emphasize its delicate contours.
Additional outdoor-friendly features include a GPS module to record position data and travel log data onto captured images; an electronic compass; and the Handheld Night Snap mode, which automatically captures several images of the same nighttime scene and produces a single blur-free composite image of them.
The RICOH WG-6 will be available for pre-sale or a manufacturer's suggested retail price of $399.95.