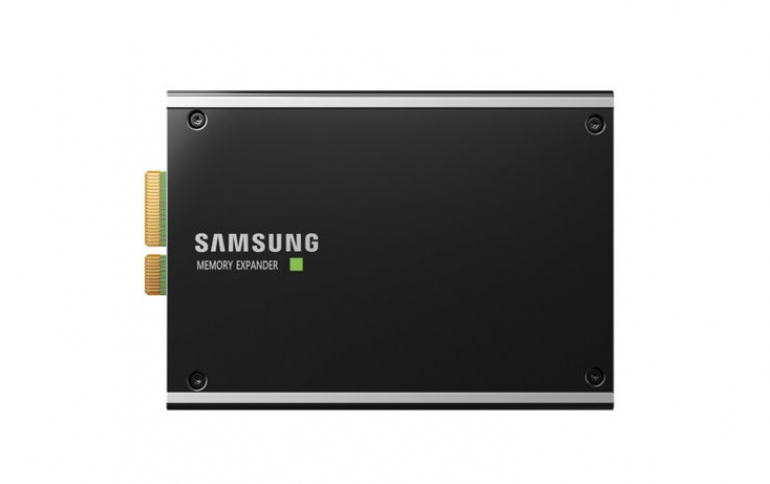 Samsung Develops Industry's First CXL DRAM Supporting CXL 2.0
Samsung Electronics announced its development of the industry's first 128-gigabyte (GB) DRAM to support Compute Express Link™ (CXL™) 2.0. Samsung worked closely with Intel on this landmark advancement on an Intel® Xeon® platform. Building on its development of the industry's first CXL 1.1-based CXL DRAM in May of 2022, Samsung's introduction of the 128GB CXL DRAM based on CXL 2.0 is expected to accelerate commercialization of next-generation memory solutions. The new CXL DRAM supports PCle 5.0 interface (x8 lanes) and provides bandwidth of up to 35GB per second.
"As a member of the CXL Consortium Board of Directors, Samsung Electronics remains at the forefront of CXL technology," said Jangseok Choi, vice president of New Business Planning Team at Samsung Electronics. "This breakthrough development underlines our commitment to expanding the CXL ecosystem even further through partnerships with data center, server and chipset companies across the industry."
"Intel is delighted to work with Samsung on their investment towards a vibrant CXL ecosystem, said Jim Pappas, director of Technology Initiatives at Intel Corporation. Intel will continue to work with Samsung to foster the growth and adoption of innovative CXL products throughout the industry."
"Montage is excited to mass produce the first controllers to support CXL 2.0," said Stephen Tai, president of Montage Technology. "We look forward to continuing our partnership with Samsung to advance CXL technology and expand its ecosystem."
For the first time ever, CXL 2.0 supports memory pooling — a memory management technique that binds multiple CXL memory blocks on a server platform to form a pool and enables hosts to dynamically allocate memory from the pool as needed. The new technology allows customers to maximize efficiency while lowering operating costs, which will in turn help customers reinvest resources into reinforcing their server memory.
Samsung plans to start mass producing CXL 2.0 DRAM later this year and is poised to deliver additional offerings in various capacities to address demand for future computing applications.
CXL is a next-generation interface that adds efficiency to accelerators, DRAM and storage devices used with CPUs in high-performance server systems. Given that its bandwidth and capacity can be expanded when used with the main DRAM, the technology's advancement is expected to make waves across the next-generation computing market, where key technologies such as artificial intelligence (AI) and machine learning (ML) have led to a rapid rise in demand for high-speed data processing.