Samsung Finally Releases Budget Tizen Z1 Smartphone In India
Samsung Electronics on Wednesday it has launched its first Tizen-powered smartphone in India as it attempts a breakaway from the dominant Android operating system. The Z1 smartphone was unveiled in June but its launch, promised in Russia and India and others, was postponed.
The Samsung Z1 offers localized entertainment apps and a simple user interface.
Powered by a 1.2GHz dual-core processor, 768 MB RAM and 4GB internal memory expandable up to 64GB with a microSD card, the device features dual SIM support. The new smartphone is equipped with a long-lasting 1500mAh battery enabling 7 hours of non-stop videos and 8 hours of talk time. The battery life has been further enhanced with the 'Ultra Power Saving Mode' which lets the phone remain operational even at minimal battery levels.
The Samsung Z1 is equipped with a superior 4" WVGA PLS screen, made with Samsung technology. It also uses a 3.1 megapixel rear camera and a VGA front camera for selfies.
Samsung is providing Indian users a wide range of free entertainment content spanning across categories such as music, movies, videos, mobile TV and radio. Samsung will launch a free entertainment package called 'Joy Box', giving users access to music, TV and movies. In addition, the Samsung Z1 will offer consumers free access to content available on Club Samsung. Users can stream and download from over 270,000 songs, and watch over 80 live TV channels.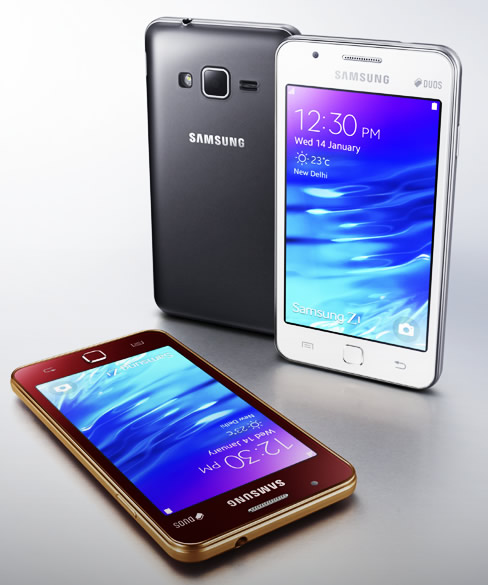 For music lovers, Samsung has partnered with Hungama.com to deliver a wider selection of music streaming and downloading. Over two million Bollywood and English songs can be accessed for free for a period of three months. Samsung has additionally partnered with mobile Live TV service nexGTv and Box TV, bundled for three month, allowing consumers to watch TV shows and over 7000 Bollywood and Hollywood movies.
The Samsung Z1 is also equipped with features that enable users to reach out for assistance in any emergency situation. The SOS alert is simple to use ? with just a press of the power button four times, the Samsung Z1 will send out 'Help' message to the user?s primary contacts and track the user?s location to provide necessary assistance.
The built-in AntiVirus protection on Samsung Z1 automatically checks for any viruses when users install an app, check email or receive an SMS. Text messages will also be checked for any sort of virus, smishing, phishing, and even pharming. If something is detected, AntiVirus notifies users that virus has been detected and allows them to delete the message without opening it. For enhanced security measures, consumers can also utilize Samsung Z1?s private mode to create their own private space where pictures and files can be saved.
The Samsung Z1 is priced at INR 5,700/- and will be available in India from January 14th in White, Black and Wine Red.
In 2015, Samsung plans to introduce more devices running the Tizen operating system. Tizen has already featured in our wearables and cameras, and will feature in most of our smart appliances and all of Samsung's Smart TVs throughout 2015.
Samsung hopes that the Tizen ecosystem will further grow, thanks in part to HTML5. HTML5 is the programming language most commonly used to produce websites. And, like websites, content and apps made with HTML5 for Tizen can be viewed across a range of devices, whether smartphones, tablets or TVs, irrespective of manufacturer or even operating system. Such degree of compatibility can be achieved without any additional programming for a specific device type or operating system. Simply, apps made for Tizen have universal compatibility.
The company has engaged developers face-to-face through the Samsung Developer Conference (SDC) and other Samsung developer events across the world, while Tizen software development kits (SDK) continue to be handed out to developers interested in becoming a part of the Tizen ecosystem.
Network
GSM 850/900/1800/1900 MHz, HSDPA 900/2100 MHz
Display
4? WVGA PLS screen
AP
1.2 GHz Dual Core Processor
OS
Tizen 2.3
Camera
Rear: 3.1 MP
Front: VGA
Camera Features
Auto Face Detect Feature, Dream Shot
Video
MP4, M4V, 3GP, ASF, AVI, FLV, MKV
Audio
MP3, M4A, 3GA, AAC, OGG, OGA, WAV, AMR, AWB, FLAC
Additional Features
Ultra Power Saving Mode, Private Mode, Send Help Message, Security
Connectivity
WiFi 802.11 b/g/n
Bluetooth 4.1
USB 2.0
GPS
Sensor
Accelerometer
Memory
4GB Internal memory + micro SD slot (up to 64GB)
768 MB RAM
Dimension, Weight
120.4 x 63.2 x 9.7 mm, 112g
Battery
1500 mAh