Samsung Launches Samsung GALAXY Apps Store
Samsung Electronics said Friday it has renovated its application store as "Galaxy Apps" to provide users with a wider choice for customization of mobile devices. The version is an update from the company's previous "Samsung Apps" store and offers hundreds of apps exclusively available to users of Samsung Galaxy smart devices.
An improvement upon its predecessor, the new app store features apps that will allow greater customization of mobile devices and will also function as a platform to offer various promotions and discounts.
Samsung GALAXY Apps features a user interface comprised of three sections, Best Picks, Top, and For Galaxy. Best Picks allows users to find recommended apps and promotions, while Top showcases the most popular apps which can be viewed according to their popularity, date, and price.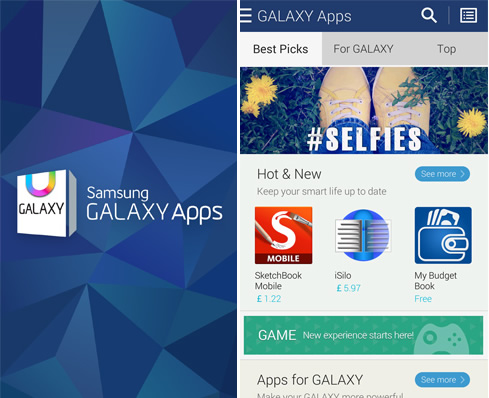 The For Galaxy category is in turn divided into four sections. Galaxy Gifts offers apps exclusively for Galaxy devices. Galaxy Essentials delivers must-have apps for Galaxy devices. Apps for Professionals is the home of business focused apps and other services that fully utilize the features of Galaxy devices. Galaxy Specials lets users download apps specifically created by using Samsung SDKs.
Samsung GALAXY Apps will eventually be available to over 130 million users across 161 countries around the world.
Samsung is the dominant vendor of smartphones and tablets based on Google's Android operating system. But the South Korean company has also tried to keep some distance from the Internet giant, including by using the rival Tizen operating system in devices such as the Gear 2 and Gear 2 Neo smartwatches and the Samsung Z smartphone, with a TV running the OS planned for next year.
It is not clear at this point whether Samsung aims to promote a Galaxy ecosystem including apps separately from one around the Tizen products.